Articles
Secret restaurants helmed by untrained, self-taught chefs celebrate a democratic, D.I.Y. ethic.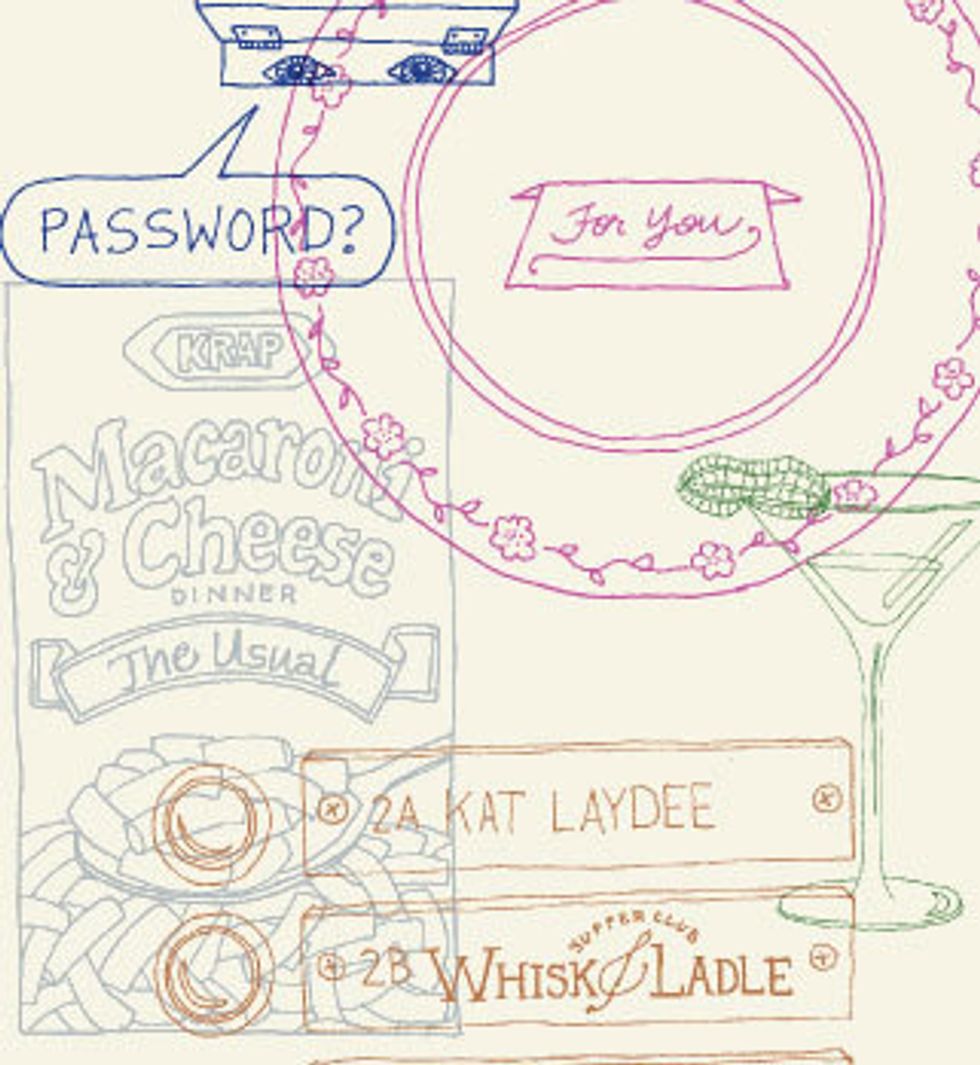 ---
They say that
in the early 1990s there was a secret restaurant in Manhattan, in an apartment on the 31st floor of a Hell's Kitchen building whose lobby was accessible only through a porn video store. The makeshift eatery-no license, no health inspection-specialized in authentic Sri Lankan cuisine and had all the allure of urban myth: grungy milieu; a whiff of the illicit; the cachet of an address divulged to few.
In other countries, secret restaurants have flourished for years: In Cuba, mom-and-pop
paladares
are an alternative to state-run eateries; in Hong Kong,
si fang cai
offer elaborate home-cooked meals. Recently the phenomenon has taken off in America, with under-the-radar establishments popping up in San Francisco, Seattle, New York, and Boston. Operated out of people's homes, by enthusiasts with no professional cooking experience or by chefs moonlighting from their regular gigs, these secret restaurants aren't terribly secret. A bit of creative googling will lead you quickly to outposts like Underground Inc. in Des Moines, Iowa, or Shady's Cafe in Penland, North Carolina. Still, they form a rapidly expanding and important ad hoc culinary underground.
Not too long ago, I ventured to a former factory on the Williamsburg waterfront, in Brooklyn, to check out the Whisk and Ladle, a "supper club" founded in 2006 by an eclectic group of roommates with day jobs-a lawyer, a college instructor, a bartender, and someone who works at Google. Once a week, they open their loft to about 20 guests for a classic five-course meal: appetizers, soup, entrée, salad, dessert. Arriving at 8 o'clock, as instructed, I was greeted cheerfully by my hosts, then plied with liquor, including a startling shot of homemade peanut-infused vodka. (No tab-the meal was all-inclusive.) An hour or so later, when the food appeared, most of the guests were pleasantly buzzed, comfortable sitting so close to one another at the communal tables.
In the same way that punk and indie rock emerged as a response to the corporate-driven homogenization of popular music in the 1980s, secret restaurants prefer the unique to the ubiquitous, the rough edges of the handmade over the polish of the commercial. Speakeasies helmed by untrained, self-taught chefs celebrate a democratic D.I.Y. ethic espousing the idea that anyone can cook. The fare being served is hardly cutting-edge-ingredients like liquid nitrogen and agar remain the province of truly high-end restaurants; instead, the emphasis tends to be on authenticity and bold, hearty flavors.
When I spoke to Mark, one of the chefs behind the Whisk and Ladle who requested anonymity in the interest of preserving his mystique, he was up front about his intent: "This is not about the food. I can tell you lots of places with better food." And while the meal itself-carrot-ginger soup, maple pulled pork with lemon-thyme risotto, heirloom-tomato salad, cayenne chocolate cake-was satisfying, the signal achievement of such places is the mix of people they attract. These days, too many good restaurants have become notches on the belts of conspicuous consumers, and the best speakeasy restaurants succeed in presenting an attitude, ambience, and total experience that's refreshingly low-key.
Given that speakeasies violate numerous health codes and zoning laws, it's not surprising that the people who run them are leery of letting in just anybody. (The Chowhound website won't even allow discussions of secret restaurants on its message boards, for fear of getting them shut down.) Mark is more likely to offer a seat to the person who emails about fears of a life doomed to eating boxed macaroni and cheese than to someone who simply requests a reservation for two; the online application for Studiofeast, another Brooklyn-based speakeasy, asks applicants to describe their ideal last meal. Through word of mouth and aggressive filtration of potential diners, these hidden kitchens strive to create the perfect dinner party.
Because it's far from an organized movement, the scene varies across the country. Pacific Northwest speakeasies appear to be in the vanguard, dishing up artsy clandestine dinners staged in glass-blowing studios while videos are projected on the walls. A Duke University senior's experiments in molecular gastronomy, conducted for students and curious diners in his campus apartment, have been chronicled in
The New York Times
and earned him the unwanted attention of the local Durham authorities. But even on the foodie end of the spectrum, the impulse is essentially indie: Like movie stars seeking more challenging roles in low-budget films, name chefs pursue projects on the side, looking for the opportunity to cook whatever they want, for whomever they want.
Michael Hebberoy is a chef who started out hosting secret dinners in Portland, Oregon, moved into the legal restaurant business, went bust, and is now back to his old tricks, serving off-the-books meals in Seattle. Lately, he's been working on a manifesto with the title "Kill the Restaurant." The danger in such enterprises is always that a cooler-than-thou mentality threatens to take over; but if, at their worst, speakeasies replicate the kind of velvet-rope exclusionism of annoying nightclubs, at best they can offer a genuine respite from the anonymity, rigidity, and expense of dining out; a chance to pause and savor the old-time pleasures of slow cooking and talking late into the night, long after dinner is over.
Five (sort of) secret restaurants revealed:
4 Course Vegan
Brooklyn, New York
4coursevegan.com
A menu from last December offered winter vegetable chowder, blood-orange-and-fennel salad, black-eyed pea fritters with collard greens and smoked carrot purée, and Mexican chocolate torte with white chocolate anglaise and raspberry coulis-all for 40 bucks.
Caché
Seattle
cacheseattle.com
This Sunday-night happening-launched by an architect and a food writer who met and fell in love on the food-discussion website eGullet-offers seats for 12 guests. Theme menus have included a "Yes, we're trying to kill you" dinner: bacon-wrapped pork belly, foie-gras custard with truffled wild mushrooms, and duck-confit pie.
One Pot
Seattle
onepot.org
Chef Michael Hebberoy heads up a dinner series staged in rock clubs and dive bars, with musical performances and readings. Designed as an open-source franchise, One Pot events are reportedly spreading as far as Mexico and Slovenia.
Mamasan's Bistro
San Francisco
no website
One of the country's oldest speakeasies, Mamasan's was started eight years ago by a DJ-vocalist and her mother who specialize in a fusion cuisine (accompanied by hip-hop beats), inspired by their native country, Guam.
Ghetto Gourmet
Nationwide
theghet.com
Originally a basement-apartment operation in Oakland, California, Ghetto Gourmet is now a nomadic series of one-night-only food events, often with live entertainment (belly dancers, fire eaters). Offerings include black-eyed-pea falafel with house-made smoked catfish, Gulf prawns with organic grits, quail with butternut squash, and homemade tasso hash.