Articles
Little Tokyo Design Week Brings Japan to Downtown L.A.
A new festival celebrating Japanese culture in Los Angeles opens tomorrow with talks, parties, and a gallery of shipping containers on the streets.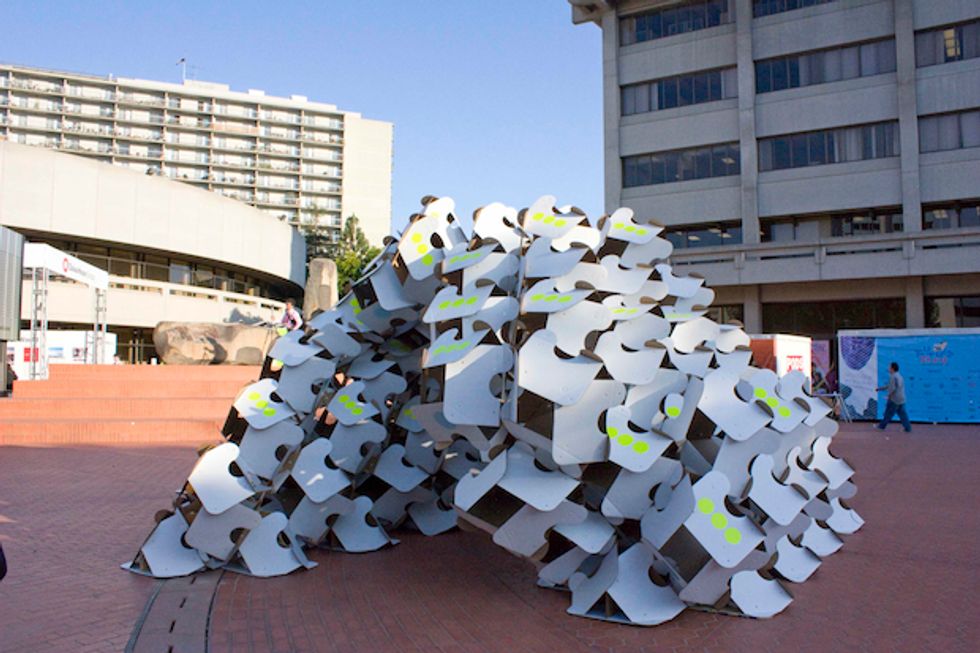 This weekend, the largest Japanese cultural district in California will host the first ever Little Tokyo Design Week, a free four-day showcase of Japanese design and technology with a heavy dose of L.A. ingenuity. With Little Tokyo acting as a lively bridge between the burgeoning Arts District and a revitalized downtown, there's maybe no better place for a global exchange of ideas. "Little Tokyo offers a perfect venue to showcase Japanese innovations to Los Angeles and the world," says founder Hitoshi Abe, who also serves as director of UCLA's
 Department of Architecture and Urban Design.
---
This fledgling festival, which runs July 13 to 17, is jam-packed with events including a symposium, museum exhibitions, a Pecha Kucha night, an outdoor screening of My Neighbor Totoro, and tours of the emergency housing unit EDV-01, a new shelter from Japan that supplies enough electricity and water to sustain two adults for a month. A highlight will be 20 storage containers housing mini-exhibits that will turn the streets into a public gallery. Download a map and seek out these unique collaborations between Japanese and American designers. Here are a few of our picks for must-see container galleries as you're wandering the hood.
Robot Box: L.A.-based We Are Matik are importing robots from Japan, and turning their entire container into one huge robot visitors can walk through, with projections and controlled lighting rigged up by the We Are Matik trio and their friends.
Mystery Box: This app, created by Meghan May Daalder and Rene Daalder, will guide you and a stranger (or partner) through most of the exhibits, while simultaneously testing for your compatibility. To get the app, visit the Mystery Box on the MOCA Plaza.
Tokyo/LA Houses: The festival spends plenty of time making comparisons between Japanese and Angeleno culture. With 20 models of homes from both countries paired side-by-side, this exhibition will reveal commonalities between the two cultures' architectural styles.
Giant Robot: Likely L.A.'s most famous purveyors of Japanese culture, the store Giant Robot will be creating a pop-up version of their retail experience with art and designer figures showcasing Japan's influence on L.A.
Food Futures: Design firm Fievre Jones and USC architecture students will be plotting out the global food supply against world population in 3D using thousands of nylon filaments. Get a sweet mochi reward for stopping by.
Image showing part of "PLAN C" installation and visual essay by Tim Durfee and Sean Donahue" photo by Carren Jao
Live in Los Angeles?Join GOOD LA and you'll get one good L.A. story (like this one!) delivered to your inbox every day. And be sure to like GOOD LA on Facebook and follow us on Twitter.