Articles
Michaelangelo Matos on the 1990s Music Renaissance
Michaelangelo Matos on the 1990s music renaissance.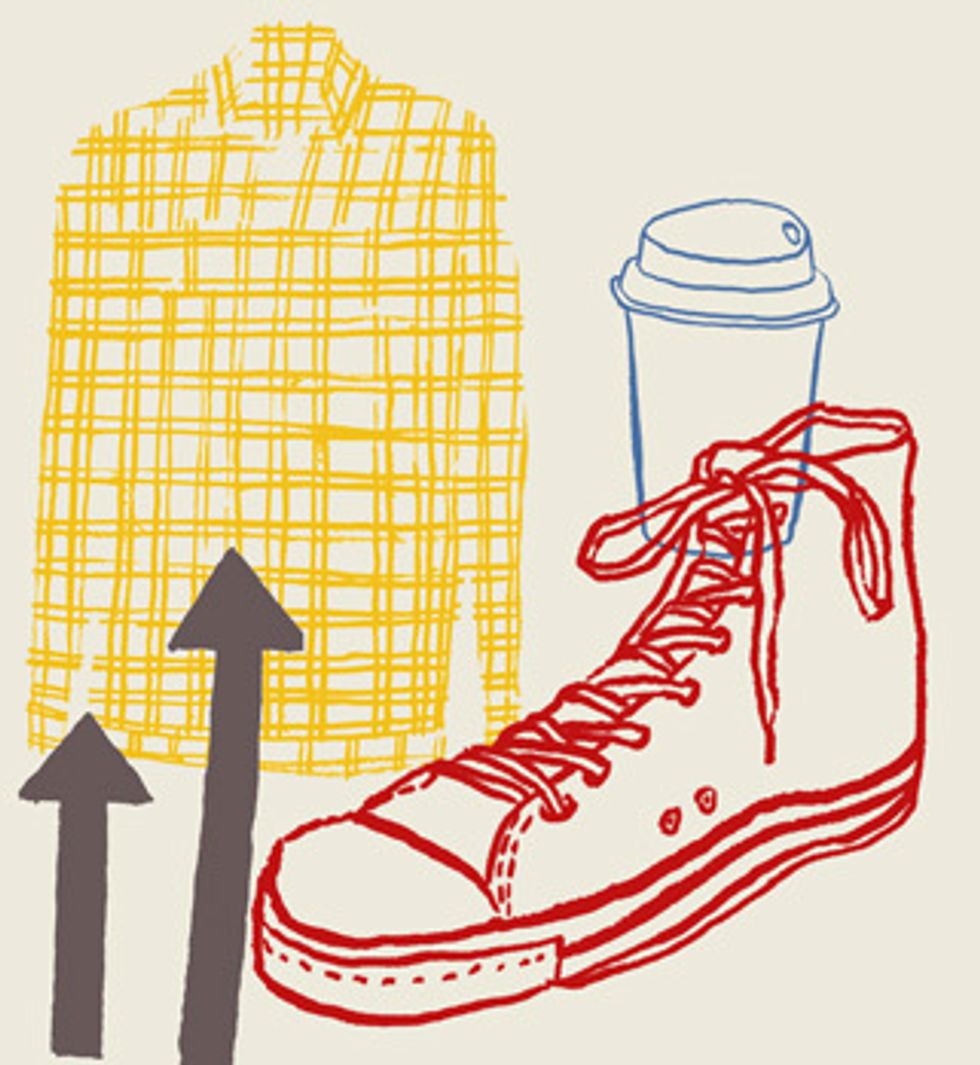 ---
Every decade has a decade.
The 1970s had the 1950s (Sha Na Na,
Happy Days
); the 1990s had the 1970s (G-funk,
Dazed and Confused
, the Beastie Boys' fashion choices). So far, the 2000s have had the 1980s: post-punk redux in music and fashion; hair metal disguised as emo or country; general threat of nuclear war.But as the 2000s head into their final laps, that looks like it's starting to change: It's finally the 1990s' turn-or to be specific, the early 1990s. A year ago, the British press began beating the drum for the "nu-rave" scene, whose primary exponent, Klaxons, have issued their debut album,
Myths of the Near Future
, to a chorus of ho-ing and hum-ing. For good reason: It's a mess. But the tides of nostalgia move inexorably, and we're far enough away from the era that it's only natural to re-explore its terrain-as several notable new books are demonstrating. We are sure to see more.This might be good news. Nostalgia for its own sake is generally tedious, but an infusion of the past can refocus energy:
Right, do it like
this;
Of course. How did we forget?
It's worth wondering what we might gain from an early-1990s revival, especially given that in some ways they never really left. That period might be pop's most over-mythologized since the late 1960s. Lollapalooza retains enough cachet to title an annual festival (this time you travel to it, instead of it coming to you), while Kurt Cobain is a cultural hero on a par with Lennon or Marley.Hugh Barker and Yuval Taylor open and close their new book
Faking It: The Quest for Authenticity in Popular Music
with a pair of 1990s icons: Kurt Cobain singing "Where Did You Sleep Last Night" on
MTV Unplugged
in 1993, months before his suicide; and Moby's album
Play
, from 1999, which wound up selling 10 million copies on the strength of its ubiquity in various ad campaigns. Barker and Taylor argue that Cobain's death made it impossible for any of his contemporaries to measure up: "No one was willing to match Cobain's final gesture, and all other grunge music was robbed of its essential gravity. Suddenly it looked like the other bands were just playing a part, whereas Cobain had been for real."But it wasn't simply Cobain's suicide that made him look heroic. The shift began with
Nevermind's
massive success, which helped topple Guns N' Roses as the world's biggest band. But, as Eric Weisbard's
Use Your Illusion I and II
notes, Nirvana's fluke was business as usual for the fall of 1991: "Welcome to the season of the blockbuster," he begins, noting the number of multiplatinum albums that emerged during that time, from Garth Brooks to Mariah Carey to Metallica to Michael Jackson. In a way, Nirvana's success is closer to Brooks's than anyone imagined at the time: both photogenic faces of a specific style that gained enough fans to essentially
become
the mainstream.Today that sort of thing happens more or less by default. Modest Mouse's
We Were Dead Before The Ship Even Sank
-identified as indie, although it was put out by a major label-debuted at number one, selling more than 125,000 copies its first week, which isn't bad at all. But we're a long way from a time when albums shipped platinum.That doesn't mean there's less urgency about music now. It's just a lot harder to measure-both in terms of hard numbers and zeitgeist. The urgency of the early 1990s was manifest: There was a sense that there were frontiers still to explore. It was also a period when samplers and other home-recording equipment began to become more affordable. That was one of rave's main attractions: Like punk, it was do-it-yourself, but you could also do it
alone
, without the bother of finding people to be your band. Today, early-1990s-inspired rave sounds crude, ridiculous,
too much
-much as it did at the time-but it also sounds vibrant, crackling, pressing; its silliness signifies a commitment to newness, an attempt to meet the nascent information-overload age head-on. Whatever its problems, the Klaxons' album is still an attempt to imagine a future within the past it evokes. Like a lot of the best music from that period, the Klaxons' future is utopian.Of course, now anyone can hear anything at any time-well, maybe not that simply, but close enough for rhetoric's sake. "Information overload" is an obsolete phrase for a world living in its midst. The wiring of the world isn't complete, and there are good reasons to hope it never is. But the changes technology has wrought upon the music world are far beyond what even the most utopian pop fan could have hoped for; we know now just how endless the possibilities of music are, and it's difficult not to fall, exhausted, in its wake. If anyone is going to revive the early 1990s, let's hope they can communicate the feeling that, just maybe, we don't know it all-not yet.
Maybe there's more:
Nirvana
by Everett True (Da Capo Press)
This doorstop is the latest Cobain-themed product, alternately infuriating (the author seldom tires of telling us how he was there) and intriguing, thanks to the many rangy interviews with less well-known figures from the period.
Faking It: The Quest for Authenticity in Popular Music
by Hugh Barker and Yuval Taylor (W.W. Norton)
Barker and Taylor take great glee in debunking lackadaisical claims on authenticity, as with Mississippi John Hurt: "The
New York Times
wrote that '[Hurt's] performances have [an] introspective quality,' despite the fact that they revealed nothing whatsoever of his inner life."
Use Your Illusion I and II
by Eric Weisbard (Continuum)
Weisbard approaches Guns N' Roses classic double album as a skeptic drawn to the group's excesses while his alt-rock fellows were going nuts for Nirvana. Axl Rose worshippers won't be pleased, but the critic's roving inquiry into the dying days of rock as mass culture is meaty enough for the rest of us.
Love Is a Mix Tape: Life and Loss, One Song at a Time
by Rob Sheffield (Crown)
The early part of this memoir is sunny, but with teeth. As Sheffield begins to recount the hundreds of tiny details that marked his life before and after the death of his young wife, Renée, he refuses sentimentality without stinting on emotion-a daunting line walked effortlessly.