Articles
Michelle Rhee: Before and After the Election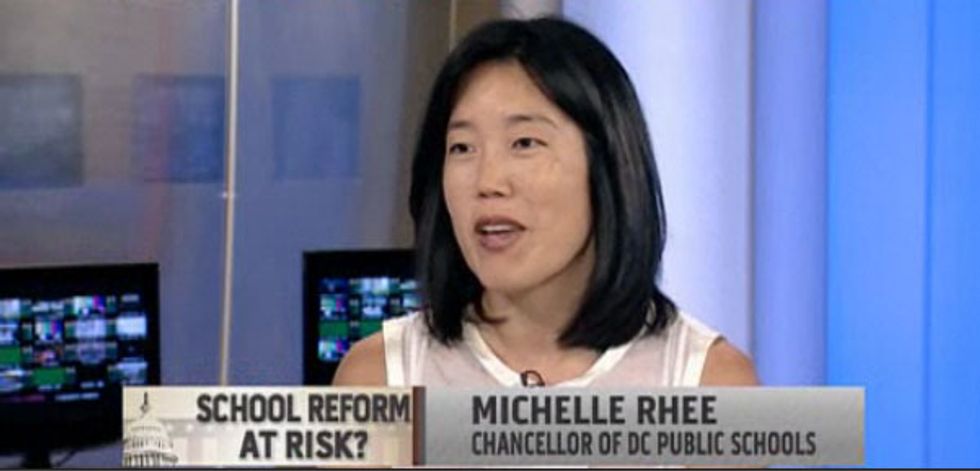 Thanks to the Democratic voters in Washington, D.C., one of the big questions that education wonks will be speculating about over the next few weeks is: What will become of current D.C. Schools Chancellor
Michelle Rhee
?
Mayor Adrian Fenty, who turned over a large section of his agenda to Rhee and her aggressive reform of the District's abysmal public school system, was unable to fight off a challenge from City Council Chairman Vincent Gray. There is some debate over just how effective the Fenty/Rhee approach to school reform has been, but a lot of what Rhee instituted has yet to show a meaningful effect—for instance, her divisive IMPACT system for evaluating teacher performance (which weights student test scores at 50 percent).
---
Many people in Washington were thrown for a loop when Rhee came charging in, closing schools and threatening to fire teachers—a promise she eventually made good on. All the while, her blunt style and seemingly combative demeanor didn't do much to endear herself to voters.
Just this summer, she appeared on CNN's John King, USA, where she was unapologetic about the fact that some of her decisions were met with disapproval by Washington residents and politicians. "For me, I'm not here to be well liked," she told King. "I don't care about being popular. Mayor Fenty brought me here to fix the school system."
Here's the full video:
[youtube]http://www.youtube.com/watch?v=fJtUKsfOA-I
This afternoon, she appeared on MSNBC to discuss Mayor Fenty's defeat last night and what it meant for D.C. public schools. She seemed somewhat reserved (maybe even contrite) when admitting that her reforms were "without a doubt" a major factor in her boss's downfall. She speculated that it was the dizzying pace of the reforms that might have scared off some voters. And, eventually, she seemed to realize that they had played to consider the politics and public perception of their changes. Full video below:
I do feel sort of somewhat bad and guilty [about Fenty's loss]. ... The fact that we didn't do as good a job as I think we could have in communicating why we were making the decisions that we did that sort of led people to be suspicious of the actions, etc., is unfortunate.

\n
Visit msnbc.com for breaking news, world news, and news about the economy