Articles
New Pew Research: The Millennials Have Their Priorities Straight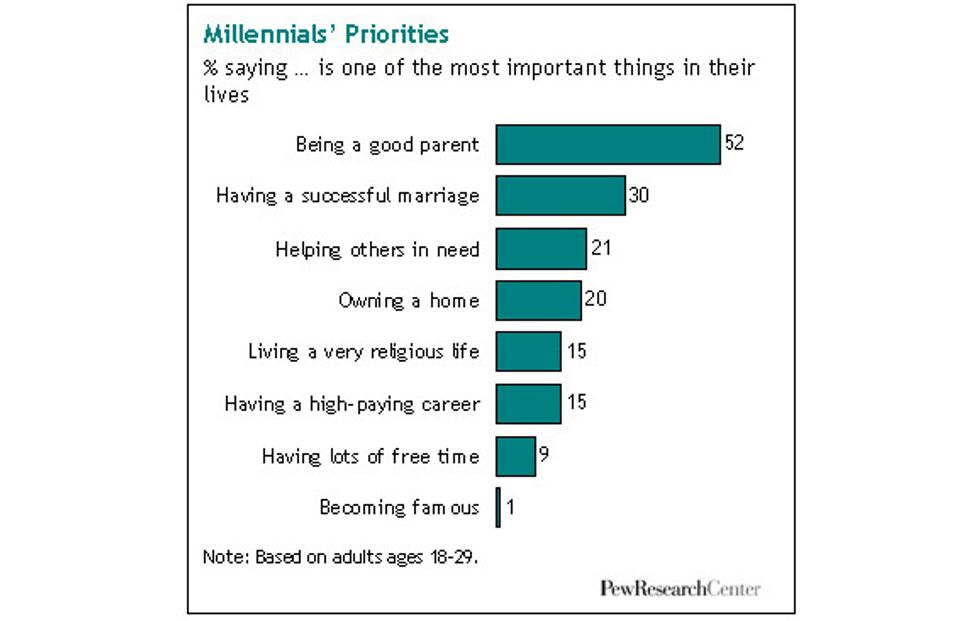 ---
The Pew Research Center has
a new survey of the "Millennial Generation" out
and it's encouraging news. Millennials are more ethnically and racially diverse than previous generations, which bodes well for future social tolerance. They get along with their parents and respect their elders (they're more likely than previous generations to say a child has an obligation to accommodate an elderly relative who wants to move in). They're more liberal than previous generations, but they're not slavish Obama acolytes.
Their rates of unemployment are high (over 30 percent), largely because of the Great Recession, but in response they're going back to school and are on track to be the most educated generation in history, as measured by highest degree obtained.
And look at the chart: They want happy and fulfilling family lives more than high-paying careers, and they're apparently wise enough to know the latter doesn't necessarily lead to the former.
Overall, the picture makes me very optimistic about the next few decades, assuming we can avoid catastrophic climate change and nuclear terrorism.
Via Boing Boing