Articles
Patrick James on T.C. Boyle
We can't control nature. But, with the right story, at least we can laugh at our failed efforts to preserve it.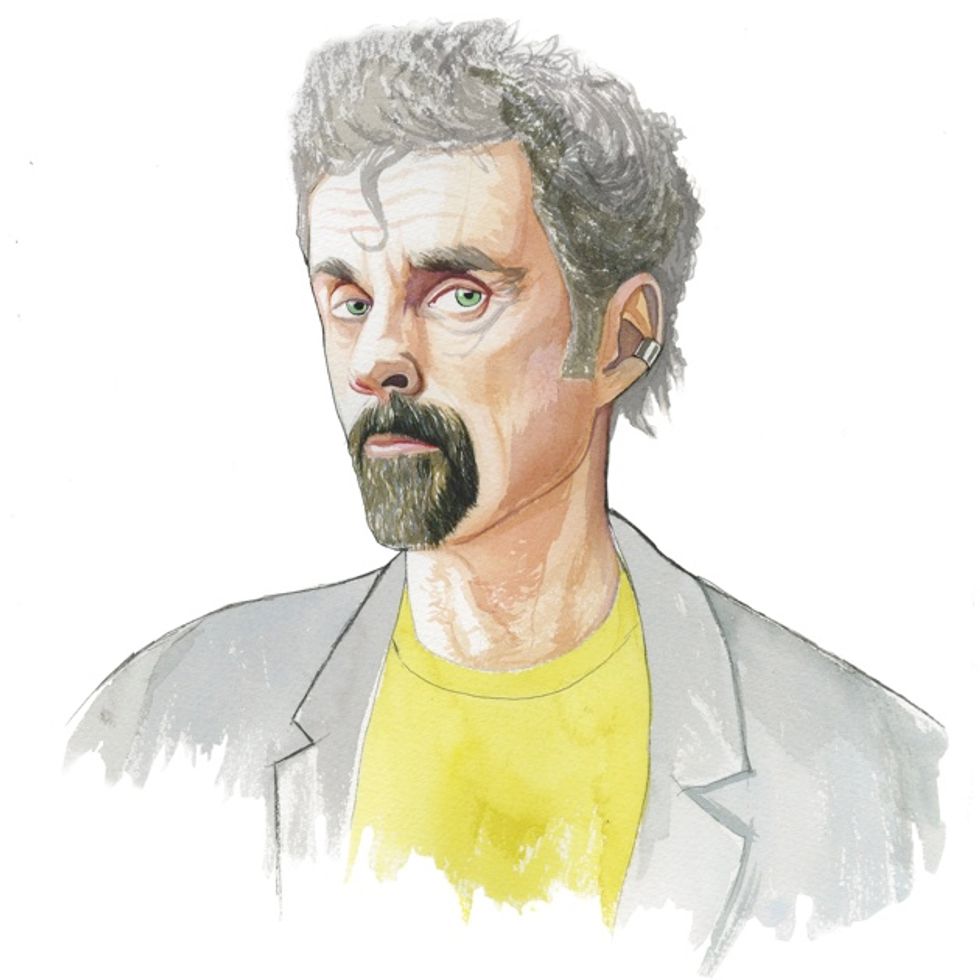 ---
\n
Every three months, GOOD releases our quarterly magazine, which examines a given theme through our unique lens. Recent editions have covered topics like the
impending global water crisis
, the
f
uture of transportation
, and the
amazing rebuilding of New Orleans
. This quarter's issue is about cities, spotlighting Los Angeles, and we'll be rolling out a variety of stories all month. You can subscribe to GOOD
here
.
T. Coraghessan Boyle has said that he escaped from Los Angeles to Santa Barbara 18 years ago.
It might be that same need for escape that drives Boyle's short story "The Lie," which ran in The New Yorker in 2008 and was recently turned into a feature length movie. Connected to L.A.'s principle business, the story's nameless narrator aspires to edit films, but is downtrodden by the daily monotony of logging footage, an unsexy task in a city known for glamor. After the 26-year-old husband and recent father phones his boss and blames his absence from work on the death of his baby—who is very much alive—he finds some momentary reprieve in the form of surfing at Topanga point, viewing matinees, and drinking his way through frivolous afternoons. But the pleasure of escape soon eludes the him, as the story—and his job and marriage—spirals into a darkly comic abyss.
Control slips through the fingers of so many Boyle characters—many of them Muir-like nature lovers—who embark on futile attempts to impose their will on the built and natural environments, which are often at war with each other. In his most famous and perhaps his most controversial novel, The Tortilla Curtain (1995), which recalls the themes of John Steinbeck's The Grapes of Wrath and of course Tortilla Flat, Boyle pits the struggles of Mexican immigrants against suburbanite efforts to preserve the quaintness of the soon-to-be gated community of Arroyo Blanco (which translates to either "white alley" or "white stream"). Delaney Mossbacher, a self-proclaimed "liberal humanist," and his second wife, Kyra, are "joggers, nonsmokers, social drinkers, and if not full-blown vegetarians, people who were conscious of their intake of animal fats." Both the gate proposed by their housing association and the fences of their backyards are meant to protect them from intruders; presumably, that means the coyotes, displaced by development, that roam the hills and threaten their pets. A metonym of both the U.S.-Mexican border and the quasi-apartheid state that California has become, the gate fails to protect those within it, especially from themselves. Of course, the true failure is on the part of Delaney himself, who, in the book's opening pages, crashes his Acura into the day-laborer protagonist named Candido—who squats with his pregnant wife America near the creek below Arroyo Blanco—and offers the immigrant a mere $20 before driving home in shame. From that point on, the two men's lives are irrevocably intertwined, as they flail through calamities so achingly funny (or just plain aching) they would make Nathanael West shed a tear.
To the residents of Arroyo Blanco—who shirk white guilt by touting their liberal credentials while justifying the need for the gate—the coyotes, and implicitly the immigrants, are all invasive species. Biting irony pervades the book, just as it does in When the Killing's Done, Boyle's most recent novel, which pits environmentalists against animal rights advocates, in
an epic battle waged off the California coast over whether to eradicate a species of rats who are destroying species native to Santa Barbara's Channel Islands. It's the stuff of potent satire­—let's just say no one really wins the battle­—but Boyle does more than trade jabs and poke fun.
"I bring skepticism, humor, and ... a sense of wonder," he told KCRW's Michael Silverblatt in an interview. "I'm not advocating anything, I am simply offering an exploration in my own life of issues that are of interests to me. At root of course is 'what are we? Are we animals, are we something beyond animals? Who decides? Who is in control?'"
In the Los Angeles of Boyle's fiction, many characters—from the environmentalists and activists to the day laborers and downtrodden—search for control. Typically, it eludes them all. Many of them think they find it, and many of them avoid it altogether, but what they can't escape is the sad truth that they so often destroy what try to preserve.