Articles
People Are Awesome: Doctors Induce Labor So Dying Man Can Hold His Daughter
A terminally ill Texas man's wish was to hold his daughter before he died. He got that wish, but just barely.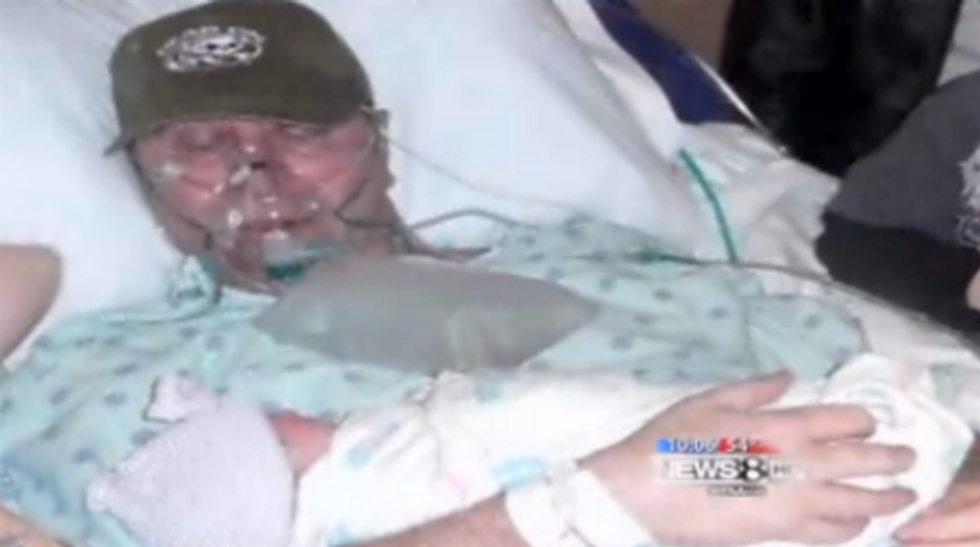 When Mark Aulger was diagnosed with colon cancer, his doctors in The Colony, Texas ordered him to undergo months of intensive chemotherapy sessions. By January, Aulger had
beat the cancer
, but there was a catch: Though his treatment had eroded his tumors, it had also destroyed his lungs, leaving him only a few days to live. "It was basically like his lungs were soaked in concrete," Aulger's wife, Diane, told WFAA News in Dallas. "They couldn't inhale or pass oxygen throughout the body, he was in essence, suffocating to death."
Dying at the early age of 52, and leaving behind a spouse, children, and extended family, is hard for anyone. But Aulger's suffering was compounded by the fact that Diane was pregnant, and wasn't likely to give birth for another two weeks. Aulger didn't have that long, which is when his doctors stepped in.
---
Diane's doctors induced labor on January 18, 11 days before Diane's natural due date. Luckily, the induction came just in time: Though he was tremendously weak, Aulger was able to hold his new daughter, Savannah, for 45 minutes immediately after she was born. He fell into a coma three days later, and he died two days after that. But for those brief minutes on Savannah's birthday, Aulger got to say both hello and goodbye to his baby.
Some may call it ethically squishy for the doctors, whose primary directive should be making sure the mother and baby are safe. But as long as they considered the procedure medically acceptable, why not deliver a baby and simultaneously fulfill a dying person's wish?