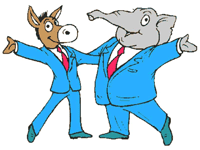 ---
With Texas, Ohio, Vermont, and Rhode Island all on the line, many believe that
today may showcase the most conclusive results yet in the primary season
.
John McCain looks to wrap up the GOP nomination and the Dems work on settling things in their dogfight. While Barack Obama's advisers
claim there's little Tuesday can do to improve his opponent's standing
, Hillary Clinton
says she's "just getting warmed up,"
and plans to take each of the four critical, delegate-rich contests by large margins.
Another Tuesday
. Another chance for an indeterminate tease--like
Still Significant Tuesday
.