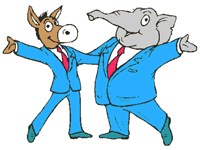 ---
Today's the big day: 43 nominating contests, 24 states, 3,156 delegates up for grabs. Here's a rundown of some last-minute items that might influence the races:
The Dems:
--Robert DeNiro hits the
campaign trail
on behalf of Barack Obama in New Jersey.
--Maria Shriver (wife of McCain-supporting Governator Schwarzenegger, and a member of the Kennedy clan) does
the same
for Obama in California.
--Hillary Clinton
sheds some tears
in Connecticut; remember, the last time she did this she pulled off the stunner in New Hampshire.
--Hillary's chairman
says
Barack would make a good running mate-you know, assuming everything works out.
--Hillary goes home to NY and tells David Letterman she's
modeling
her campaign on the New York Football Giants's last-minute Super Bowl victory. As though Barack were the New England Patriots, pshh.
The GOP:
--Rush Limbaugh and his main man Mitt Romney spend most of Monday
ragging
on John McCain's lacking conservative values.
--McCain
snags
a last-minute endorsement from ex-New York governor George Pataki, granting him a monopoly of support from the top dogs in both California and New York; in Florida, Gov. Charlie Crist's nod proved to be an enormous swaying factor in McCain's primary victory.
One last note:
--About 4.1 million Californians (in control of the grandest prize of the night)
mailed in
ballots weeks ago, for candidates who are no longer in the race. Wah wah.
So that's that. Sit back and enjoy the clever madness that is an uncertain and meaningful Super Tuesday.