Articles
Does Your Period Pain Feel 'As Bad As a Heart Attack'? You're Not Imagining It
Some women experience debilitating period cramps, but the medical community isn't helping.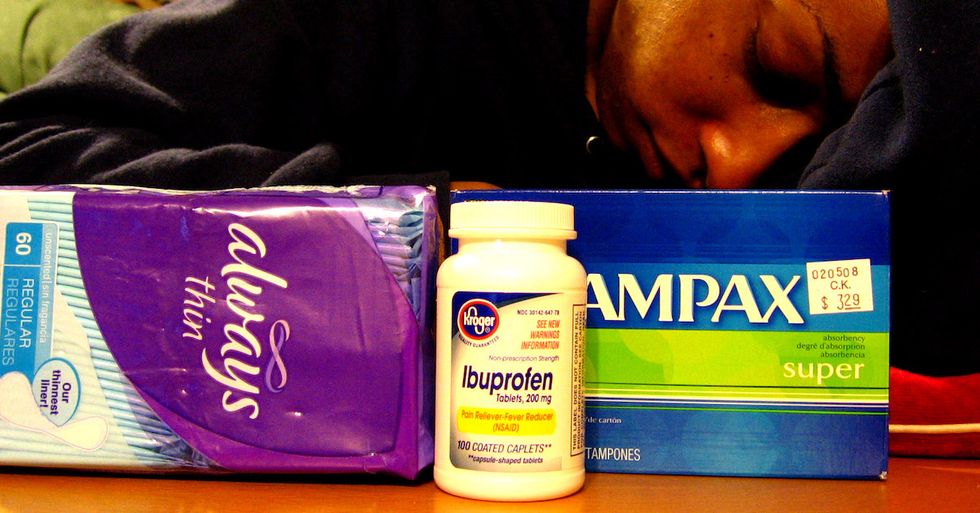 This article originally appeared on 09.14.17
Here's an article to send to every jerk in your life who denied you the right to complain about your period cramps: A medical expert says that some women experience menstruation pains that are "almost as bad as having a heart attack." John Guillebaud, who is a professor of reproductive health at University College London, spoke to Quartz on the subject, and said that the medical community has long ignored what can be a debilitating affliction, because it's a problem that mostly inconveniences women.
---
"I think it happens with both genders of doctor," Guillebaud told Quartz. "On the one hand, men don't suffer the pain and underestimate how much it is or can be in some women. But I think some women doctors can be a bit unsympathetic because either they don't get it themselves or if they do get it they think, 'Well I can live with it, so can my patient.'"
And it's a problem that can't just be treated with common painkillers. Some people who experience dysmenorrhea, the medical term for painful menstruation, also suffer from endometriosis, a condition that can cause infertility if it's not treated properly. But research on the subject is scant, so doctors often misdiagnose it, or dismiss the pain entirely. It's estimated, however, that one out of 10 women has the condition.
Earlier this month, Girls creator Lena Dunham was forced to take a rest from show promotion and other work duties because she suffers from endometriosis. In a recent edition of her newsletter, Lenny Letter, Dunham wrote a frank essay about her struggle with the condition, and particularly with a medical institution that didn't know how to diagnose her. She didn't know how to put a name to her pain until she turned 24 and underwent laparoscopic surgery, "which is the only way to definitively diagnose endometriosis," according to Dunham.
Quartz reporter Olivia Goldhill had the same problem. She suffered from frequent period pains that were as distressing as a slipped disk, she says. But doctors had no answer for her. "Before I had my MRI scans, I told my primary care doctor that the pain seemed to be triggered by my period," she said. "He didn't think this was relevant and ignored the comment."
For now, the medical community has been dragging its feet to do research on the subject. Goldhill says the only thing people can do right now is talk about it, to heighten awareness. "Tell your doctor, your friends, your colleagues," she wrote. "We need to talk about period pain long and loudly enough for doctors to finally do something about it."