Articles
PlugShare: Can This New Electric Car Charging App Cure Range Anxiety? Suffering from Range Anxiety? There's an App For That
Lend me some power. I am your neighbor.
Are you suffering from range anxiety? There's an app for that.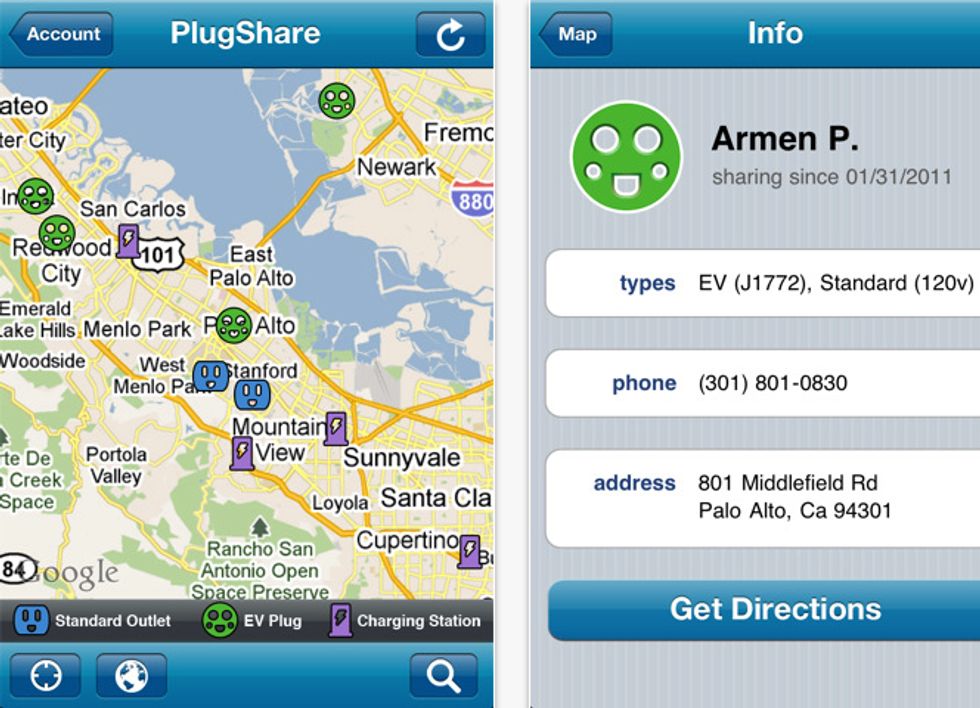 ---
The new PlugShare app—just released for the iPhone, iPad, and iPod Touch, and soon to be available on Android powered devices—lets you share your home charging station with other electric vehicle (EV) drivers, or find a friendly fellow EV enthusiast who can give you a charge.
Here's a video demo of the app:
[youtube]http://www.youtube.com/watch?v=6q9MYL-KXvo
The app doesn't just help you find friendly strangers who are willing to offer you a charge, but also has a comprehensive directory of public charging sites.
PlugShare is the first product from the relatively new Palo Alto-based EV software startup Xatori. Forrest North, formerly of Tesla Motors, and now co-founder of Xatori told TechCrunch:
"We want to build and support a community that's creating a paradigm shift to a massively cleaner type of transportation. The reality is that most people will charge their electric vehicles at home and not exceed the range of their vehicle very often. This [app] provides a kind of backup plan, and lets you feel comfortable. If you did miscalculate, you'd be ok."

\n
In other words: PlugShare isn't about how to recharge your electric car routinely for free, but for those times you find yourself out of your normal commuting routine and are nervous about running out of juice before getting back to the home charger. Giving drivers peace of mind will be a major hurdle in mainstreaming electric car adoption.
Now it remains to be seen just how heavily electric car drivers can rely on the kindness of strangers. I'd love to hear whether or not you'd allow someone to plug into your home outlet for an emergency charge. From a regular old AC plug, it costs about $0.15 for an hour of charge time, which isn't really that big a handout to help a fellow energy buff in need. I think I'll add my house to the directory.