Articles
Pornography, Condoms, and the Mainstream
"I wouldn't mind using condoms more," 20-year-old performer Lily LaBeau told me. "It's just not what people want to see."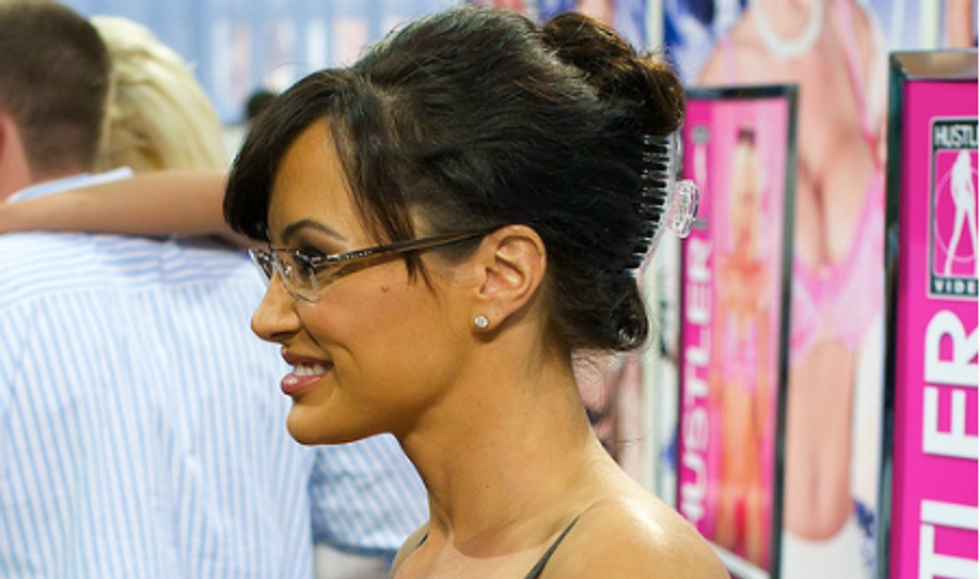 Porn performer Lisa Ann.
It's awards season in pornland: This month, competing adult industry news publications XBIZ and AVN dole out statuettes to honor porn's "Best Oral Series" and "Best Editing." These awards shows are designed to celebrate porn's neglected corner of the film industry, but they are forever angling for mainstream recognition. Adult Video News considers its annual awards show the "Oscars of porn." It recently drafted a press release to inform the public that the awards would be promoted "on national TV!" Both shows honor "crossover" stars: porn performer Andy San Dimas received an XBIZ nomination for netting the role of "Stripper" in Drive; Bree Olson got one for hanging out with Charlie Sheen.
---
Just hours before porn performers lined up to walk the XBIZ red carpet on Tuesday, the Los Angeles City Council gave the adult industry its full attention: Council members pledged to pass an ordinance that would require performers to use condoms while on set. Though performers in straight porn self-regulate with a regular HIV testing schedule, condom use is rare. The AIDS Healthcare Foundation has been pushing for months to compel the city to enforce increased protections, claiming that condomless sex creates an unsafe working environment for performers. Plus, "the lack of condoms in straight adult films sends the message that safer sex isn't sexy."
The condom issue speaks to the strange cultural space the porn industry occupies: It is for the mainstream, but not of it.Publicly, we view porn as a danger to itself—and to us. But privately, well, we view porn. "I wouldn't mind using condoms more," 20-year-old performer Lily LaBeau told me. "It's just not what people want to see."
Porn performers have told me that condoms can be uncomfortable, unreliable, and irritating on set, where sex is more strenuous and lasts longer than it does off-camera. But mostly, they attribute the lack of condoms to consumer tastes. "We're selling a fantasy," says Lisa Ann, 39, who enjoyed her own mainstream moment when she was cast as a Sarah Palin-type in Hustler's spoof of the 2008 elections. "It would be great to teach young people to put a condom on during sex," she says, but she's not sure how much the porn industry should be responsible for educating teenagers.
Lisa Ann says she would support her fellow promotors rallying to "at least do an infomercial" in support of condom use, but promoting the idea that "safer sex is sexy" in each and every scene would wipe out the industry. "It's not constitutional to ask us to do that," she says.
Mutual distrust between porn and the mainstream hasn't made porn any safer. Porn performers "are people who have a problem with authority anyway," 52-year-old performer Nina Hartley told me before waltzing into the XBIZ awards on Tuesday. And they're not too eager to conform to mainstream regulations when "the civilians, quite frankly, find us icky." Meanwhile, to many performers, an outside sex partner is more of a threat to the industry than they are to each other. "I don't fool around without a condom on in my personal life," says Lisa Ann. "I'll tell a guy, 'I'd hate to bring something to you from my industry.' More so, I would hate to bring my industry something from him. But it's always easier to put things on you instead of the other person."
The mainstream world hopes to impose its safety standards on the porn industry, while the porn industry claims to give the mainstream what it really wants. If they don't, someone else will. "The more practical problem is that the industry is going to move out of the state," First Amendment attorney Paul Cambria told me—to Las Vegas or Florida or Canada or Mexico or Europe, or underground, where there would be "no protections" at all. "A number of large companies have already contacted me about making arrangements," Cambria says. But the porn world doesn't really want to go. "This is the movie capital of the world," Cambria says. "This is where the action is."
Photovia (cc) Flickr user gcD7K