Articles
Project: Redesign the Food Label GOOD and News21 Present a Project to Redesign the Food Label
We all read food labels, but we're not always sure what they mean or how to use them. We want to change that and we want your help.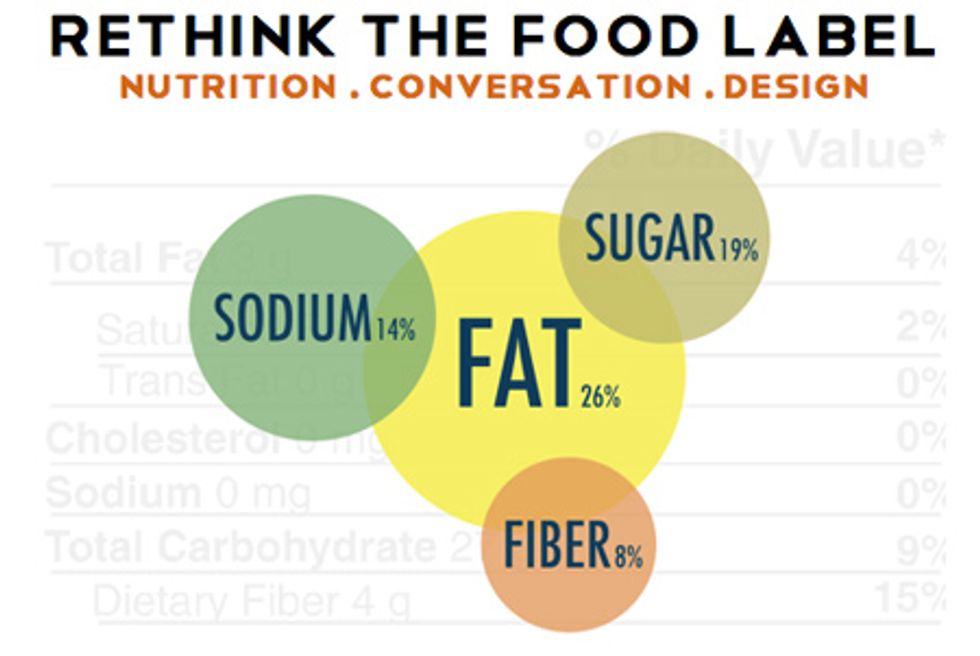 We all read food labels, but we're not always sure what they mean or how to use them.
---
We want to change that. So does Michelle Obama. Last year, she said, "We need clear, consistent, front-of-the-package, labels that give people the information they've been asking for, in a format they understand."
Now, GOOD and the University of California Berkeley Graduate School of Journalism's News21 project are asking designers, nutritionists, and food policy experts to redesign the food label, and we want your help.
the OBJECTIVE
Inspire better food and nutrition literacy with clear, simple, easy-to-understand labels.

the ASSIGNMENT
Redesign the food label. Incorporate the existing nutrition facts and calorie counts. Or reimagine a label entirely based on food quality, food justice, or lesser-known chemosensory characteristics. Consider a food's carbon footprint or its cultural significance. Above all, make the redesigned label informative, instructive, and memorable.




the REQUIREMENTS
Please submit your design here—as a JPG image, 450 pixels wide, and less than 1 MB in size. We'll contact the winners and the runners-up for higher resolution pieces. We'll take submissions now through July 1.

The winning entries will be selected by GOOD's staff, News21's Rethink the Food Label, and a panel of nutrition experts, food writers, and designers—including Michael Pollan and Laura Brunow Miner.
The winner will be announced on July 15 and featured on both our homepage and News21's website. We'll send the winners a GOOD T-shirt and a free subscription (or gift subscription).
RESEARCH and INSPIRATION
Here's how the Food and Drug Administration explains the existing nutrition facts label, which was created in 1991 by the Nutritional Labeling and Education Act.

Read the Institute of Medicine's Phase I report on front-of-packaging labels here and see what the Grocery Manufacturers Association proposed earlier this year here.
In the upcoming weeks, News21 will highlight collaborations between nutritionists and designers here.
Tell all your friends and send us your design here! Who knows? You could change the future of the food label.