Articles
Will Steger has led historic expeditions to both poles, traveled tens of thousands of miles through the arctic and antarctic by kayak and dogsled...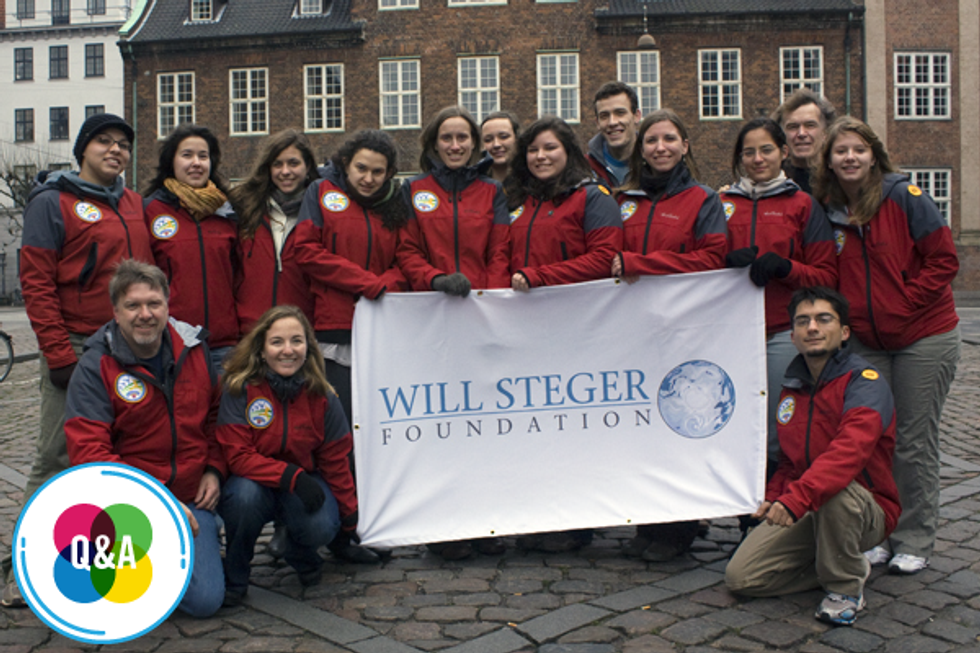 Will Steger has led
historic expeditions to
both
poles,
traveled
tens of thousands of miles through the arctic and antarctic by kayak and dogsled over the past 45 years, and earned a Lifetime Achievement Award from National Geographic Adventure Magazine. But he insists he's as much an educator as an adventurer. As one of the world's leading authorities on the polar regions, Steger has served as eyewitness to the dramatic changes of global. Five years ago, he created the
Will Steger Foundation
to better engage the public, particularly youth, on climate issues, using his expeditions and experience as a jumping off point for education and action.

You wear quite a few different hats–explorer, foundation director, educator. How do you describe what you do?

---
I'm a career educator. Since I was a kid I knew I was going to be a teacher. I got my masters in education, taught secondary science in the late 1960s, started a winter and dogsledding school in the 1970s, and in the late eighties–before the internet was even a thing–I was working on bringing technology into the classroom.

But I've also been working in conservation and environment all my life. Along with exploration. Those three things have been really the hallmark of my time and my life.

So what drew you to climate change?

When I was 18 I took my first trip to the arctic, in Alaska by kayak. I was really inspired by big wilderness and, of course, anyone who gets effected by the wilderness has the tendency to preserve it and protect it. So it was a natural for me to commit to the environment as an educator. I was actually teaching global warming in school back in the late 1960s.

You've been up around the poles as much as almost anyone, and have known about global warming as long as nearly anyone. Would the warming be obvious there if you weren't already so well inform?

Absolutely. It's unbelievable. Science fiction. In the last ten yeas, all the ice shelves that I've traveled on in the arctic and Antarctica–five of them–have all disintegrated. Every major route I've taken in the arctic and antarctic can't be traveled anymore. Three years ago we lost 50% of the sea ice on the Arctic Ocean. You'd be lucky to reach the North Pole by dog team now. You'd need to take a canoe.

But you know who notices it the most? The native people. In 2007, we traveled with eskimoes, people who've lived there for generations and generations. They have a better filing cabinet or reference point to go back on, and everything's changed for them, including the wind direction. They can't navigate anymore by their traditional methods. The old ones go out there now and they're lost. The snow patterns point in the wrong direction. It's upside down.

So why a foundation? What are the goals there?

We created the foundation about five years ago, and right now the main mission is education around global warming, particularly the solutions. First, we're training emerging leaders. Young people today are going to be the business leaders sooner than we realize, and they're going to be in office soon too. And it's very clear that the youth really know what's going on. They're a lot smarter and more worldly than we were when we were young.

















Second, we're trying to move clean energy legislation in the Midwest. We have consolidated voting voices in the Northeast and West Coast, but no block like that in the Midwest. So with the youth, we're trying to give our senators the political cover to support clean energy legislation.

Your latest expedition was to Copenhagen? It's pretty far north, but not in the arctic circle.

This was the first expedition that wasn't a real polar adventure expedition. We're not doing any other major adventure expeditions until there's more progress on the policy level here in the U.S. But Copenhagen was different. We organized it around our adventure learning model–an expedition in the field that attracts attention in the classroom. We had delegates from throughout the Midwest in their 20s to appeal to high-schoolers as role models. The team reported back to a curriculum that we'd developed for high school and middle schoolers. Expedition Copenhagen was a live feed into that classroom curriculum.

So with no polar trips until there's domestic policy, is there an Expedition DC in your future?

Maybe this spring. I'm hoping to testify down there, to bring my stories and first hand observations to the decision makers. I presented to congress in 1991 about the dangers of losing the summer sea ice, and now it's gone. Hopefully I can come back now and show them–here's what I told you about 20 years ago. It's happened.

Senator Graham [South Carolina Republican senator and sponsor of climate bill] has mentioned his trip to the arctic as a turning point in his thinking about climate change.

To see it first hand, it's undeniable. It hits you as a human being, as a moral person.

I've sought my whole life to live out on the edge, cause that's where the learning experiences are. As a society we're out at that edge right now, which I think is a good place to be because it forces us to move. The U.S. moves very well when there's a crisis. But this climate crisis, we don't want to push it too far, cause it may be too late.

This post originally appeared on www.refresheverything.com, as part of GOOD's collaboration with the Pepsi Refresh Project, a catalyst for world-changing ideas. Find out moreabout the Refresh campaign, or submit your own idea today.