re-fashioNYC Makes Donating Clothing as Easy as Tossing It
In some New York buildings, a new bin will be showing up next to the trash and the recycling—a clothing donation bin.
07.02.11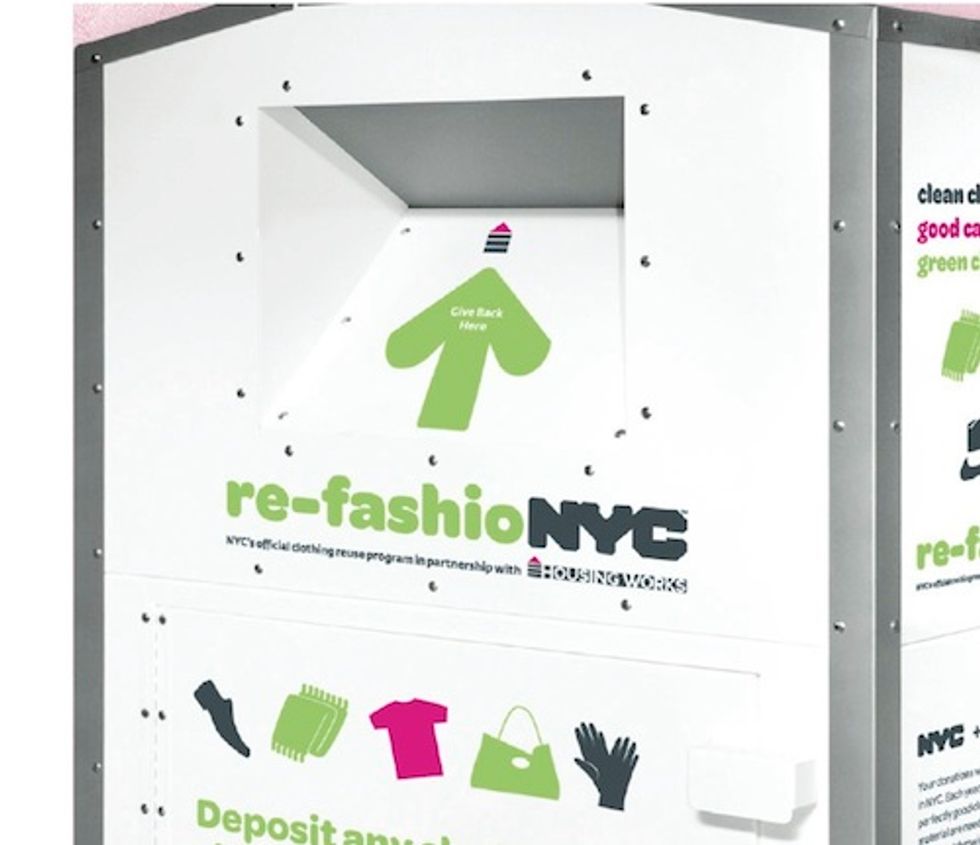 Cleaning out the closet is much less satisfying when you're carless and faced with the task of carrying those discarded clothes blocks away to the nearest donation center. It's much easier to just throw those bags in the trash. Faced with this dilemma (or simply uninterested in donating clothes to begin with), New Yorkers throw away about 200,000 tons of textiles—not only clothes, but curtains and towels and linens, too—every year.
---
The city is aiming to make it easier for its fashion-obsessed citizens to do right by their old clothes, though. Last month the Department of Sanitation and the Mayor's Office of Long-Term Planning and Sustainability announced that a new bin will be showing up in some buildings next to the trash and the recycling—a clothing donation bin.
The program is called re-fashioNYC. Any building that has ten or more units in it can request a clothing donation bin by filling out an online form. The city comes to check out your building and will set up a bin within three months. When the bin fills up, a building employee like a doorperson or a superintendent calls the city back when the bin is full. The city promises it will show up within five days to collect the donations. It's also possible to schedule regular pick-up for buildings that have that much clothing to give away on a regular basis. Anyone who donates less than $250 worth of materials can get a tax receipt documenting their donation, either from the outside of the clothing bin or from online.
The re-fashioNYC program is relatively transparent about where the donations end up. The city partnered on the initiative with Housing Works, a local organization that provides housing and other services for people living with AIDS and HIV. Housing Works funds its work in part through the social enterprises it runs—a used bookstore, a catering service, and seven thrift shops in the city. It's Housing Works that provides the bin and deals with the clothing donations. All donations dumped into re-fashioNYC bins go to a Housing Works warehouse in Queens, where they're sorted. Some clothes go to Housing Works' thrift shops or its "all-you-can-stuff" warehouse sales (both highly recommended!). The remainder, according to the city, go to a thrift shop in Haiti, other nonprofit thrift shops, or to resale and recycling markets in other countries. Profits from the sales are meant to cover the cost of the re-fashioNYC program; any additional profits go to Housing Works to fund their work.
The city has received hundreds of requests for donation bins in the first month of the program. Most of the requests so far have come from tenants, according to Robert Lange, the Department of Sanitation's recycling director, and those requests take longer for the city to follow up on, since they require contacting and dealing with building management. But Housing Works has contracted to provide 250 bins in the first year of the program, and the demand should more than meet that capacity.
Image via NYC Department of Sanitation.
Articles