Articles
Saving Poetry (and Poetry)
A holiday shout-out to the Tudors, independent magazines, and charitable giving. I have been going through a Tudor phase. It started when I...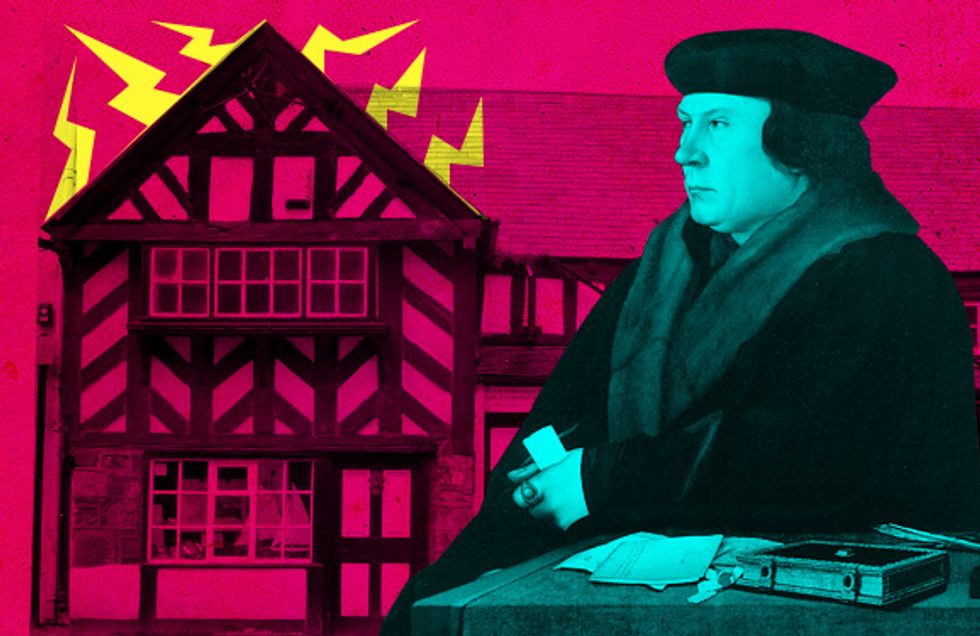 ---
A holiday shout-out to the Tudors, independent magazines, and charitable giving.
I have been going through a Tudor phase. It started when I mainlined the most extraordinary novel I have read this year, Hilary Mantel's Man Booker Prize-winning
Wolf Hall
, which tells the story of Thomas Cromwell, a commoner who went on to advise Henry VIII (and still what a page-turner!) That led me to a marathon screening of
The Tudors
on my computer and long hours surfing Tudorama on the web.
One character in
Wolf Hall
is Sir Thomas Wyatt, and whenever I hear that name this line comes into my head: "They flee from me, that sometime did me seek," a line from Wyatt's poem "Remembrance." Wyatt was not only a figure in Henry VIII's court but a poet as well. He was ambassador to France and Italy for the king, and adapted the sonnet form into English. His poem "Whose List To Hunt" is rumored to be about Wyatt's relationship with Anne Boleyn.
I wanted to read these poems again, and that led me to my all-time favorite website in the whole wide universe: the Poetry Foundation's unmatched
poetryfoundation.org
. There I found the full text of "Whose List to Hunt," which ends:
"And graven with diamonds in letters plainThere is written, her fair neck round about:Noli me tangere, for Caesar's I am,And wild for to hold, though I seem tame"
Then I kept playing some more with the
Poetry Tool
function, which allows you to search for poems by Category, Occasion, Title, First Line, and other categories. If you would like to send someone lines for Hanukah, they have a category for that (Karl Shapiro's
The Alphabet
is beautiful and bleak, and new to me). There are 1834 Social Commentary poems too, if you are looking for a new spin on blogging about health care reform.
The Poetry Tool is wonderfully designed and easy to navigate, and elsewhere on the website are articles, blogs, resources, and the like. Even better is the story
behind
the Poetry Foundation, one of giving fit for the season, and for anybody who gives a damn.
Poetry
magazine is a very influential and aesthetically forward-looking magazine that has been a fixture in the literary community since its founding in 1912. Harriet Monroe, the founder, had an open door policy "to print the best poetry written today, in whatever style, genre, or approach." That guideline led to the first published poems by T. S. Eliot, Ezra Pound, Marianne Moore, Wallace Stevens, H. D., William Carlos Williams, Carl Sandburg, and others. Since then, it has published "works by virtually every significant poet of the 20th century."
How does it survive? Writing and publishing poetry is no money-maker, to put it lightly. The magazine is unaffiliated with any institution-almost unheard of in our university-as-patron literary America. But
Poetry
magazine and now, the Poetry Foundation, are doing good
and
doing well, even in this most punishing of years.
In 2003, the philanthropist Ruth Lilly gave a $100-million gift to
Poetry
magazine. The gift led to the establishment of the Poetry Foundation and guaranteed
Poetry
magazine in perpetuity. That gift catapulted a small, basement operation into one of the largest literary organizations in the world.
And they have served us all with their gift, from "Poetry Out Loud" competitions to a Poetry Film prize to poetry tours of Washington D.C. to, well, providing me the full text of "Whose List To Hunt" and a few choice lines sent to friends to mark birthdays, commiserate on lay-offs or brag about my deftness with Double Dactyls (check out the
Glossary Terms category
).
So here's my holiday shout-out for 2009: to Ruth Lilly, philanthropy, poetry, independent magazines, and Sir Thomas Wyatt, whose verses preserve the history of the Tudors. Poetry, and
Poetry
, thanks to charitable giving, helps us understand our world. If still in doubt, listen to
this audio recording of D.A. Powell's Love In The Age of Global Warming
.