Articles
School of the Future: Unschooling Education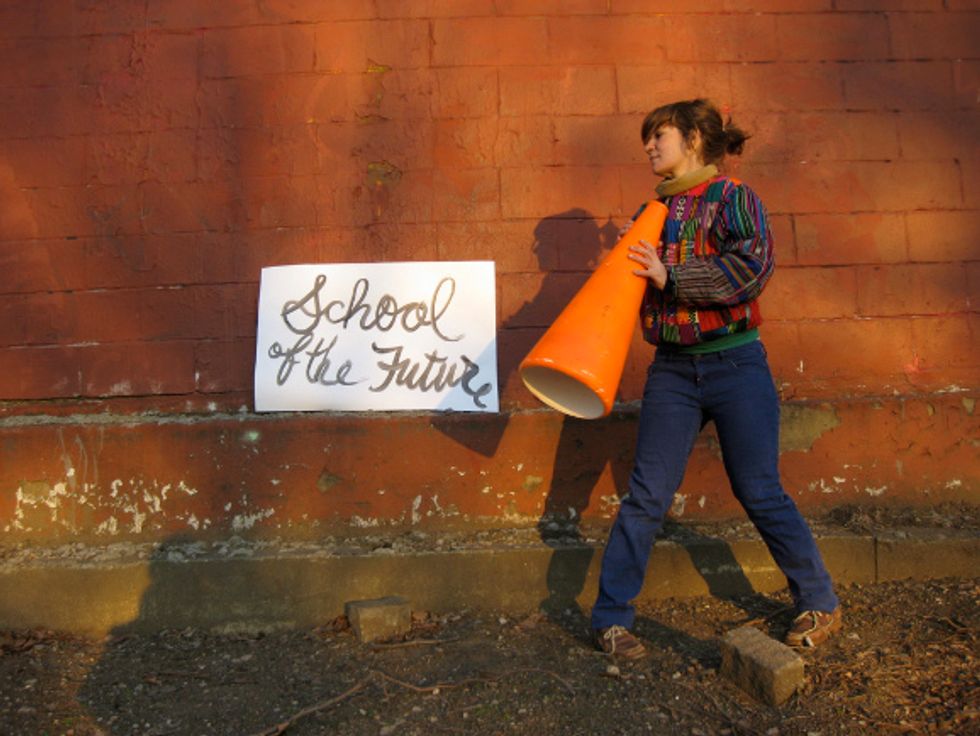 What do you want to learn?
School of the Future is a project about what a school can be. This un-school will facilitate a model of apprenticeship and collaborative learning that questions what we know and how we learn.

The mission and hypothesis is that the best learner-teachers are the best teacher-learners. School of the Future invites adventurous teachers and learners to propose classes, workshops, apprenticeships, installations, or moments that add to our active research about how to make a better education. In the process of exploring the possibilities of school, we aim to become a body of unschooled and educated teaching students.

School of the Future is an ongoing experiment that can happen anywhere, at anytime. The first manifestation of the project is an inter-generational free school for the community around Sgt. Dougherty Park, in Greenpoint, Brooklyn. The local neighborhood around the park and community of people involved in the school will be the student body and the teaching staff.

From solar-powered lighting to a giant scrabble board, Tyvek mountains and experimental food sculptures, the School of the Future is an invitation to experiment and analyze learning through the arts. Each class, performance and student-teacher exchange provides inspiration for a curriculum that allows a community to respond to a particular site, encouraging the use of under-utilized public space as a way to learn and question cultural constructs and personal responses to school and education.

During the school's July 2010 semester, a research document will be created and distributed in collaboration with the School's student body and teaching staff. This curriculum will draw from the process of building the school and will act as a resource to support the creation of new models for future education.

Our mission: Art will be the foundation of the American public education system. Art is a way to learn about everything else. Learning is about experience and exchange. Art is the bridge between both.










---
Interested in helping us build the School of the Future? You can help by donating to our current
Kickstarter campaign
, proposing a class, or joining us for an upcoming fundraiser on June 11 at
Solar One
.

Christopher Kennedy is the Director of the Institute for Applied Aesthetics, an experimental school for research and learning in Brooklyn. His research interests include mycoremediation, the social history of shamanism, the keltic roots of queer culture, and fiber arts involving movement and food. He is currently working on an intergenerational free school called School of the Future.

Cassie Thornton is an artist and educator living in Brooklyn. She founded School of the Future, a consulting company in a forest, and a barter system beauty salon. This fall, she will be studying social practice at California College of the Arts.