Articles
The next hip tea drink comes from the Amazon, funded by developing nation socialist venture capitalists.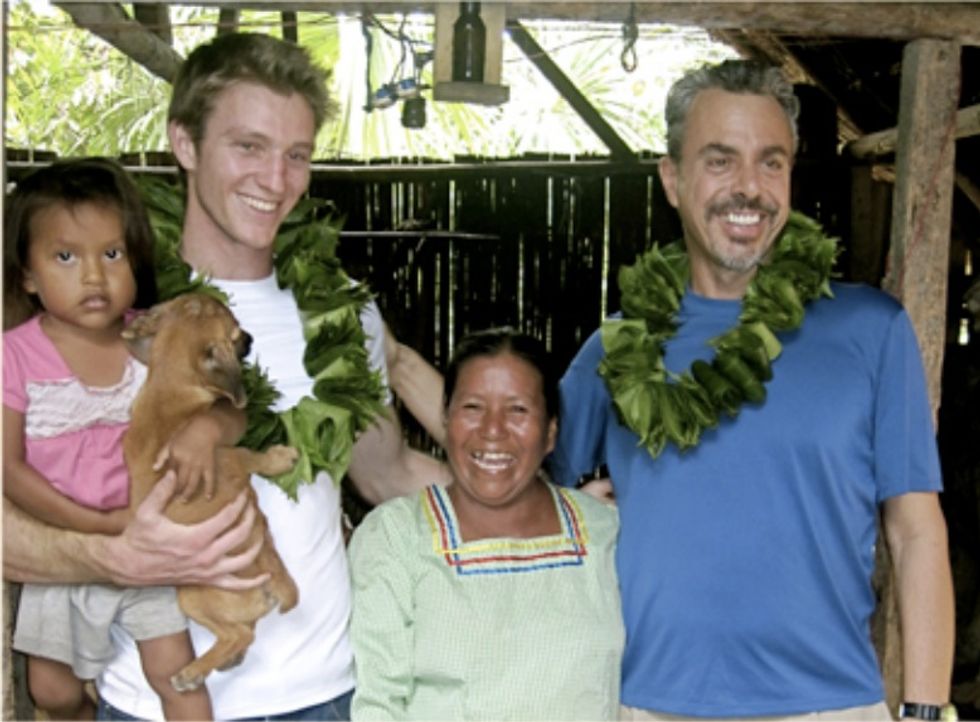 Governments take all kinds of measures to boost business—from creating subsidies and setting standards to loans and fiscal stimulus—so it's not unusual that the government of Ecuador is investing taxpayer money like a venture capitalist to get a new industry off the ground. It is unusual, however, that socialist Ecuadorian President Rafael Correa is using public funds to buy ownership shares in a Brooklyn startup.
---
Runa, the newest company in Correa's investment portfolio, is a beverage firm with a social slant. The company makes guayusa, a twist on tea made from leaves that grow in the Ecuadorian jungle, with as much caffeine as coffee and more antioxidants.

"It's like the Amazonian cousin of [yerba] mate," says Runa co-founder Tyler Gage, referring to the iconic Argentinean tea-like beverage. (Technically, guayusa is not tea, either, though you steep it in hot water and it's sold in tea bags.) Whole Foods and other supermarkets are already selling it, which Gage hopes is a sign that guayusa could become the next hip drink following the profitable path of South American products like yerba mate and açaí.


In 2005, Gage was an undergrad at Brown University conducting linguistic research in the Amazon. He tried guayusa and loved it, so by the time he graduated college, he had a business plan to sell it in the United States—but no one had commercially produced guayusa for export before. That makes his little startup a big chance for all the small famers who grow guayusa. Already Runa's orders provide a good living for 1,000 farmers, Gage says, and the Ecuadorian government is putting its money behind the claim.
"We guarantee a minimum price for leaves," Gage says. "We pay 15 percent extra for a social premium fund that farmers control for social projects," like water filters for all the farmers' families and farm equipment. The company is also seeking Fair Trade certification.
Selling more Runa in the U.S. means more work for farmers back in Ecuador, which is why the Ecuadorian government wants to see the company grow. Rather than subsidizing the product or giving grants to farmers, the government took a $500,000 equity position in Runa's Ecuadorian subsidiary, which is substantial funding for a young company. "It's a little bit crazy, to be honest," Gage says of funding his firm with money from a foreign government rather than a venture capital firm in his own city.
Correa is a left-leaning economist who espouses a "21st-century socialism" that melds socialist goals and capitalist methods. This Runa investment is one of the clearest examples of his strategy, and it has some investors skeptical. "Any investment from the government has huge caveats, regardless of socialist government or not," says Alvaro Rodriguez Arregui, co-founder and managing partner of the impact investing venture fund IGNIA Partners. Governments, he says, tend to crowd out private investors. "The government would argue there is no private investor willing to invest in a venture like this, that might very well be true. That's where you get into a catch-22, because the private sector will never have a chance to actually do it."
Arrgui's firm invests in for-profit companies that provide a social benefit. He considered funding Runa himself, and had only positive comments about the young company. It's Ecuador he worries about. "The government doesn't tend to be a very good investor," he says, citing both too much interference and a lack of follow-up as concerns.
Early-stage companies in the past that have accepted investment from Latin American companies have often failed, though the same can be said of any venture capitalist. The few famous exceptions, like Brazil's Embraer aircraft manufacturer, are incentive enough to keep trying—at least with heavy manufacturing; it's less common to see those investments in tiny social startups. Subsidies for oil companies or banana conglomerates are a safer bet, and Ecuador has its share of deals with those companies.
Runa's money comes from a new investment program called Crececuador, through which the government hopes to incubate a new kind of investment vehicle for young green businesses, one that eventually turns over the ownership to the employees or farmers.
"I think it's really interesting to see industrial policy to support not just heavy industry but impact organizations like Runa," says Antony Bugg Levine, CEO of the Nonprofit Finance Fund. By choosing to invest economic development money in a small business that has built-in social goals, he says, "the government is getting more in return for this than the usual, hard currency and jobs."

The Crececuador plan has a different exit strategy than most investments. Ten percent of the government's investment must be acquired by some mix of employees and farmers in the next six years. Ecuador's government doesn't want to be a holding company for Runa or anyone else; they want workers to own their companies, at least partially. "These companies [like Runa and other social enterprises] present new opportunities to governments as partners," Bugg-Levine says, admitting that they do pose a danger of crony capitalism. In the past, friends of leaders in government have been the beneficiaries of taxpayer-funded "investments" in Latin America, much to the public's detriment.

Runa appears to be different. The social aspect of the company's business model—the high wages to farmers, the social benefit fund, and support for sustainable farming—are the real reason Ecuador is wise to play venture capitalist to a Brooklyn business. "None of us are entirely convinced [the partnership] will work, but its a great way to participate the broader development of Ecuador," Gage says.




The idea aligns the early investors' goals with the social mission of the company, a common area of conflict for growing social enterprises and their venture financiers. Gage sees the government as the best kind of funder, telling GOOD that "if we're going to make money for someone as the company grows, then we'd rather it were the farmers and the government" than a venture capital firm.
Image courtesy of Runa