Articles
Sponsored Post: Making Child Safety Click for Drivers
In America, motor-related injury is a leading cause of death for minority children. See how one nonprofit is working to change that.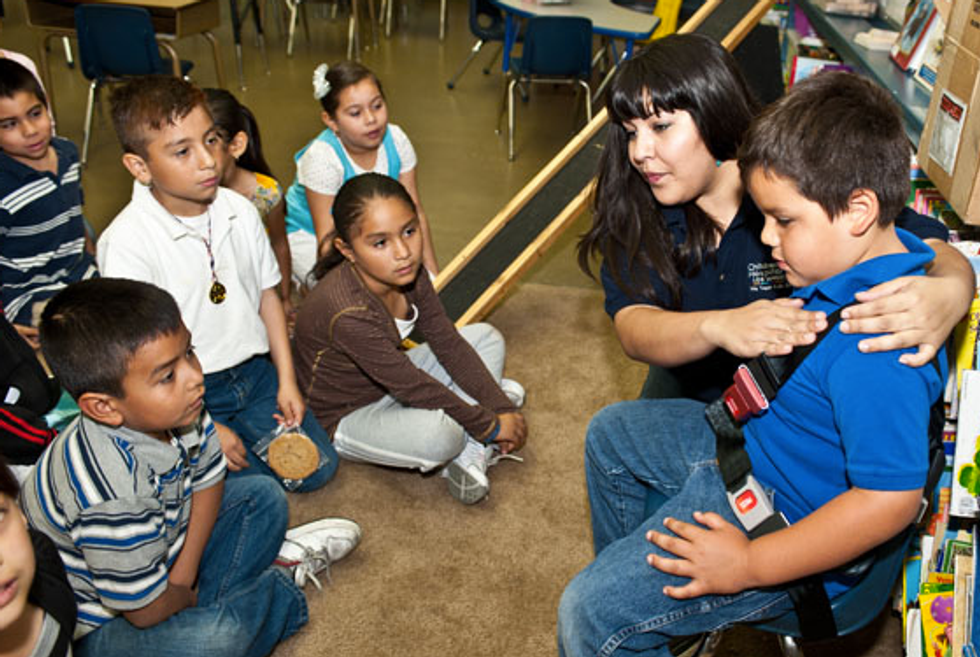 GOOD and Toyota, co-sponsors of the People Are Awesome series, bring you additional stories about individuals and organizations that are making a positive impact in our world.
As the founding director of Trauma Services at Cincinnati Children's Hospital Medical Center, pediatric surgeon Victor Garcia fights daily to give children a better chance at life. Garcia has faced many challenges that threaten childhood health, and it may surprise you that the one that he's impassioned about eliminating is overlooked by most people.
---
Just imagine there was a disease that was killing children across America. And imagine that this disease could be easily prevented by one everyday action. For Garcia, this "disease" is injury, particularly from motor-related accidents, because children in the U.S are more likely to die from injuries than from cancer or communicable diseases.
In 2004, Garcia and his team of hospital health professionals approached Toyota to help combat this statistic. They found a partner equally passionate and deeply invested in helping stop childhood motor-related injury. With funding from Toyota, Garcia and his team were able to establish Buckle Up For Life, a program offered by the Cincinnati Children's Hospital. Its goal is to educate and serve the two communities most affected by vehicular accidents.
While deaths from injury affect children across all ethnic lines and income brackets, statistically black and Latino children sustain injuries from motor-related accidents at a disproportionally higher rate for one simple reason: studies have shown that they are less likely to be buckled up or in a car seat.
The statistics are startling: Latino children are three times more likely to die in a vehicle crash than white children, while motor-related crashes are the leading cause of death for black children under the age of 14.
One challenge that Cincinnati Children's Hospital faced was understanding why minority drivers buckle up less often. Garcia found that the reasons were varied and diverse, spanning both cultural and economic divides. Low-income families may not have the money to buy car seats or a new car with working seat belts. The organization found that Latino drivers often come from backgrounds where the transportation contrasts greatly from fast-moving, American-style freeways and roads. Culturally, some drivers simply didn't grow up wearing seat belts, so they aren't in the habit of buckling up in cars.
Overcoming these challenges meant changing attitudes about safety. By collaborating directly with the Latino and black communities through organizations like churches, Buckle Up For Life fosters a communicative approach based on teamwork so that the targeted communities are empowered by the program and feel a sense of ownership.
"We shared with [church leaders] the stark reality that youth in their congregation were more at risk from injury and motor-related injury than kidnapping or drug use," Garcia says. "Once they understood the data, they were resoundingly supportive."
Buckle Up For Life's outreach efforts include regular Sunday school classes and ministers have supported the initiative by including sermons dedicated to safety. Congregations also learn more through hands-on vehicle safety events where safety practices are demonstrated and participants receive free car seat inspections. Rather than simply dictating to people what to do, the group approached them as equals with the community. "It was deeper, richer, and more than a collaboration," says Garcia. "We learned as much from the community as they learned from us."
Taking the time to gain community trust through the support of the churches and congregations has been essential to the program's impact. "There have been a lot of efforts to initiate community-based health programs, with very few successes. Those programs that were most successful were the ones that utilized and leveraged their influence that the church has in the community," Garcia stresses.
Another important piece of the puzzle was Toyota's support of the initiative. Garcia says, "Toyota realized that they had an obligation, a social obligation. We have not found any other corporation that has been so authentic in their commitment to help save people's lives."
So far, Buckle Up For Life has been extremely successful. In Cincinnati, the number of adults and children using seat belts and car seats has more than doubled after they participated in the program. In 2011, Toyota announced a grant of $1 million dollars in funding to help expand the program to cities like Los Angeles, Chicago, and San Antonio.
With the expansion of the program, Garcia sees a common thread that ties diverse communities and peoples together.
"At the end of the day, we are all the same in a sense. Not that we all have the same personal experiences, but understanding that we love our children, and that we want to do the best for our children," he says.
Learn more about how Toyota teamed up with Buckle up for Life here and how you can support the organization here.
Photos via Toyota in Action