Articles
A moment of common decency that we could all use more of.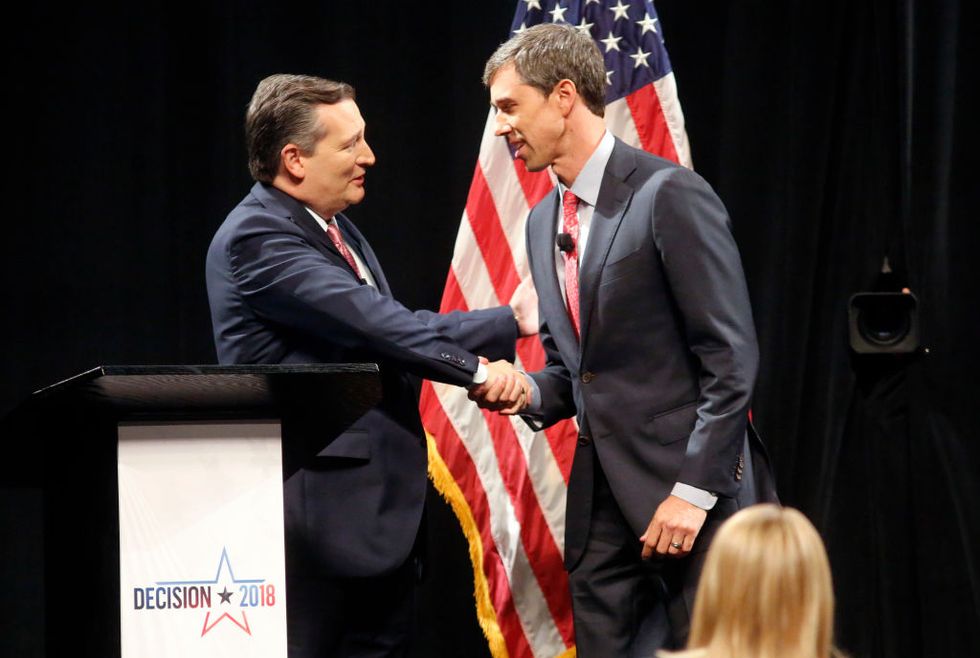 Photo by Tom Fox-Pool/Getty Images
The Texas Senate race couldn't get much more heated. But there are limits.
---
Sen. Ted Cruz (R-TX) and his wife were dining at a restaurant in Washington, DC on Monday night when a group of protestors confronted the lawmaker.
The protestors were part of a group opposing the Supreme Court nomination of Brett Kavanaugh after allegations of sexual misconduct.
So far, so good. But things got out of hand when the protestors encircled Cruz and his wife, screaming at them and making threatening gestures while the pair tried to eat dinner.
Now, you might be thinking that you have no problem with the scene as it unfolded. After all, Cruz has taken a number of positions that put him squarely on the far right end of the political spectrum when it comes to issues like immigration, taxes, and, yes, Supreme Court nominations.
And we've seen other recent examples of Trump Administration officials being heckled in public -- and those events were largely accepted, or even celebrated, by most Americans.
However, in this case, things got more than a little uncomfortable when the protestors tried to physically block Cruz's wife from leaving the restaurant and Rep. Beto O'Rourke (D-TX) took notice.
In a tweet, Cruz's Democratic opponent wrote:
"Not right that Senator Cruz and his wife Heidi were surrounded and forced to leave a restaurant last night because of protesters. The Cruz family should be treated with respect."
In a sense, it's the very sort of decency and respect that Americans everywhere are fighting for right now. O'Rourke shows that we don't have to go as low as our political opponents to score electoral victories against them. Doing the right thing is enough on principle. And it might just be the sort of thing that is helping propel more people like O'Rourke to the U.S. Senate.