Articles
TED Global 2010: And Now The Good News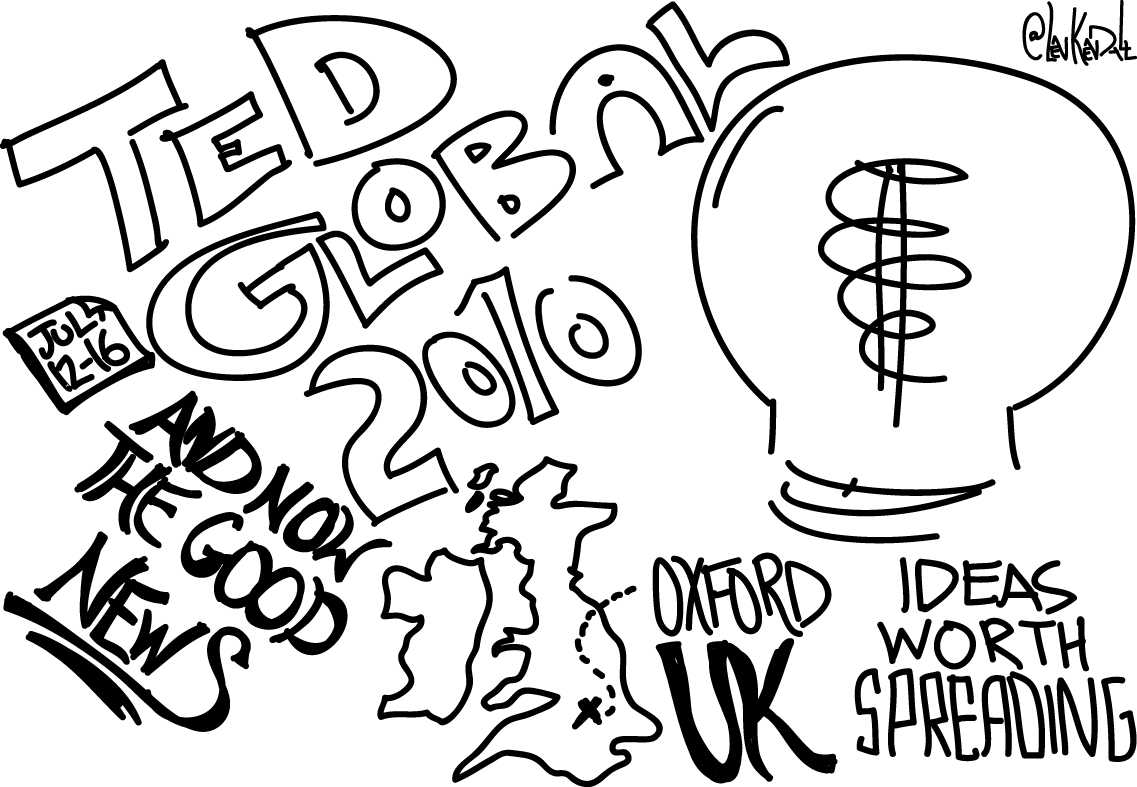 Text by Maria Popova; artwork by Len Kendall
---
The TED Conference has long been a beacon of positive change. Since 1984, the annual gathering in California has been pulling together the world's brightest thinkers and most inspired creators to do what anywhere else could be dismissed as cliche-crunching and fluff-slinging. But not at TED. At TED, this remarkable cohort of designers, writers, researchers, artists, scientists, and CEOs gets serious about all the things that populate today's media as empty buzzwords but don't have to be: sustainability, world-changing design, storytelling, education reform, and innovation.
In 2009, TED broadened its horizons by holding the inaugural annual TED Global conference in the United Kingdom. This month, TED Global is back for the 2010 edition and we are fortunate to be reporting live from Oxford, starting next week.
This year's TED Global theme—And Now The Good News—comes as a much-needed glimmer of optimism in a year that, barely halfway through, has already been among the most disastrous in modern history. Devastating earthquakes, ongoing war casualties, the never-ending Gulf oil spill. Good news has become a near-extinct species and there's hardly a more powerful, passionate, and poignant conservationist than TED to redeem the biodiversity of our cultural and media landscape. TED Global 2010 promises a potent antidote to today's troubling headlines—"new ideas, new science, new technology, new social and political thinking, new art and a new understanding of who we are."
Perhaps the seed of optimism came from within: 2010 has been an exceptional year for TED itself, brimming with good news on numerous fronts.
This month, TEDTalks—the umbrella term for all the TED videos made available online—turned 4. Since the 2006 launch, 725 TED talks have been watched 250 million times by people around the world. The past year alone has been particularly significant for TED. The TEDx program, originally a tentative experiment in self-organized TED-like events, has blossomed into a global phenomenon, with nearly 1000 events held or planned in 80 countries in 25 languages. The TED Open Translation Project, which harnesses the power and passion of volunteer translators to make TEDTalks available to the non-English-speaking world in more than 200 languages, has amassed an impressive vault of more than 8,000 translations. The $100,000 TEDPrize, now in its fifth year, has become a platform of incredible cultural traction—its 2010 recipient, Jamie Oliver, has become one of the most widely recognized sustainable nutrition advocates, even getting a new reality show on a mainstream TV network in the US. And the TED Open TV Project, launched at the Web 2.0 Expo in May, allows broadcasters worldwide to incorporate TEDTalks into their regular programming without any licensing fees—truly open-source TV.
Meanwhile, the TED Fellows program continues to empower visionary makers and doers from around the world (with a specific focus on Asia-Pacific, the Caribbean, Latin America, Africa and the Middle East) to weave their web of cross-disciplinary magic. The season's crop of 23 new TED Global Fellows, who join 20 exceptional Senior Fellows, spans a remarkably wide spectrum of disciplines—from photojournalism to biotechnology to digital choreography—and makes for a promising Petri dish of creative cross-pollination.
This year's TED Global speaker lineup dances across the cultural spectrum with the grace of meticulous curation. Fifty remarkable speakers and performers—from neuroscientist Sebastian Seung to musician Annie Lennox to humanitarian design advocate Emily Pilloton to web personality Ze Frank—will take the stage between July 12 and July 16 to deliver their genius in 18-minute buckets. And we'll be right there, watching and reporting.
For full coverage of this year's TED Global going-ons, keep an eye on this column. I'll also be live-tweeting each day's play-by-play events, complete with speaker soundbites and stage photos, under @brainpicker.
Get ready for some good news.
Maria Popova is the editor of Brain Pickings, a curated inventory of miscellaneous interestingness. She writes for Wired UK, Big Think and Huffington Post, and spends a shameful amount of time on Twitter.