Articles
The Great American Teach-Off: The Votes Are In, Meet Your Winner
After weeks of voting, we're proud to announce the winner of the Great American Teach-Off. See which educator earned your votes—and the $10K grant.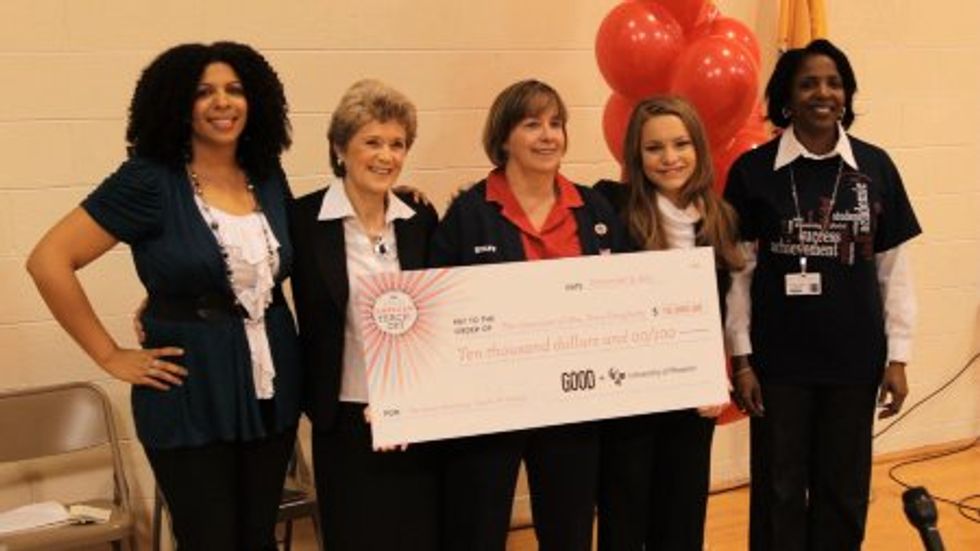 This post is in partnership with University of Phoenix
After five weeks of voting, we're proud to announce the winner of the Great American Teach-Off: Terry Dougherty, third grade teacher at Roland Rogers Elementary School in Galloway Township, New Jersey.
---
In addition to being a classroom teacher at the school, Dougherty runs a free tutoring program for children of military personnel. Her program, Free Military Child Tutoring—They Are Heroes Too!, stemmed from being a military spouse for thirty years and seeing the separation and transition issues that these children face.
She was being honored by her school and by local veteran organizations for her work when representatives from University of Phoenix and GOOD surprised her with the news that she was the Great American Teach-Off winner. In addition to being presented with a check for $10,000, Dougherty also learned she was invited to the White House for a special tour during the holiday season.

With her grant money, Dougherty hopes to continue serving students in military families. "I'm going to develop a mobile technology lab," she says. "The National Guard uses one in Tennessee now and it includes laptops, iPads, and things like that so military children can communicate with their parents when they're deployed." When asked about her winning strategy, Dougherty admitted she was amazed at how many votes she received. "It was a community effort. It included the school community, the parents of my students, the military community, Facebook, everybody," says Dougherty. "And I can't thank everyone because I don't know everyone who voted for me—it got to the point where it was totally out of my control."


Check back on Monday, November 14 for an exclusive interview and video of the surprise announcement at her school. Learn more about her and the other inspiring educators in the Great American Teach-Off here.


Pictured left to right: GOOD Education Editor Liz Dwyer; University of Phoenix Regional Assistant Dean Connie Lorthridge; winner Terry Dougherty; GOOD Publicist Kim Pieper; and Roland Rogers Elementary School Principal Robin Moore.