Articles
The Internet Dethroned! We Now Waste More Time on Mobile Apps than the Web
Damn, smartphone users spend a lot of time staring at screens.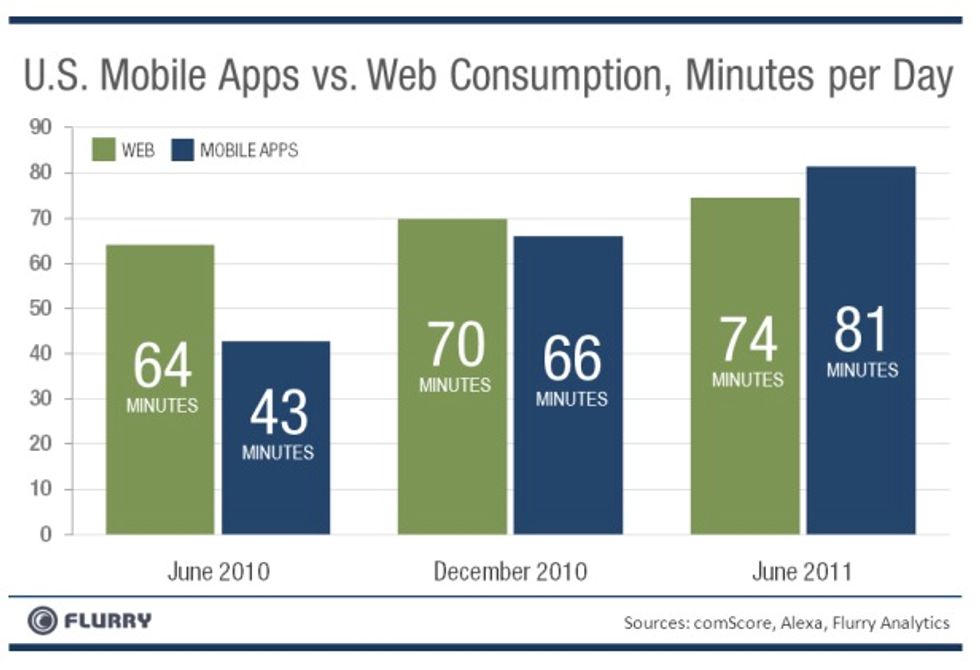 We spend a lot of time staring at screens. And now, for the first time, people who own smartphones spend more time staring at their little screens than the medium-sized screens on their desktops.
---
According to the mobile app analytics firm Flurry, smartphone users spend an average of 81 minutes-a-day using mobile apps, compared to 74 minutes on the internet via their computer. This is meant to show us the future of media is in apps, not web browsing.
That's an incredible amount considering that in 2009 the average American watched just over 3 hours of mobile video a month. Now that happens in a weekend (for people with smart phones). The quick adoption of apps argues strongly for a shift from multiuse websites requiring lots of clicking, to single function apps on your pocket. Flurry:
Growing at 91 percent over the last year, users now spend over 81 minutes on mobile applications per day. This growth has come primarily from more sessions per user, per day rather than a large growth in average session lengths.

\n
We're sneaking in more Angry Birds sessions on the train than before, not really hunkering down for more binges. See the chart below on how we spend our time on mobile apps. Games are the biggest time suck. Facebook and it's ilk are close behind. Facebook though is also the biggest single share of internet usage by time in this study, capturing 14 minutes a day online from the average smartphone user.
None of this even comes close to dethroning TV though. The average American still watches a whopping 153 hours of television every month. Yes, that comes out to more than six hours a day per person. That's what the experts at Nielsen research say, anyway. So, we love our screens and we are only loving them more and more, and as we have more options of gadgets to stare at, we're not choosing between them, we're just juggling them all.