Articles
The "Most Advanced High School" in the United States to Be Demolished
Chicago's South Shore High to set to meet the wrecking ball. The decision is stirring racial and class-based controversy in the community.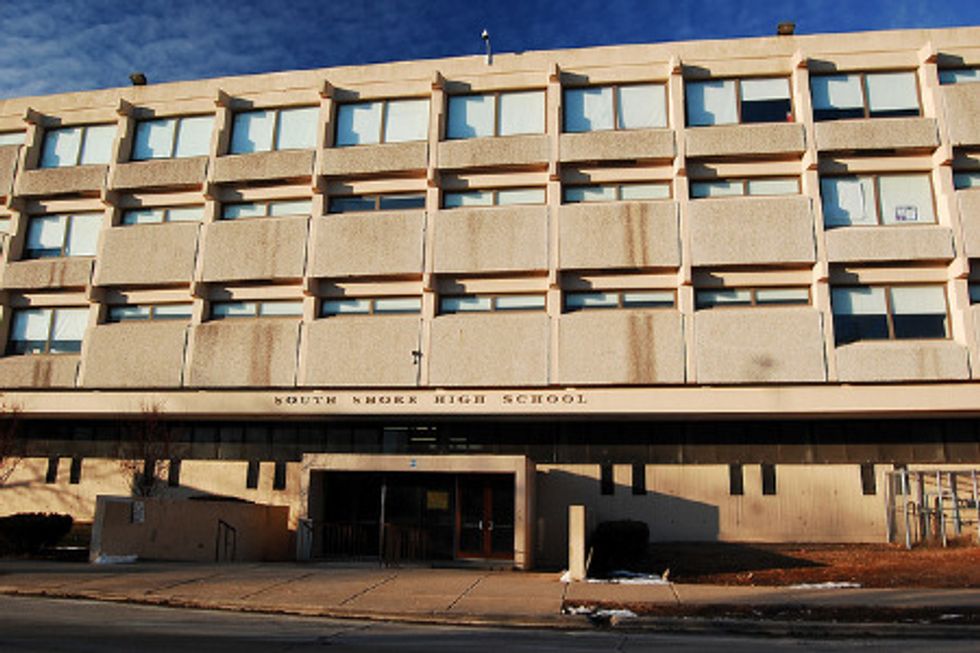 A Chicago high school labeled in 1969 as the "most advanced high school in the United States" is slated to meet a demolition crew this year.
South Shore High School's crumbling buildings and less than stellar student achievement results—the dropout rate hovers around 52 percent—contributed to the decision to destroy the campus. But a proposal to build a new campus in the school's place is bringing up racial and socioeconomic tensions reminiscent of the issues that surrounded the school's construction more than 40 years ago.
---
According to WBEZ, "When the school was planned in 1965, city officials and South Shore residents hoped the modern educational facility would curb the massive white-flight that was then occurring. It didn't. The neighborhood had a black majority by the time the school opened."
What did officials think would keep white families from leaving the community? The once state-of-the-art campus
was designed with hexagonal classrooms, closed-circuit television that would beam-in instruction to the classrooms, motor-operated wall partitions that would allow instructors to change the size of their classroom spaces—even laboratory demonstration tables that would mechanically spin around to let students see science experiments from various angles. A darkroom, a skating rink and an amphitheater were also built.

\n
Chicago Public Schools plans to turn the demolished buildings into a park and, in fall 2011, open an innovative college prep and career training school at a site a few blocks away.
In addition to controversy over what will happen to students during the demolition and construction phases, angry community leaders say decisions are being made that will shut the neighborhood's students out of being able to attend the new campus.
When the new school opens, it will only be open to freshman, and plans are being laid to make the new campus 60 percent selective admission and 40 percent general admission—meaning the majority of the spots at the school could be taken up by students from outside the community.
David Robinson, a spokesman for the New South Shore High School Organizing Committee justified the move. In December Robinson told the Chicago Defender, "The South Shore community is tired of producing kids who are not college bound and do nothing more but fall to the wayside after high school. This is why we want to start from scratch and admit only freshmen next fall and go from there."
But, what will happen to the neighborhood's children who can't get into the new selective high school? Chicago Public Schools has yet to provide a satisfactory answer to the community.
Photo (cc) via Flickr user reallyboring