Articles
How Political Posturing Kept Two Americans Imprisoned in Iran
From accusations of espionage to a proposed prisoner swap, a glimpse into the two-year process to win release for two Americans.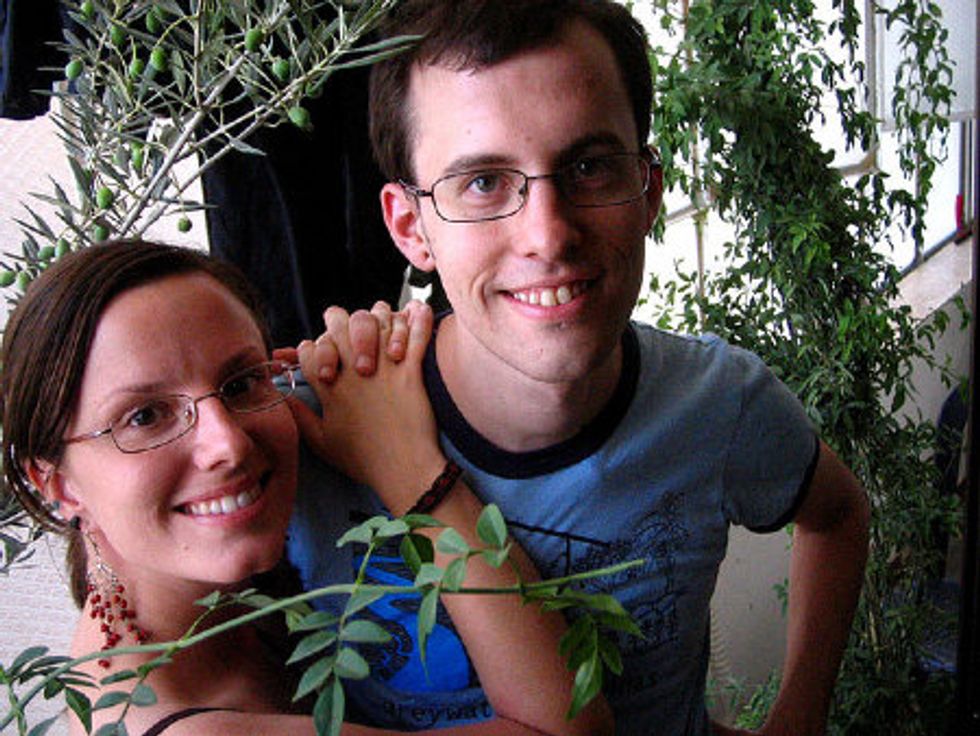 Mother Jones
journalist Shane Bauer, who was released from Iranian prison yesterday, with his girlfriend
Two Americans arrested by Iranians while hiking more than two years ago in the Kurdistan region started their way home yesterday after the sultan of Oman paid $1 million on their behalf. Iranian officials had initially accused the men of spying, but without any evidence of espionage, the delay was mostly due to political posturing by President Mahmoud Ahmedinejad.

It's been clear for months that releasing the hikers—Shane Bauer, a Damascus-based journalist for Mother Jones, and his friend Josh Fattal—was inevitable, but political factors combined to slow the process. The men were arrested in July 2009 with Bauer's girlfriend, Sarah Shourd, in what they mistakenly believed to be the Iraqi side of the Kurdistan region. While Shourd was released after paying $500,000 to the Iranian government in September 2010, the men went on trial last year. And despite the fact that Iran presented no evidence to support the claim of espionage and Iranian officials suggested Bauer and Fattal would be released as a goodwill gesture, the duo was sentenced last month to eight years in jail for espionage and entering the country illegally.

Hadi Ghaemi, executive director of the International Campaign for Human Rights in Iran, connected the families with their lawyer in Iran, Masoud Shafii. Ghaemi says as it became clear that the Iranians had no evidence to try the Americans, Ahmedinejad tried to make the case about other issues, including his accusation that the United States is holding at least 10 Iranians in American prisons on illegitimate charges. "Let me ask a question: are they really the problem?" Ahmedinejad told reporters last week. "You know how many Iranians are now in the American jails? They're all human beings. It's not about only two people in Iran."

It's not clear whether most of these prisoners actually exist, but William Beeman, an anthropologist and expert on Iran at the University of Minnesota, says there is at least some basis to Iran's concerns. Beeman has tracked the case of Shahrzad Mir-Qolikhan, who was arrested in 2007 in connection with her husband allegedly selling night-vision goggles to Iran from Austria. While her husband was never arrested, Beeman says Mir-Qolikhan was recently transferred to a prison in Minnesota after she was sentenced to five years in 2009. "Iran claims they are here in an unjustified manner, but there's silence on the part of the United States," Beeman says. "Here's an actual person."

It's worth noting that regardless of how many Iranians are being held in U.S. prisons, Ahmedinejad did not raise the concern until it became clear that the espionage charge was baseless. "As time went on, since there was not much political gain for them they wanted to exchange them for Iranians in prison here," Ghaemi says.

After the State Department refused to meet Ahmedinejad's demands for a prisoner swap, the Iranian president began using the hikers' release as a way to score political points, positioning himself as a renegade against the Islamist leaders who hold much of the real power in Iran. While Ahmedinejad called for Fattal and Bauer to be released a week ago, the process was delayed when Iran's judiciary branch said the president overstepped his powers.What initially seemed like an embarrassing political fight resulted in Ahmedinejad looking like the reasonable, diplomatic Iranian leader.

"Ahmedinejad was trying to portray himself as a humanitarian," says Raymond Tanter, cofounder of the Iran Policy Committee, which has suggested that the United States support opposition groups within Iran. "The hostages' release was part of that strategy to claim that humanitarian label."

Of course, the timing likely wasn't coincidental, as Ahmedinejad is in New York this week for the United Nations General Assembly. Shourd's release in September 2010 also occurred around Ahmedinejad's annual visit to the United Nations building. Ghaemi says the timing was particularly interesting this year, as the special U.N. investigator appointed earlier this year to investigate human rights issues in Iran hasn't been allowed in the country.

As Beeman put it, the release of the two men was a "foregone conclusion" that has played itself out as other cases involving Iran had in the past. With the United States refusing to talk to Iran directly and Iran having its own domestic political troubles to address, expect similar cases in the future to play out in the same prolonged manner.
















---
Photo via (cc) Flickr user Bombardier