Articles
The Prop 8 Decision Doesn't Guarantee a Supreme Court Case
Proposition 8 may have been ruled unconstitutional, but that doesn't mean the Supreme Court is going to weigh in.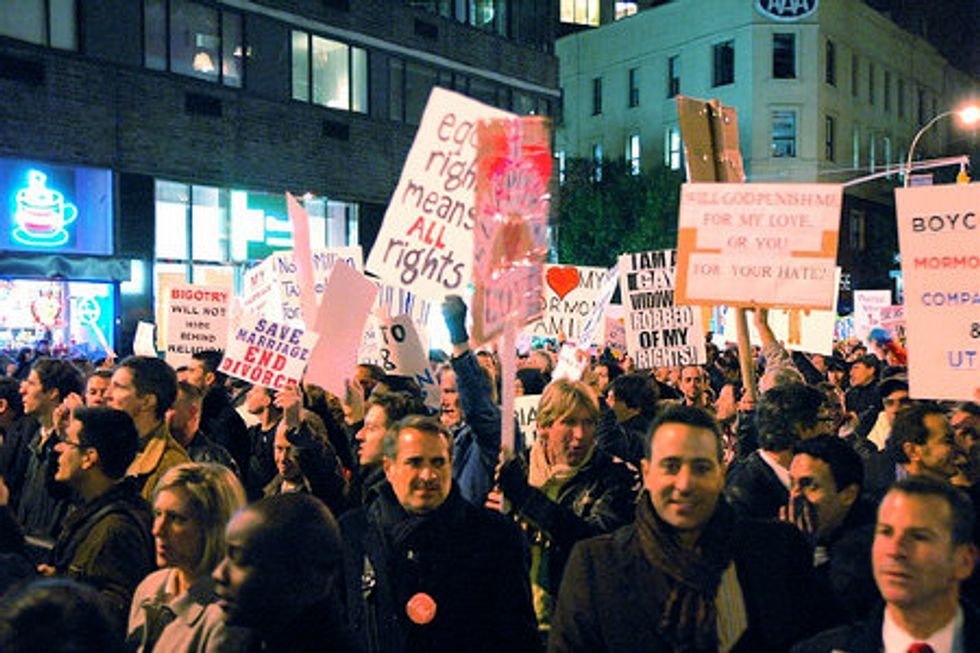 Gay-rights advocates (and decent human beings) cheered yesterday when a federal appeals panel ruled by a 2 to 1 vote that California's Prop 8 banning same-sex marriage is unconstitutional. The majority argued that there's no "legitimate reason for the passage of a law that treats different classes of people differently," and that Prop 8 "serves no purpose, and has no effect, other than to lessen the status and human dignity of gays and lesbians in California."
---
Same-sex marriage opponents now have an eye on the Supreme Court, but will the nation's highest court take on the case?
Some say hell yes. One of the lawyers fighting Prop 8, Ted Olson, implied yesterday that he thought this case was going all the way: "This is a very significant milepost on the way to equality in this country... we're talking about the fundamental right of individuals to enjoy the relationship of marriage." But more than a handful of legal experts are skeptical, including the other lawyer on the case, David Boies, who thinks the recent ruling makes it "somewhat less likely" that the Supreme Court would hear an appeal. Why? The panel decided to hone in on the specifics of California's case, rather than take a stance on whether we have a constitutional right to marry.
"Look at what happened in California—you had existing marriage equality, couples were getting married, then they were prohibited by a vote of the people from getting married," says Chris Geidner, a senior political writer at Metro Weekly who's followed the Prop 8 case closely. "This is a very narrow ruling that doesn't directly apply to any other state in the country. And a more narrow opinion is less likely to cause concern among justices in the Supreme Court."
But this doesn't mean the same kind of just-kidding referendum couldn't happen in other states, which would push the Supreme Court to reconsider. "They like to wait until several of the circuit courts to consider an issue before it takes it on," says Geidner, pointing to Washington state, which is currently considering marriage equality, as an example. Gay marriage opponents are promising a referendum there, "and if they're successful, proponents of marriage equality could say that the same logic [as California] applies," says Geidner.
What same-sex marriage activists were hoping for was a case that considered the fundamental right to marriage. "That," says Geidner, "may have gotten the Supreme Court's attention."