Articles
'The Rock Test' Is A Surprisingly Reliable Tool For Those Concerned About Sexual Harassment
It's strange advice, but it's got the stamp of approval from the man himself.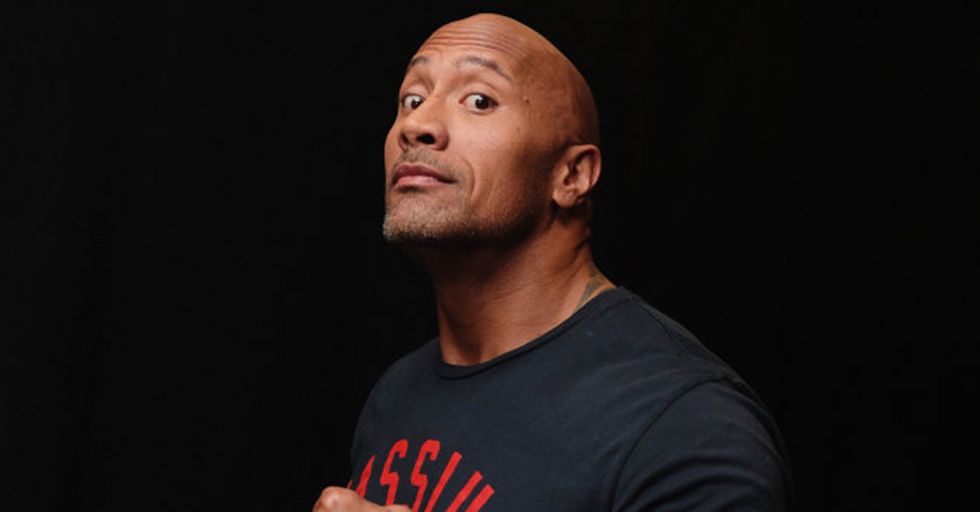 Amid the more sinister stories in the news surrounding the treatment of women by men in positions of power, like Donald Trump and Harvey Weinstein, it can be easy to forget that it's not only sinister men responsible for creating inhospitable workplaces for women. Men who try their best might still be concerned they're not treating women in the proper professional, respectful fashion. For those men, writer Anne Victoria Clark has some very simple advice:
Treat every woman you work with as you would treat Hollywood action star Dwayne "The Rock" Johnson.
---
I went ahead & broke it down into terms even those trapped in the most toxic of masculinity prisons can grasp: https://t.co/ff7PJNB6Ez

— anne victoria clark (@anne victoria clark) 1507582253.0
In doing so, Clark swears that the practice will "have you treating women like people in no time," per her thoughtful and funny post on Medium explaining the underlying philosophy of this seemingly bizarre advice. In the piece, Clark runs through a number of common scenarios like a professional request to get coffee and talk work and drinks with work friends, explaining why visualizing a woman as The Rock works in curbing sexualization or even awkwardness in the workplace.
"Simply offer them the same respect, admiration, and healthy dose of fear you'd offer anyone who could completely destroy you should you deserve it," she concludes.
Of course, there's the obvious observation that this tactic does far more to treat the symptom than the disease, but if a man in the workplace is cognizant and self-aware enough to monitor and change his behavior toward women, there's a good chance that any awkwardness doesn't come from purposeful misogyny or ill-intent, but perhaps just, well, awkwardness. Conversely, if someone has no interest in treating women equally or putting a stop to objectification, there's little chance they'll take any progressive measures — meaning they were, regrettably, never good candidates for "The Rock test" in the first place.
In case you're wondering, Clark's approach has earned the seal of approval from Dwayne Johnson himself, who tweeted out his support.
Quite the entertaining & smart test for my dudes to take from @annevclark. Just close your eyes and think of me 👀 https://t.co/0l89HamsSp

— Dwayne Johnson (@Dwayne Johnson) 1507612534.0
This may seem like basic practice, courtesy, and manners for many working professionals, but it's easy to grasp from Clark's tone that she's writing this for the men who still don't get it, even if they're trying. They may not be among the most enlightened minds, but if they're looking to improve, Clark's advice might just give them a (remedial) starting point.