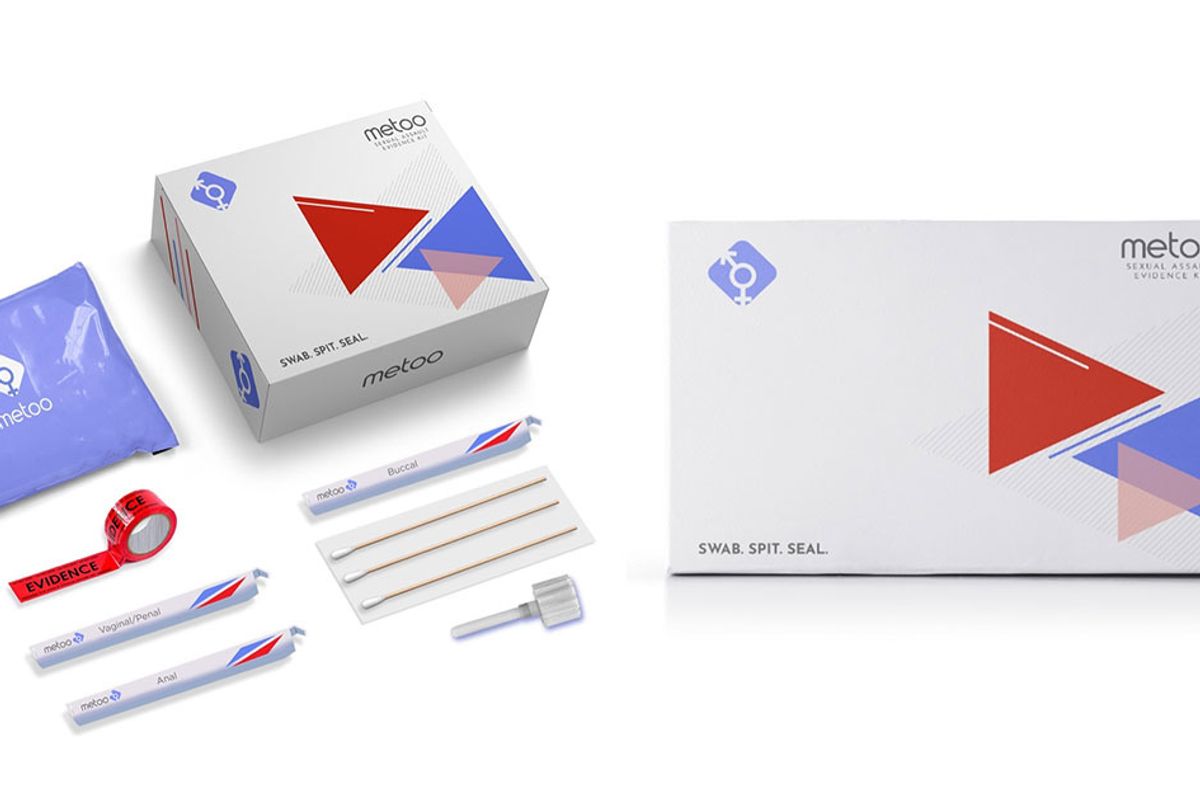 Me Too Kit
The creator of the Me Too kit — an at home rape kit that has yet to hit the market — has come under fire as sexual assault advocates argue the kit is dangerous and misleading for women.
The kit is marketed as "the first ever at home kit for commercial use," according to the company's website. "Your experience. Your kit. Your story. Your life. Your choice. Every survivor has a story, every survivor has a voice." Customers will soon be able order one of the DIY kits in order to collect evidence "within the confines of the survivor's chosen place of safety" after an assault.
"With MeToo Kit, we are able to collect DNA samples and other tissues, which upon testing can provide the necessary time-sensitive evidence required in a court of law to identify a sexual predator's involvement with sexual assault," according to the website.
---
However, critics argue the kit is highly problematic, as evidence collected is unlikely to hold up in court.
"We do not advise anyone to use an at-home rape kit as a viable alternative to a forensic exam. We also do not advise that any college or university encourage students to use this product or make it available for use," the National Alliance to End Sexual Violence said in a statement. "Me Too Kit has provided no information to explain how these kits will be admissible in court and how the proper chain of custody will be followed."
The kit is even banned from being sold in the state of Michigan, where Attorney General Dana Nessel issued the Brooklyn-based company a cease and desist for violating Michigan's Consumer Protection Act. "This company is shamelessly trying to take financial advantage of the 'Me Too' movement by luring victims into thinking that an at-home-do-it-yourself sexual assault kit will stand up in court," Nessel said in a release. "There is absolutely no benefit here for victims."
Campbell argues that the kit makes the process easier for survivors. According to RAINN, only 23 percent of rapes are reported to the police. Some people fear losing their anonymity. For others, the forensic test can be traumatizing, and Campbell believes having the option to do a rape kit at home helps to eliminate some of these issues. But while her intentions might be good, critics argue the kit will be of no help to anyone. "We are advocates for all options for survivors," Morgan Dewey, communications director for the group End Rape on Campus, told Vox. That is, provided those options aren't harmful, which she says isn't the case with the at-home kits. "This is in fact harmful."

Campbell, who didn't report her own sexual assault to the authorities, says she drew on her experience in creating the Me Too kits. "I know how terrifying and traumatic being sexually assaulted is," she told the Brooklyn Eagle. "And I didn't even want to touch myself after it happened, or go to anyone, or tell anyone about this. All I wanted to do was give survivors time to process their trauma."
Campbells company is only two months old, and she says she's open to listening to her critics. While the Me Too kit likely isn't the answer, it brought light to the fact that there's a lot we need to work out when it comes to dealing with sexual assault.