Articles
The Self-Sustaining, Solar-Powered Emergency Shelter: We're Going to Need It
As climate change scares up more disasters, we'll need resources like the EDV-01, which draws its power from solar panel and collects its own water.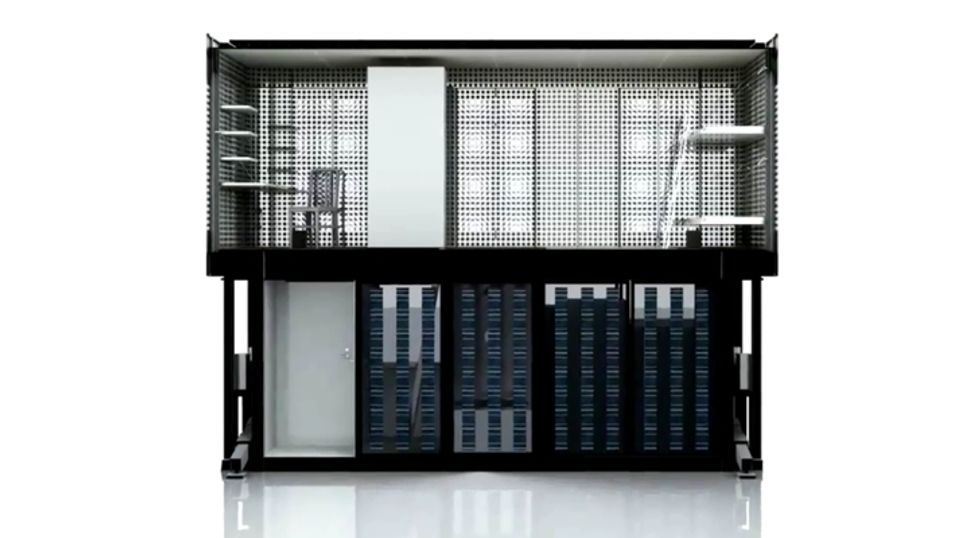 At next month's Little Tokyo Design Week, the Japanese company Daiwa House will be showing off the EDV-01, a self-sustaining, solar-powered emergency structure. It's a temporary structure, much like a FEMA trailer, that's meant to house emergency workers as they deal with hurricanes, fires, tsunamis, earthquakes, and their aftermath.
---
But the EDV-01 promises to do so much more than a regular trailer. The prototype's hydraulic legs adjust automatically to uneven terrain, leveling out the structure. It draws its power from solar panels and also collects and condenses water to provide basic utilities to the structure. There's a bathroom, a kitchen, and storage space. The second floor, which comes collapsed around the main structure for easier transport, has two bunks and a desk. The shelter is designed to be trucked into disaster areas, but once it's set up, it can function for a month with no additional inputs. It looks like the type of emergency structure that, dirty and dented, ends up as the home base of one of the last remaining members of the humanity in a post-apocalyptic movie.
Daiwa intends to develop this trailer into a commercial product that would be available to lease for governments in need; the company says it wants to get manufacturing costs down and have a better sense of what customer interest would be before it starts churning them out. The company will likely find customers: A 2009 report by the International Organization for Migration found that extreme weather events displaced 20 million people in 2009. (In comparison, conflict and violence created 4.6 million internal refugees.) As climate change scares up more frequent and more intense disasters, emergency workers and evacuees are going to need futuristic tools like this one to help them respond.
Daiwa's business began as a supplier for construction sites, and it's an industry leader in temporary housing. Emergency response trailers make sense as a business endeavor. But across the economy, more businesses are looking to profit from opportunities the changing climate will create. A new report underwritten by the United Nations, World Resources Institute, and Oxfam found that among the businesses connected to the U.N.'s Caring for Climate initiative, 86 percent saw a business opportunity in "responding to climate change risks or investing in adaptation solutions."
Those businesses are a self-selected group, but it's encouraging that at least some fraction of the private sector is looking to create innovative solutions to the problems climate change will cause, rather than denying they exist. The strategies that they're sharing right now tend towards the general—a global beverage company, for instance, recognizes that water shortages will hurt its business and wants to prepare for that eventuality. An electricity company uses climate impact modeling to imagine how climate change could affect its business. Those responses aren't as tangible as a solar-powered emergency structure, but they're connected to the same reality: Climate change is coming, and we're going have to respond to it, one way or the other.
Picture via Inhabitat