Articles
There Are 2.7 Million Jobs in the Clean Economy
That's more jobs than the fossil fuel industry has. And an unusually high portion of green jobs — almost half — go to workers without college degrees.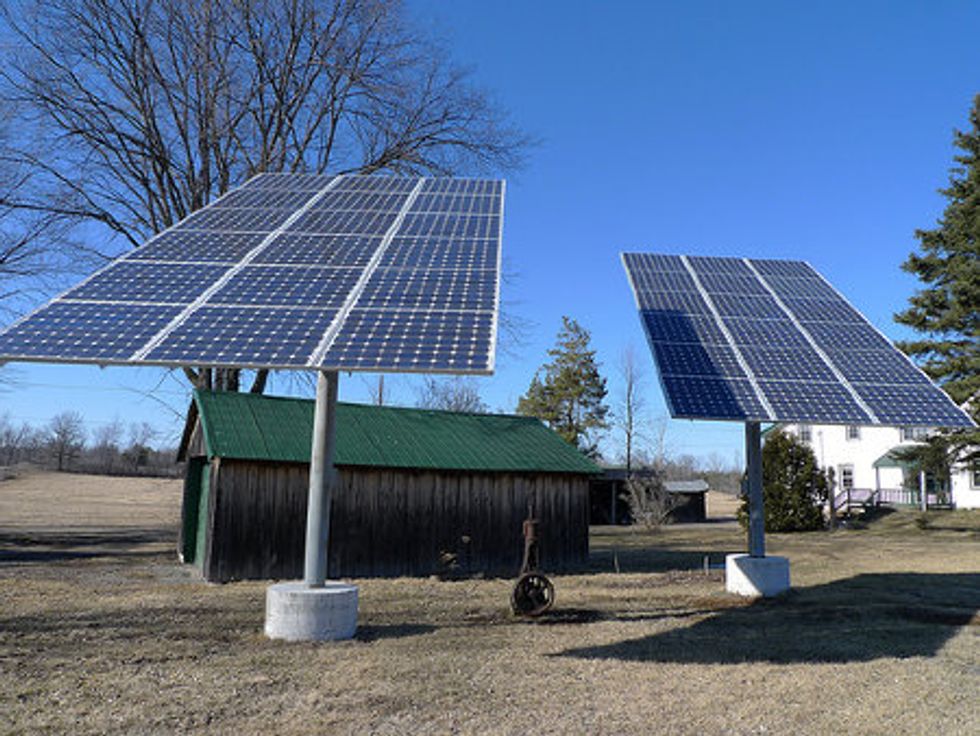 It's hard to know how much of a good thing you've got when everyone has their own idea about how to measure it. That's been the problem with quantifying green jobs: we know we want them, we know they're out there, but with cities and states and regional groups and businesses all tallying their green workers according to different rules, we haven't gotten a clear picture of the nation's clean economy and how it has grown.
A new report from the Brookings Institution clarifies the issue. According to the report, there are 2.7 million jobs in the country's clean economy. That's more jobs than the fossil fuel industry offers. And the picture of green job growth from 2003 to 2010 looks like this:



---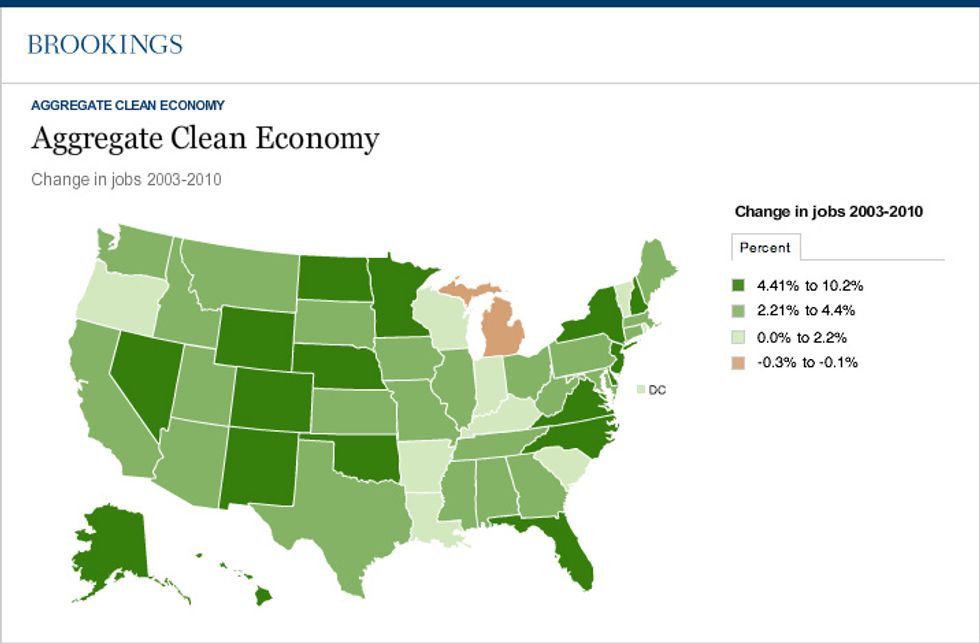 In the clean economy, workers don't just install solar panels. They run trains, lead conservation projects, staff recycling plants, grow organic vegetables, and market green consumer products. An unusually high portion of these jobs—26 percent—are manufacturing jobs. (America is making things again!) An unusually high portion of them—almost half—go to workers without college degrees. These jobs also pay unusually high wages: the median wage for clean economy jobs is almost $44,000, Brookings found, compared to $38,616 nationwide. (Both those figures are weighted averages of the medians.)
Many of these clean economy jobs are in more traditional sectors like public transit and waste water management, the report found. But the fastest growing segments, the ones that outstripped the rest of the economy in job creation even during the recession, are in clean energy. Solar thermal, solar photovoltaics, and wind energy were among the top five fastest-growing segments that Brookings examined. The companies working in these areas tend to be younger companies, too, and Brookings found that those young companies are creating more jobs, more quickly. Establishments created since 2003 created, on average, 37 jobs each year, according to the report; in the country's economy as a whole, establishments create just 10 jobs each year.
In the old economy, Pittsburgh was known for making steel and Baltimore was known for its port and its shipping industry; in the clean economy, certain cities are becoming known for their strength in specific clean energy sectors, too. Chicago, the Windy City, is a hub for wind power. Boston builds fuel cells. Los Angeles leads on solar panels. These industry concentrations spur growth: Even in the modern economy, it's good for business to be located near their competitors, sharing ideas, egging each other on. A handful of the cities with the strongest concentrations of green jobs—Atlanta, Boston, Dallas, San Francisco, Milwaukee, and others—have developed concentrations in more than one clean speciality or have a more diverse spread of opportunities in clean economy to offer.
This is a strong start for the country's clean economy. But for it to continue to grow, private investors and governments must continue to invest in those explosive sectors—solar, wind and other renewable energy projects. This week, the House Appropriations Committee
passed a bill
that would cut funding for clean energy innovation. These are good jobs; let's make more of them.
Photo via flickr user spanginator, Creative Commons Attribution License 2.0