Articles
This New App Turns Your iPad Into Your Classroom
The free app gives everyone the ability to create video tutorials and share what they know.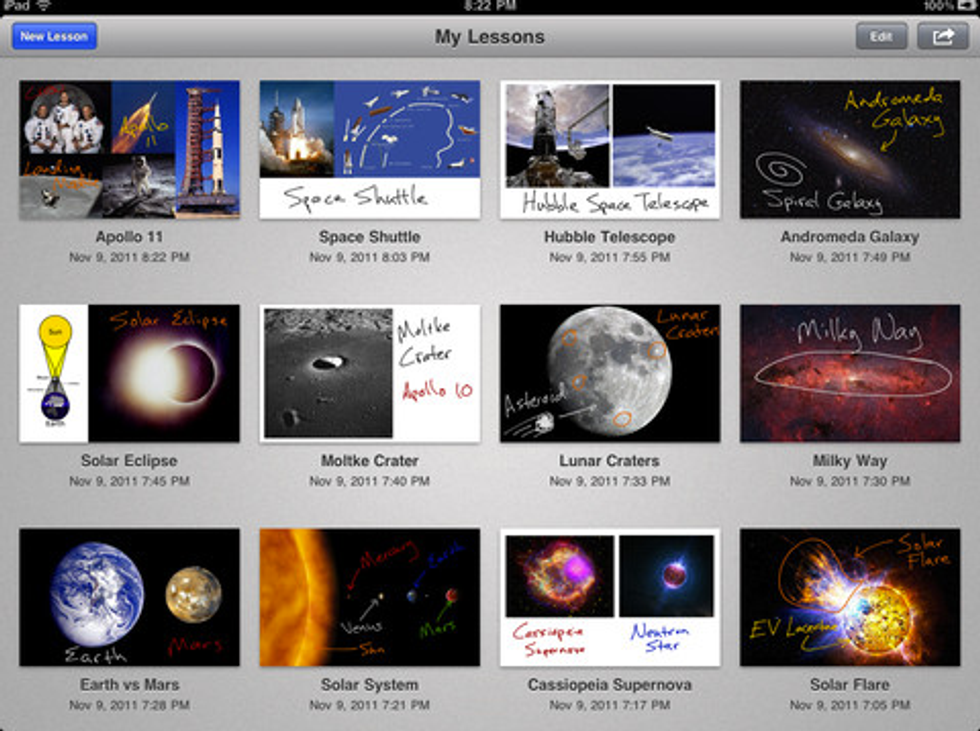 Thanks to the popularity of the
Khan Academy
's simple video lessons, millions of people around the globe have learned everything from how to simplify fractions to how to understand a credit default swap. But what if students had the ability to pick from thousands of Khan Academy-style videos taught by a wide range of teachers? That's the goal of the new
Educreations Interactive Whiteboard
, a free app that gives everyone the ability to create video tutorials, share what they know, and learn what they don't.
Created by tech startup Educreations, the app is available for the iPad and can also be accessed from any computer through the web. Making your own video tutorial takes only a few simple steps. Once you create an account, you can upload images, draw pictures, animate and resize them, and write with the app's "whiteboard marker." You can also record audio explanations of the content through the microphone on their computer or iPad. If you flub your explanation, no worries—you can erase and start over without messing up the visuals you've created for your tutorial.
---
What sets the Educreations whiteboard app apart from the Khan Academy and other virtual learning platforms is that anyone can create a lesson on a topic of their expertise. Teachers can tag their videos by subject area, then mark it as open to the public through the Educreations site or private to people who have the link.
Wade Roberts, one of the founders of Educreations, told Edudemic he believes the quality of the lessons available through the app "will continually improve as more teachers contribute and the data helps us identify which lessons are the most effective." Roberts envisions the app working in the same way as Netflix or Amazon, recommending particular lessons to individual students.
Teachers will certainly want to take advantage of the Educreations app—they'll be able to tutor students virtually, walk them through homework problems, or put additional lessons online—but the possible uses aren't limited to classroom instruction. The creators even suggest non-academic applications, like diagramming football plays. Whether the app becomes a favorite of football fans remains to be seen, but if experienced teachers start uploading tutorials, it will go a long way toward democratizing the sharing of information.