Articles
Tour L.A.'s Real Art in the Streets
The blocks that surround MOCA's street art exhibition are filled with an ad hoc gallery of exuberant public art, thanks to a group called LA Freewalls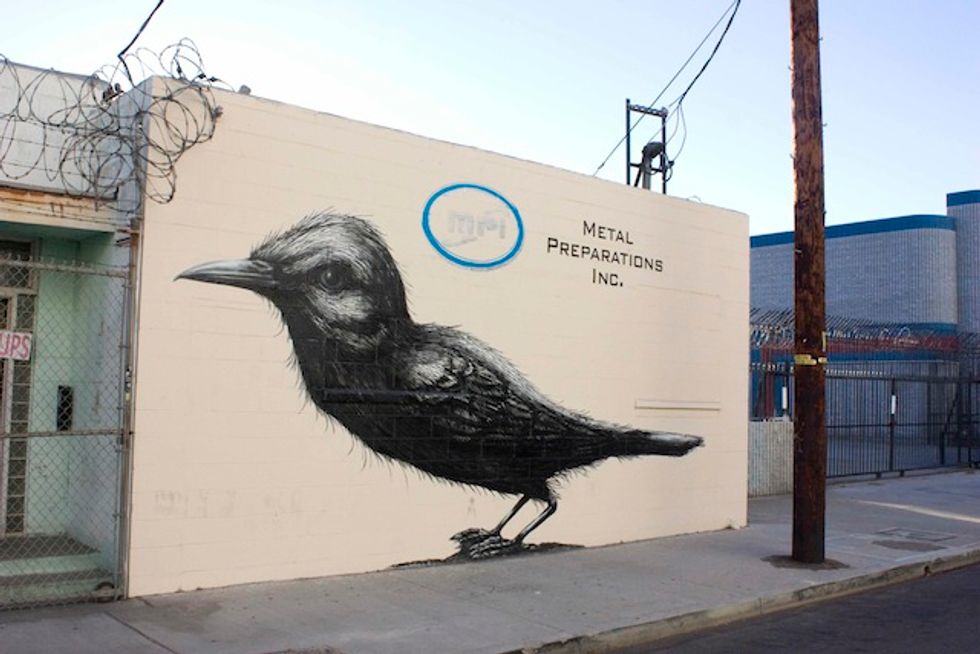 Long before MOCA's Art in the Streets show opened, Los Angeles's Downtown Arts District already had more than a few monumental works of street art on display with a little help from a group named LA Freewalls. Anyone can see this art in its natural environment for free, but this Saturday at Bloomfest LA, a guided tour of the neighborhood's many elaborately embellished industrial buildings will be led by Daniel Lahoda, curator of LA Freewalls.
---
A local art dealer by day, Lahoda turned his passion for art and existential "hunger for the other" into a hobby that became much bigger than he ever imagined. LA Freewalls is a community-supported arts initiative that connects international street artists with building owners ready to get experimental with their walls. According to Lahoda, LA Freewalls has been the catalyst of more than fifty murals around the Los Angeles area primarily within the 52 blocks that make up the Downtown Arts District. Since its inception December 2009, the project has enticed well-known names in the street art circuit like JR, Shepard Fairey, and Saber (all artists also featured at MOCA a few blocks away).
Despite its successful reception downtown and rising interest in street art, increased calls for police to crack down on L.A.'s graffiti have some opposed to Freewalls's work. But Lahoda says he sees the art really making a positive impact. For example? After ROA came into town and painted on Metal Preparations Inc.'s walls, the owner was so pleased with the extra attention his building got from locals and tourists that he decided to spiff up the space around the mural with a fresh coat of paint, specifically asking contractors to carefully navigate around every feather on ROA's avian artwork. Responses like these are what keep Lahoda committed to his project. "Street art like this transforms a community not just physically, but psychologically as well," he says. "It changes how people interact with each other and their environment."
Take a walking tour of Downtown Arts District's street art with Daniel Lahoda at Bloomfest LA. Meet on Saturday at 2:00 p.m., 4:00 p.m. or 6:00 p.m. at the Pablove Foundation station (booth #69) on Traction Ave. and Rose St. Here's a festival guide to Bloomfest LA.
Photo by Carren Jao
Live in Los Angeles? Join GOOD LA and you'll get one good L.A. story (like this one!) in your inbox every day. You can also like GOOD LA on Facebook and follow GOOD LA on Twitter.