Articles
Elmo visits the White House chef to learn about healthy school lunches. Now, can the show revolutionize the way kid's eat?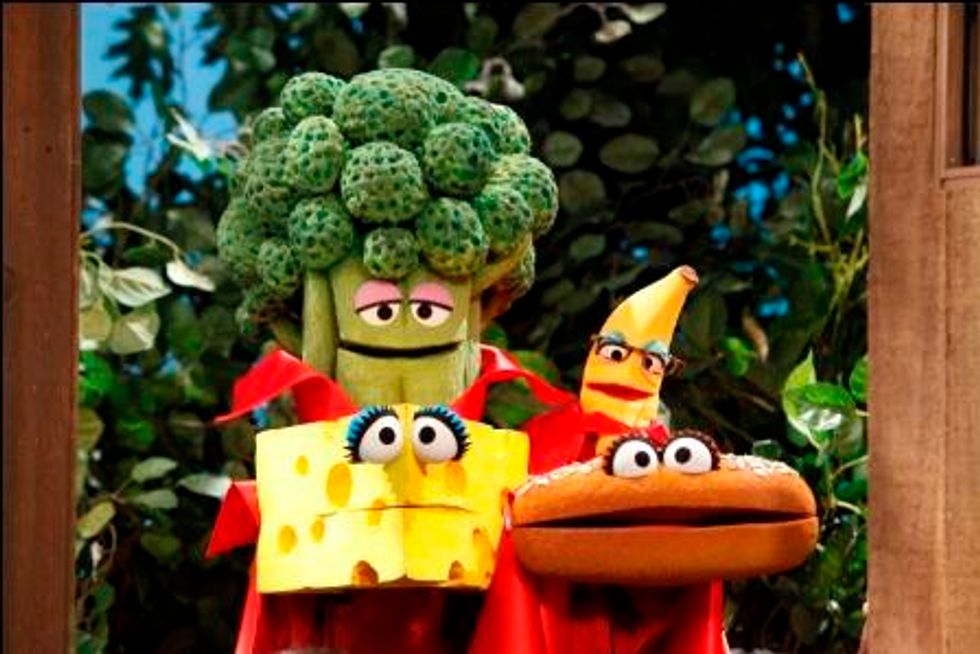 ---
\n
Sesame Street Workshop recently rolled out a cast of talking "superfoods" who help Elmo and friends with some rather pressing problems—food problems. And no, nothing to do with a big blue monster indiscriminately gobbling sugary cookies.
These new superfoods include a spastic wedge of cheese cheese, a spectacled banana, a whole-grain hamburger bun, and a broccoli floret and will, among other things, encourage kids to eat healthy, eat breakfast, and "eat a rainbow of colors." It's a lot of song and dance. And it's all part of "Food for Thought: Eating Well on a Budget," an initiative designed to suggest that health and well-being are just as important as learning how to read and write.
You can preview the shows on YouTube and, in the latest episode, Elmo visits White House chef Sam Kass to talk about school lunch:
[youtube]http://www.youtube.com/watch?v=-jpT8iQESmMu/9/F99-Vs0gCHU
While cartoon ogres successfully marketed Vidalia onions, research suggests that fictional cartoon characters are often better at promoting unhealthy snacks than fruits or vegetables. Could these puppets change all that?