Articles
We All Scream
A new generation of artists, activists, and entrepreneurs has begun to re-imagine that timeless mobile treat dispensary, the ice-cream truck.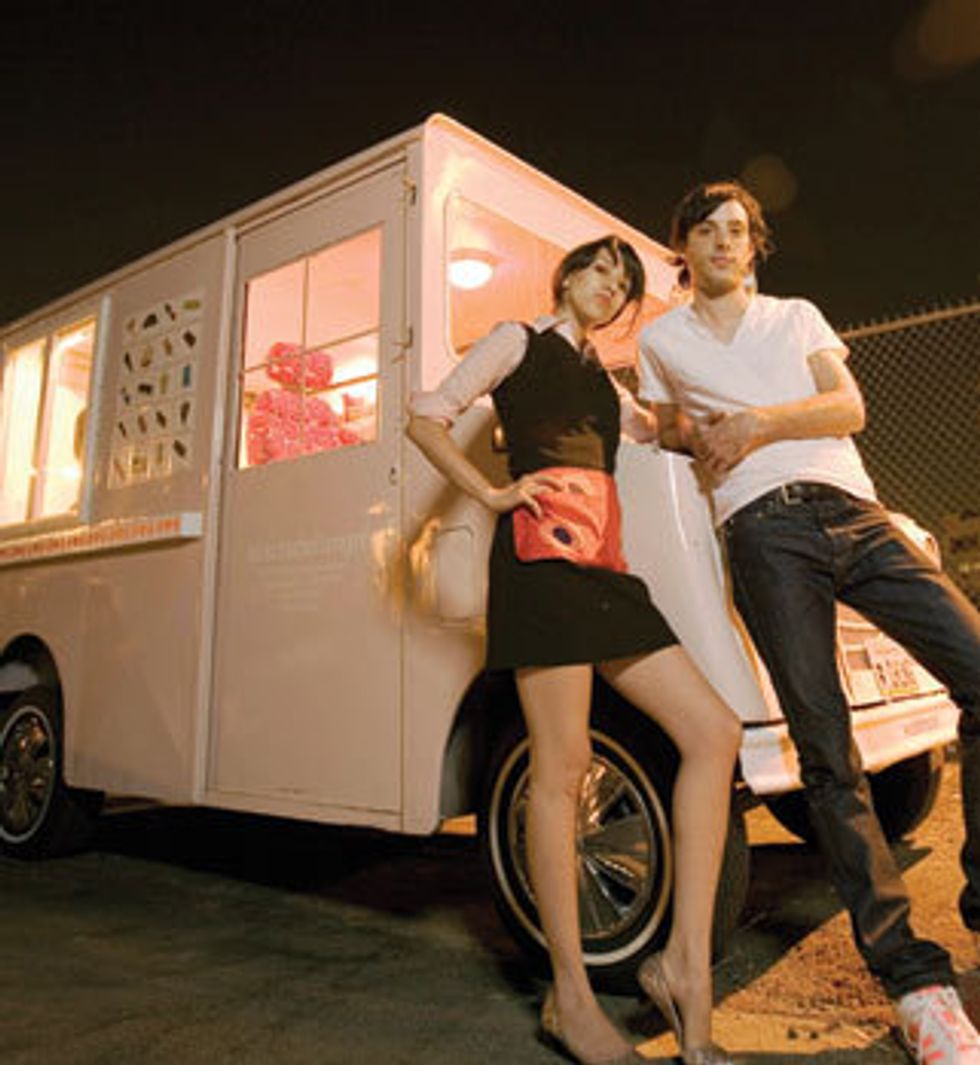 The ice-cream truck
-that timeless signal of summer's arrival-has come under scrutiny of late, banned from airing its (admittedly tiresome) jingle in many cities across the country. But the truck itself remains a potent symbol of a bygone era, reminding us of the wholesome pleasures of childhood. Now a new generation of artists, activists, and entrepreneurs has begun to re-imagine the possibilities of the mobile treat dispensary.Each of the new vehicles is a roving icon of simpler times, and the collective nostalgia they instill can be an asset to anyone with a cause. It's a "disarming way to present something … because there is nothing malevolent about it," says Elliott Arkin, the founder of Mister Artsee, a new ice-cream-truck-cum-art-gallery in New York.Entrepreneurs, too, are eager to embrace that universal goodwill. In cities across North America, retrofitted trucks are going well beyond simple frozen treats, selling everything from gourmet desserts to glitter-covered confetti guns.Here are five of the newly imagined trucks delivering paintings, propaganda, or popsicles to a street corner near you.
The Ice Cream ManMatt Allen, "The Ice Cream Man," is midway through a seven-year nationwide quest to give away 500,000 ice-cream snacks. "It's half-business, half-adventure," he says. He has bestowed more than 150,000 frosty treats so far.
---
Mister ArtseeWith the goal of bringing art to the streets, the sculptor Arkin is modifying a 1961 Ford ice-cream truck into something of a mobile art gallery for New York City, offering exhibits, talks, classes, and puppet shows. It's like a museum, only it comes to you and doesn't cost $20 to get in.
HeartschallengerYou know you're hip if this baby-pink truck sidles up to your party. Expect eclectic international candies, cute collectors' toys, and heart-shaped vinyl. Also look for founder Leyla Safai and her $2,000 Swarovski crystal-covered megaphone.
Urgence-BiscuitsMonsieur Félix & Mr. Norton, the oddly named Montreal cookie institution, is delivering cold milk and warm cookies to community events around the city, in a truck powered by environmentally friendly propane fuel and rooftop solar panels. With an onboard oven, the truck can churn out up to a thousand cookies an hour, and at least 5 percent of the sales go to charity.
TICUThe San Francisco-based Tactical Ice Cream Unit draws attention to aggressive police tactics with ironic absurdity. "It's the alter ego of a police SWAT truck," says Adam Gach, who helped retrofit the vehicle with 15 surveillance cameras, 12 flavors, and a battering ram.