Articles
Wear a Hoodie If You Leave: A Night Above the Riots in London
From my window, we watched 30 policemen sprint down the road. The sound of their boots hitting the ground made my heart pound even harder.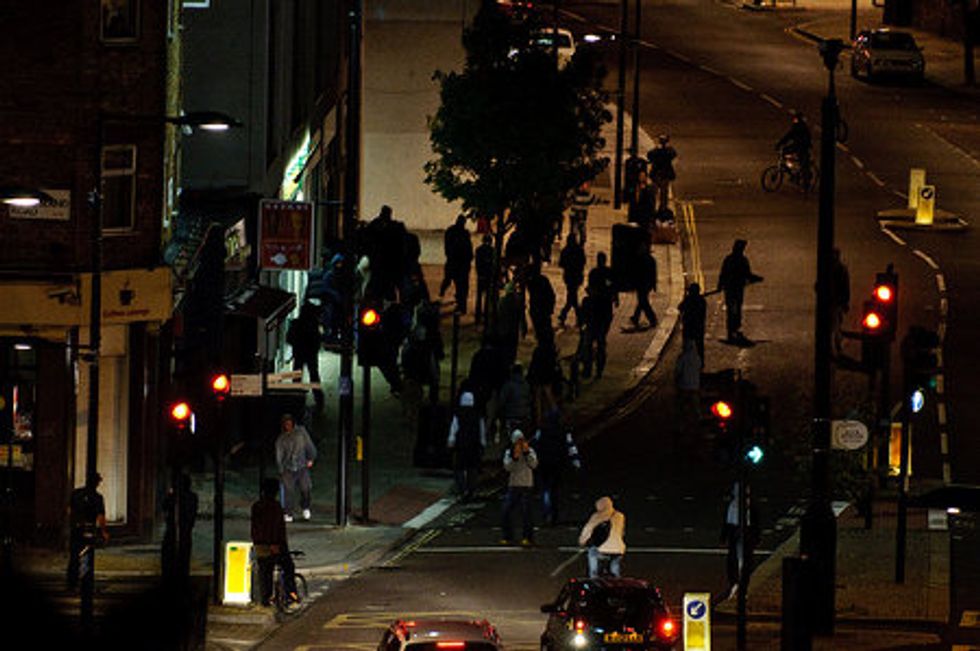 The first thing I did when I got home was put on a pair of running shoes.
---
It seemed logical at the time. The familiar feeling of slipping my feet into my well-worn Nikes brought me a sense of comfort. I could run if I needed to; I was sure of that. In a night punctuated by police dogs and barricades, the shoes were a comfort.
The 15 minutes that came both before and after that decision were among the most frightening of my life. Sitting on the tube on the way home, I didn't know whether or not the riots had hit my neighborhood of Camden yet. I sat clutching my bag, anticipating the short walk from tube station to my flat. "It might be okay," I thought.
The train conductor's voice came on the speaker: Camden Town station was now closed "upon police request." The West African man sitting across from me rolled his eyes. I gulped and asked the person next to me if he thought the walk from Chalk Farm station or Mornington Crescent station would be safer at this point. He asked where I lived. I told him. "Good luck," he said.
I separated my belongings—phone in bra, keys in pocket—in case my bag got stolen. I walked with the sense of purpose and the don't-mess-with-me expression. Not that it mattered. The streets were heavy with anticipation. I walked through several small groups of young men, all wearing black, all waiting. They didn't look angry, rather amused. It was not a matter of if, but when. I passed a pub where people were still drinking. That's a good sign, I thought.
Police vans rushed down Camden High Street as my flat came into view. Nothing was open—not the closest pub (aptly named 'The World's End'), not the tube, not the chicken man or off-license shop across the street. The shopkeepers sat outside their barricaded stores, keeping watch. Before I unlocked the street level door to my apartment, I looked over each of my shoulders as I normally do, but this time with much more purpose.
Running up the stairs, I hoped that my seven flatmates would be calmer than I was. No such luck. From my window, we watched 30 policemen sprint down the road. The sound of their boots hitting the ground made my heart pound even harder. We realized that the grate on our kitchen window was locked, and we didn't have a key. If rioters set fire to the restaurant on the ground floor of our flat, we couldn't get out. I cursed myself for not thinking about this potential hazard before now, and made a mental note to bring it up with the landlord tomorrow.
I called my father in Los Angeles. "It's really bad, Dad." I usually spend my time convincing him something is safer than he thinks it is, but not tonight. He told me to sit tight, to not leave the flat unless the building was on fire and to wear a hoodie if I left—that way I'd blend in with the mob and not be singled out. Good advice, I thought. Thanks, Dad.
I spent most of the night tracking the situation on Twitter, which provided a mix of information from fearless journalists like Paul Lewis of the Guardian (who was based in Camden) and utter bollocks from the masses. A few posts provided the only amusement of the night, like the one about the tiger that had supposedly escaped from Regent's Park zoo. The BBC and other news outlets had very little information that would have been of use to someone like me, as they were devoting most of their coverage to things that could be covered via helicopter. I couldn't say I blamed them.
The rest of the night, we watched rioters in hoodies troll up and down the street. We closed our windows when the situation seemed to be escalating, then opened them again when things calmed down. We drank cheap alcohol to quell our nerves. At 3 a.m. I was finally convinced that my worst fear—that the restaurant below would be torched—was not going to materialize. I climbed into bed and slept like a baby.
In the coming days, I know I will read The New York Times and the Guardian for analysis. I will connect the riots to larger themes of racial oppression and class struggle. I will sit in a pub with friends and talk about how this has changed my perspective on UK society.
But last night, none of that mattered. I was just scared. And maybe that's all the rioters wanted.