Articles
What New Girl Says About the New Recession-Era Man
The feminized dudes of New Girl fit perfectly into the economic zeitgeist.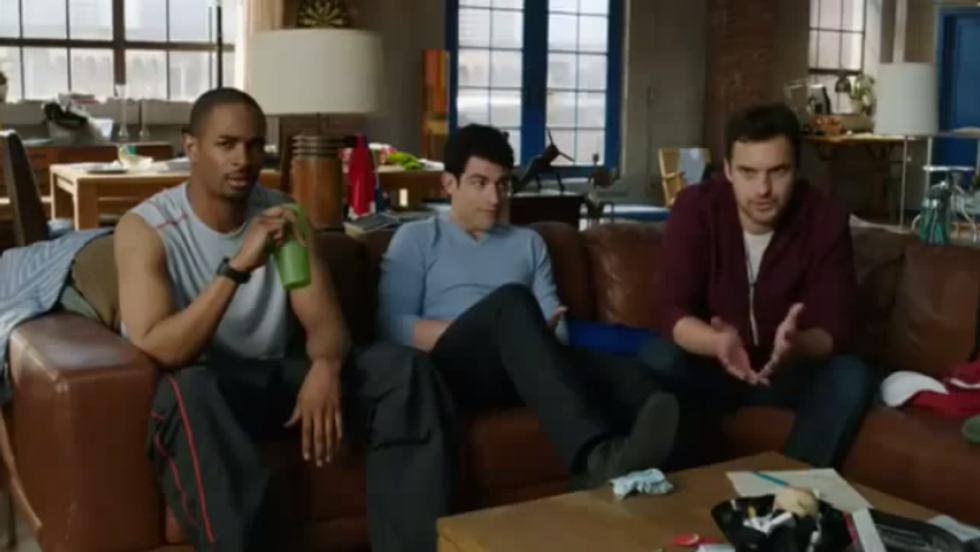 "Sex with a new person is like starting a new job with a really weird interview," Jess says, lying in bed with a new BF after a failed attempt. "Tomorrow," she assures him, "your v-bomb on my p-bomb." The couple looks fearfully at the ceiling, realizing Jess' slip, a moment of gender confusion central to the sexual politics on the show. Fox's New Girl suggests it's not only women of the 21st century who are changing, but straight men, too: in a recession-era America, they're learning to be, or have already become, more like women.
---
Despite the title, three out of four main characters in New Girl are men. Nick is white and a law school dropout-turned-bartender, Schmidt is a Jewish executive in a managerial firm (manned otherwise exclusively by women), and Winston is black and unemployed after giving up basketball (yup). These jobs, or lack thereof, are perfect reflections of the new, post-industrial, post-1970s economy: the growth of service and managerial fields, the rise of women in executive positions, and, recently, rampant unemployment. They also reflect new types of labor—types with a gendered bent.
Workers in the new economy use their personalities and communication skills rather than their hands. They build relationships rather than things. They rely on networking and "teambuilding." They serve tech support or sandwiches with a smile, not to "customers" but to "guests." They're performers, paid not just to stock shelves but to nurture shoppers, not just to sell houses but to sell themselves. Even though workers of all genders are now told to wield these skills, we still associate this kind of work with women; social and emotional labor require the same expertise that caring for elders, heading up a household, and mothering does. The men of New Girl (and men in general) are encountering a new, feminized working world.
Winston bombs a job interview with a potential employer, failing to respond to her rapid-fire question, "Did you see the JWoww retweet of the Gaga twitpic?" Later, he complains to Schmidt that the interview was about "chit chat." "The chit-chat is the interview," Schmidt quips: Working requires both forming relationships and citing a female-driven cultural field. Winston finally gets a job as a babysitter for a child who refers to him as "Lebron"—a job, of course, that's held mostly by women and hired mostly by whites.
The unwitting butt of puns on his name ("Schmidt-stain!"), Schmidt has a personal jar in the house labeled "douchebag," where he pays fines to his roommates for his "body gelato," frat boy lingo, "bro"ing men, and treating women like sex objects. Schmidt is feminized not only by his competent female coworkers but by his own coiffed, designer-labeled, G.Q. virility—his product-lust that, up until recently, was reserved for women.
Jess, the new girl herself, finds a professional match with teaching. But she too deals with the discomfort of emotional work, perfecting awkward in the work of maintaining her personal life. Jess' geeked-out Lord of the Rings references and skirt-tucked-into-underwear social incompetence show us that work and play are becoming more and more similar, with the consequence that both get zany and just plain weird.
Even though New Girl's male characters are getting in touch with their feminine sides, there isn't anything particularly feminist about it. Often Jess' quirks are no more than Zooey Deschanel being her desirable dream girl self, and the jokes no more than buffoonery. When Jess says to her soon-to-be three male roommates, after seeing their ad on Craigslist, "I thought you were women," Schmidt gets so anxious that he removes his shirt and has to put a dollar in the douchebag jar for doing so. There isn't anything revolutionary about an episode ending with grown men singing, dancing, or curling up to watch Dirty Dancing, but the show is a wonderful example of TV taking a good look atmancession-era labor trends.
Indeed, New Girl isn't the only TV comedy dealing with these changes. Consider CBS's 2 Broke Girls. Sure, it has a barely bearable laugh track, a portrayal of Asian Americans that hasn't evolved beyond Mr. Yunioshi of Breakfast at Tiffany's, and constant jokes eschewing any romantic tension between the two female protagonists. But it also sets up an odd couple who fit right into the economic zeitgeist: a recently-ruined Upper East Side heiress and an unglamorous Brooklynite pulled from the pages of Nickel and Dimed, who work together at a diner but also toward opening a cupcake enterprise.
The Showtime drama Shameless also features a woman at work, a Chicagoan supporting her four younger siblings to fill the void left by her alcoholic-thus-incapable father. Unfortunately, the show makes economic insecurity look less like a reality challenging the gender divide in families across the country, and more like a ploy to gain pity for this individual family, who we're also supposed to view as degenerate hustlers. The show's boys-will-be-boys and girls-just-want-to-have-fun ethos is as gender-bending as Taming of the Shrew.
As the New Girl proves, you don't need an all-female cast to talk openly and smartly about gender and the economy. In Parks and Recreation, the political aspirations of Leslie Knope recently led her to employ her own boyfriend; Ron Swanson portrays a "real man" as a lover of inexpensive beef and gender equality alike; and Tom Haverford brings nuance to Schmidt's parody of G.Q.ification. In Up All Night, Chris negotiates his transformation from lawyer into stay-at-home dad, so his wife Reagan can continue her higher-paying career managing a female-fronted talk show—leaving viewers to notice parallels between caring for a baby and a day-time star.
In the first episode of New Girl, Jess tries to convince Nick to open up. He doesn't love the idea: "I could pretend to be more like you, Jess, and live on a sparkly rainbow and drive a unicorn around." Why wouldn't you, Jess asks. "Because I have a penis." Of course, Nick learns by the end of this episode that a penis shouldn't stop you from talking about your feelings. In fact, riding a unicorn may not be so far-fetched, given the popularity of My Little Pony among teen and 20-something dudes. Either way, New Girl and much of 2012 television promises to explore the hilarious collusion of gender and economics—hilarious, because it's true.