Articles
Where's the Next Serena Williams?
The talent dry spell in women's tennis threatens women's sports as a whole.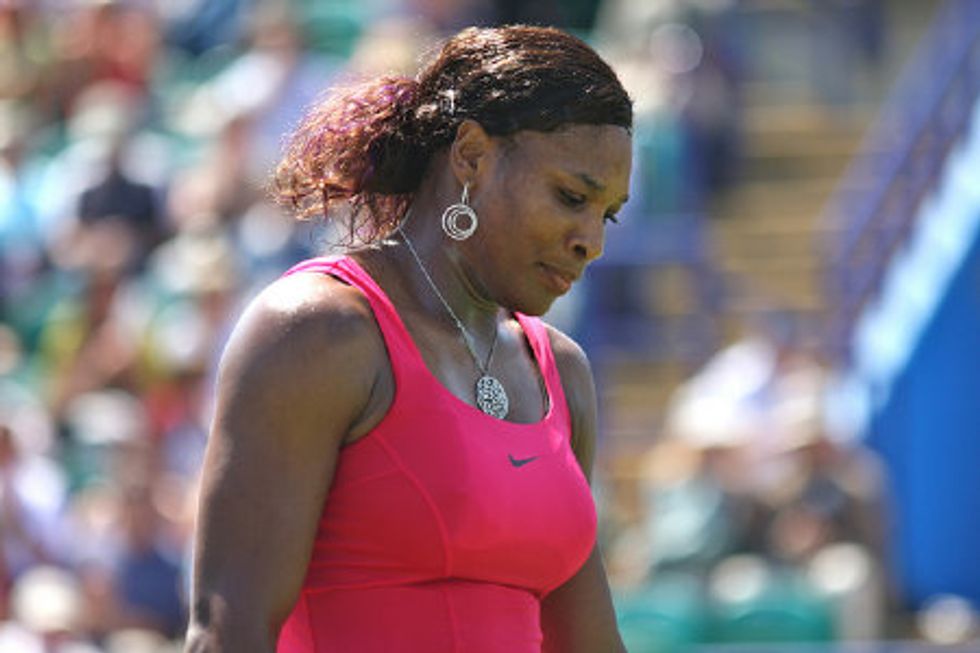 Any casual fan knows that women's tennis is at a historic low point while the men's game is in the middle of a golden era. The men have three huge names—the holy trinity of Roger Federer, Rafael Nadal, and Novak Djokovic—plus several B-listers (most notably Andy Murray) that are exciting to watch. Meanwhile, the women's tour doesn't have a single star that plays regularly. Parity can be a huge boon to a sport, but not when it's created by the fact that none of the competitors are very good.

But what about the Williams sisters, you ask? Venus withdrew after the first round in the 2011 U.S. Open, and Serena is favored to win the tournament but seeded 28th because she doesn't play enough to be ranked any higher. As for the rest of the women's draw, the winners of the last two majors, Li Na and Petra Kvitová, both fell to unseeded players in the first round. The top two seeds, Caroline Wozniacki and Vera Zvonareva, have won a combined zero majors. The third seed, Maria Sharapova, has three major titles, but none in the past three and a half years (and she went out in the third round).

Excitement is cyclical, of course. No one sport is in a golden age all the time—does anyone remember who won the men's majors during the few years when Andre Agassi and Pete Sampras were past their primes but Federer had yet to start dominating the tour? But with Serena about to celebrate her 30th birthday and no obvious next-generation female tennis stars on the horizon, the dry spell threatens to continue for years. And that poses a danger not just to women's tennis, but to women's sports as a whole.

The Women's Tennis Association has always been a shining exception to the general failure of women's professional sports. Tennis majors are the most-watched women's competitions that come around every year, so female athletes in every other sport depend on tennis players to lead the way toward prominence. WNBA attendance has steadily declined since the league began in 1997, and the league would have folded years ago if not for NBA Commissioner David Stern's commitment to propping it up. Women's Professional Soccer, the successor league to the failed Women's United Soccer Association, remains a non-factor despite excitement over the women's World Cup this summer. I'd bet that not one baseball fan out of 10 knows that National Pro Fastpitch, the professional softball league, even exists.

All of those leagues are good examples of the worst-case scenario for women's tennis, but the most illustrative—and thus scariest—case study is women's golf. The LPGA Tour never drew huge numbers of TV viewers (certainly never as big as women's tennis championships), but its majors typically led CBS' Sunday afternoon broadcasts during the early 2000s, when "Annika" was a household name and a teenage Michelle Wie was the hottest story in sports. Nearly 2 million people watched the 2006 Kraft Nabisco Championship, in which Wie finished third and Sorenstam sixth.








---
Since then, Sorenstam has retired, Wie has flamed out without winning a major tournament, and women's golf has faded into irrelevance. Even the final rounds of majors don't make it off ESPN2 or the Golf Channel. The number of tournaments and amount of prize money available have dropped, and sponsors have pulled out.

Many have chalked up the LPGA's struggles to American jingoism, as almost all of the best players hail from East Asia (mostly from Korea), and it's true that a breakout star from the U.S. heartland would certainly help matters. But it's a less important factor than many seem to think: The three huge stars of men's tennis are Swiss, Spanish, and Serbian, and no American contends for championships (though 22-year-old Atlanta native Donald Young is making a surprise run in this U.S. Open).

In a globalized media world, fan favorites can come from anywhere, which makes it all the more troubling that neither women's tennis nor golf can find one. The LPGA doesn't have a single recognizable name. The top-ranked player, Taiwan-born Yani Tseng, became the youngest player ever (male or female) to win five majors this summer at age 22—a remarkable feat that has largely escaped public attention. The relationship between television coverage and star quality is a chicken-and-egg problem, but the takeaway is that networks have no incentive to show games nobody cares about featuring a bunch of players nobody's heard of.

The result is that women's golf has become a niche interest, a curiosity equivalent to World's Strongest Man competitions. Though the state of women's tennis is nowhere near as dire, things certainly are heading in the wrong direction. Olympic events are by far the most popular women's sports, but the Games and the World Cup only come around every four years, and it's hard to see how fan support for traditionally female sports like ice skating and gymnastics helps professional basketball and tennis.

The challenges faced by women's sports are well documented, and their progress undoubtedly has been hindered by unfair stereotypes. But most women's leagues haven't done enough to earn respect, either. Thanks to both talented players and smart management, women's tennis has avoided becoming a laughingstock. Nobody—not tennis players, not other female athletes, nor sports fans across the globe—can afford for the game to backslide now.








Photo via (cc) Flickr user jamesboyes