Articles
Which States Are Most Energy Efficient?
The American Council for an Energy Efficient Economy just released its 2010 Scorecard. See which states are saving money and making jobs.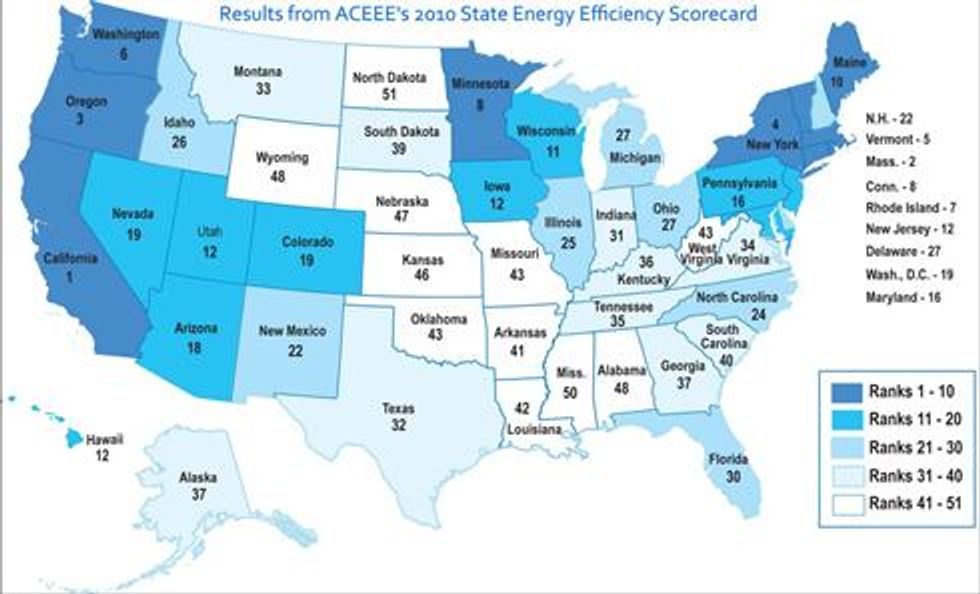 The American Council for an Energy Efficient Economy recently released its
2010 Scorecard
, ranking states by energy efficiency. Here's the summary:
California retained its top ranking for the fourth year in a row, followed in 2010 by Massachusetts (also #2 last year), Oregon, New York, Vermont, Washington, Rhode Island, Connecticut, Minnesota and Maine.

---

The Southwest region showed particular progress in the last year, as Arizona (#18, up 11 spots) and New Mexico (#22, up eight spots) were among the four most-improved states. Utah (#12) and Alaska (#37) were the other two most improved.

Texas (#32) and New Hampshire (#22) dropped the farthest in the 2010 scorecard, each down nine spots. The scorecard, which includes the District of Columbia, gives the lowest scores to Louisiana (#42), Missouri (#43), Oklahoma (#44), West Virginia (#45), Kansas (#46), Nebraska (#47), Wyoming (#48), Alabama (#49), Mississippi (#50) and North Dakota (#51.).
Nice work, Southwest region!
It would be interesting to see how much energy per capita is actually saved along with the numbered ranks, but that's probably hard to calculate given the somewhat complicated methodology (PDF).