Articles
Who Needs Nukes? Japan Plans a Massive Shift to Solar Power
Japanese officials are set to unveil a new "Sunrise Plan" tomorrow, requiring all new buildings to be covered by solar panels by 2030.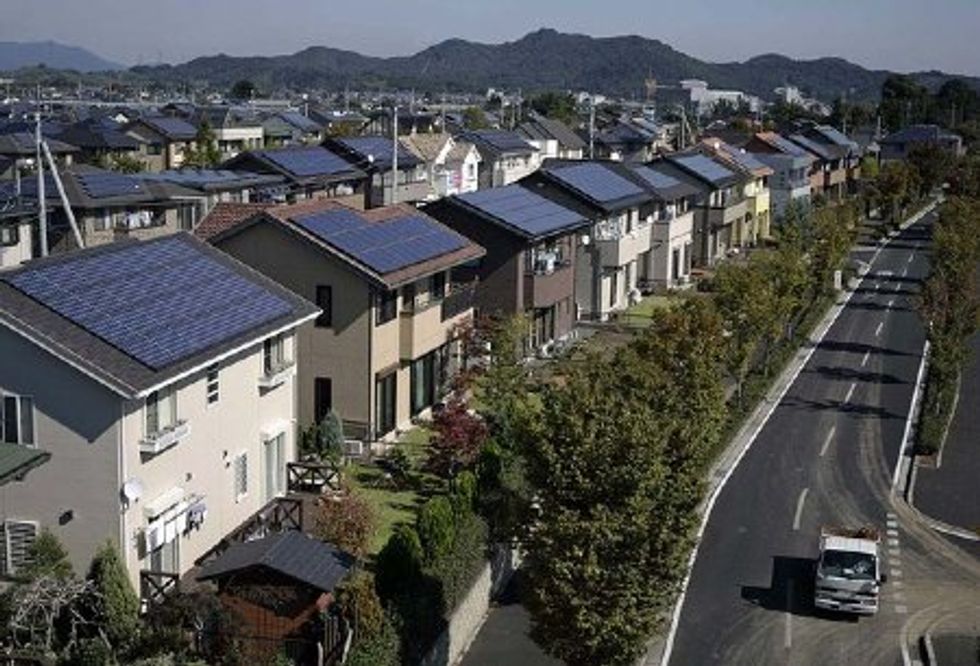 The Japanese public is less enthusiastic about nuclear power these days. Responding to the Fukushima crisis and public concerns earlier this month, Japanese Prime Minister Naoto Kan declared the nation's plans for nuclear power expansion officially dead.
---
Kan told reporters:
The current basic energy policy envisages that over 50% of total electricity supply will come from nuclear power while 20% will come from renewable power in 2030...But that basic plan needs to be reviewed now from scratch after this big incident.

\n
Currently, 54 nuclear reactors provide nearly one third of the country's electricity, and officials had planned on building at least 14 new reactors by 2030. But with the government now trying to shift away from nuclear power, how will Japan supply itself with energy? Will it be able to meet its pledge to reduce greenhouse gas emissions by 25 percent of 1990 levels by 2020? What's an outrageously dense island nation with awfully high per capita energy demands to do?
Well, it sounds like the "Land of the Rising Sun" (the characters that make up the name "Japan" spell out "sun-origin") is going to turn its attention back to that bright burning star.
Japanese officials are set to unveil a new "Sunrise Plan" at the G8 meetings tomorrow. The plan would require all new buildings to be covered by solar panels by 2030, and result in 10 million solar powered homes. The solar rooftop goals are just part of a broader initiative to shift the country to clean, renewable energy sources.
The goals are realistic. The Prime Minister isn't promising a total end to nuclear or fossil fuel energy sources, but rather a massive and manageable shift away from them. Right now, solar, wind, hydro, and biomass only provide about 1 percent of the nation's electricity. But Kan says:
Natural and renewable energy needs to be developed and commercially promoted at an accelerated pace. This is what Japan needs and what I plan to pursue.

\n
Kan echoed these remarks earlier today:
We will elevate renewable energy to one of society's core energy sources... We will engage in drastic technological innovation in order to increase the share of renewable energy in total electric power supply up to 20 percent by the earliest possible, in 2020.

\n
Once upon a time, back in the 1980s, Japan was the world's solar leader, a title it shed during its lost decade to European powers like Germany. Given its technological prowess, it's easy to envision Japan as the global leader in solar once again.
Photo by AllVoices