Articles
Why Dan Wheldon's Death Should Mean the End of Auto Racing
If there's no way to dramatically reduce the risk of death in auto racing, it's time to ban the wildly popular sport altogether.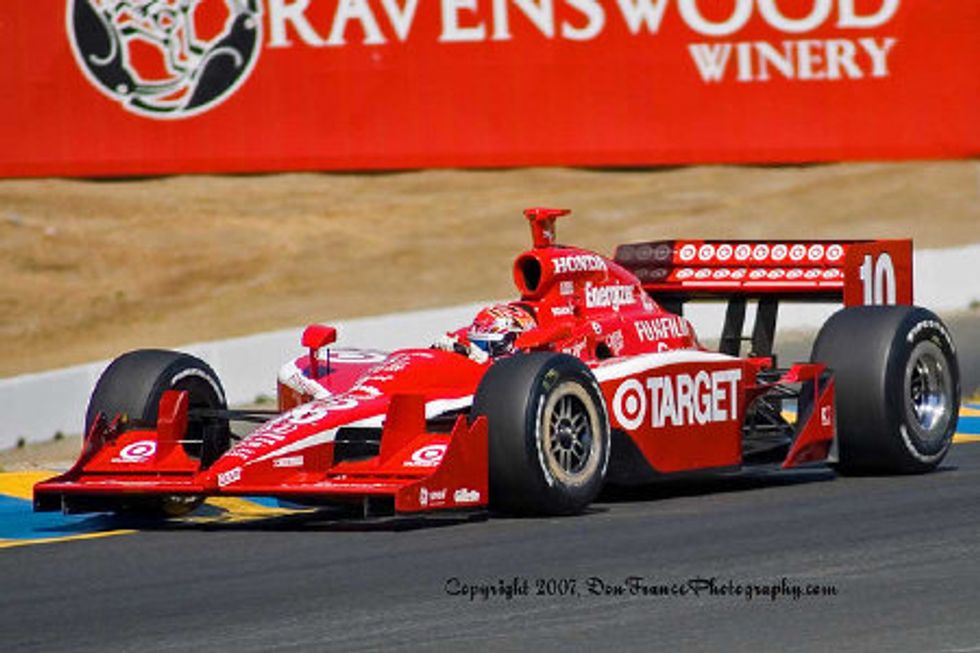 Twenty-four hours before Sunday's IndyCar World Championships in Las Vegas, star driver Dan Wheldon
told USA Today
he was having a rough weekend. Wheldon was irritated because his car was having trouble maintaining speed, but he pledged that his team would solve the problem before the race.
"As long as I can find some speed and keep up with the pack, I'll do everything I can to put on a show," Wheldon said.
---
The world will never know if he ended up happy with the way his car was performing, as the 33-year-old Wheldon was killed in a horrific crash on the 11th lap of the race. The entire affair was broadcast live on ABC for millions of viewers, making a very public case for why it's time to dramatically overhaul motorsports—or eliminate them altogether.
Wheldon was the first racecar driver to die in action since rookie Paul Dana was killed while training in 2006—incidentally, Wheldon would go on to win the race for which Dana was practicing. A two-time Indy 500 champ, Wheldon is the most prominent driver killed since NASCAR racer Dale Earnhardt in 2001. The several forms of professional auto racing combined have averaged one driver death every few years, a number that's wholly unacceptable.
Running 24th out of the 34 cars in the field, Wheldon saw Sunday's pileup begin several hundred yards ahead of him—as did IndyCar fans, since ABC was broadcasting a video feed from inside his car at the time. The problem started as hundreds of motorsports crashes do, with the nose of one car catching the tail of another. The rear driver spun out, creating a chain reaction behind him that concluded with Wheldon's car flying at least 200 yards through the air before crashing into a wall. Two other drivers were hospitalized. In all, 15 cars were involved.
I wasn't watching the event—I've never seen more than a SportsCenter clip of an auto race—but watching the replay I was struck by how unsurprised the announcers seemed.
"Eddie, you and I spoke about this this morning on the drive in, just this amount of cars, the speed, just the chance for what they call 'the big one,'" one commentator said immediately after the crash.
Indeed, the 34 cars in Sunday's race made up the largest IndyCar field of the season. And on a smaller-than-average track, more cars mean more opportunities for catastrophe, with drivers sometimes racing four across, just a few inches between them. Numerous reports indicate that the Las Vegas Motor Speedway is unfit for IndyCar racing under any circumstances, yet that didn't stop the competition from going forward.
"We all had a bad feeling about this place in particular just because of the high banking and how easy it was to go flat," driver Oriol Servia told ESPN after the crash. "And if you give us the opportunity, we are drivers and we try to go to the front. We race each other hard because that's what we do. We knew it could happen, but it's just really sad."
Several drivers told news outlets they were concerned about the potential for extreme speeds at the Vegas track, with Wheldon telling USA Today that his car was topping out at 218 mph, more than 3 mph behind the fastest qualifying speeds. But, of course, race organizers weren't interested in slowing down the race, especially with the IndyCar series struggling for viewers compared to NASCAR. Despite their fears, Wheldon and his dozens of opponents strapped into open-top cars knowing that it could be the last time. Considering what the crash looked like, it may be lucky that only one guy didn't walk away.
After Earnhardt—arguably the greatest and most beloved driver ever—was killed at the Daytona 500, NASCAR made numerous safety improvements to cars and drivers' equipment (measures Earnhardt himself had passionately opposed), from new seat belts and head restraints to new material in the cars and seats. No NASCAR driver has died in his car since, but it's foolish to believe that they couldn't. And IndyCar is even more dangerous, with faster speeds and exposed wheels that can easily send cars flying.
I don't know enough about either racecars or physics to know how to make motorsports safe. But I do know that any sport that kills athletes at least every few years (many times a year, when you include amateur competitions) should be the subject of major investigations and sanctions (this should also apply to boxing, which sees multiple competitors die in the ring every year). And if there's no way to reduce the risk of death to the point that drivers don't assume they may die every time they step into their cars, it's time to ban the sport—whether IndyCar or auto racing overall.
This, I know, will never happen. Racing is a hugely popular sport and a multibillion-dollar industry. Any serious debate on the subject in Congress would be shut down almost immediately by representatives from the South, where the greatest number of motorsports fans live. But that doesn't mean it isn't the right thing to do.
Racing fans are quick to point out that America's most popular sport, professional football, poses huge risks to players too. Indeed, the incidence of serious brain injuries among former NFL athletes has reached crisis proportions, and the league isn't taking it nearly seriously enough. But it is worth distinguishing a sport in which repeated blows can add up to long-term damage years later from one in which a driver's tiny mistake can cause a chain reaction that kills one of his competitors in a fiery inferno in front of millions of TV viewers.
Earlier this year, auto racing safety expert John Melvin told ESPN that without the safety overhauls after Earnhardt's death, the sport likely would have been shut down: "You cannot continue to kill your heroes," he said. Dan Wheldon had nowhere near Earnhardt's name recognition, but his death had better prompt the same soul-searching.
Photo via (cc) Flickr user DonFrance-photos