Articles
Why We Should Teach Design Early
A group of Austin designers is helping students at a local high school recreate their campus. design mind on GOOD is a series exploring the power...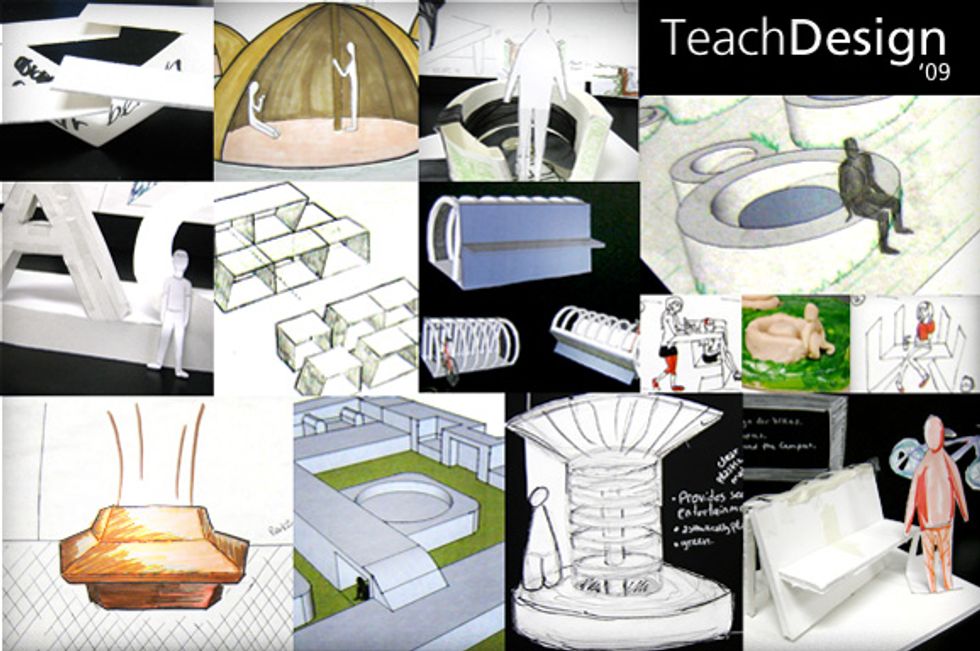 A group of Austin designers is helping students at a local high school recreate their campus.
design mind
on GOOD is a series exploring the power of design by the editors of
design mind
magazine. New posts every Tuesday and Thursday.
Designers,
through training and experience, develop a different lens through which to see the world. They move through spaces, environments, and systems, making observations and developing insights about what works well and what doesn't. They then use those observations and insights to create innovative solutions for everyday problems. If design is the crossroads of beauty and purpose, design thinking is the intersection of creative and analytical thinking.
But
when
do we learn how to think like a designer?
In today's world of standardized tests and performance-based educational funding, students are not evaluated on the way they
approach
a problem, but whether or not they come up with the right answer.
What happens when there are many right answers, as is often the case with non-linear design solutions? When can we start teaching students how to creatively evaluate their ideas?
Design education typically begins at the college level, but if we wait until then to teach design thinking we are missing critical points in the growth of young minds, whose ability to think creatively is boundless. Teaching high school students to think like designers would help shape the way they look at the world around them and positively affect their future endeavors.
Inspired by these notions, a team of designers from the Austin studio of frog design got together and started an initiative called "TeachDesign." The objective of this initiative is to expose high school students to design methodologies through immersive, real-world projects that have a lasting positive impact on the participating students, school, and community.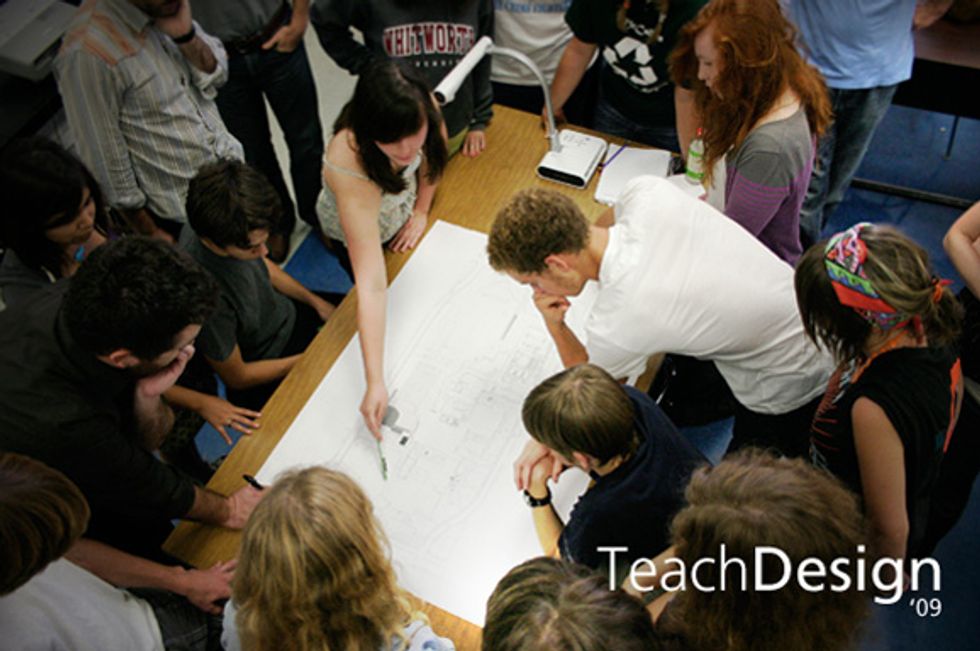 ---
The team reached out to several Austin area schools, and was greatly assisted by an Austin organization called the Digital Media Council. The DMC specifically helps to connect educators and community leaders within the creative technology and design industries of Central Texas. They shared that McCallum High School, a public high school in Austin, Texas, would soon break ground on a new theater for their fine arts department. McCallum engaged architecture firm SHW Group to design the new space. The theater project will provide the students a new place to rehearse and perform, affecting the layout, flow, and dynamics of the entire school grounds. TeachDesign partnered with SHW Group to help a group of volunteer students imagine the uses for this new public space and use design process to create ideas could that could foster communication, house creativity, leverage green elements, and make McCallum a more enjoyable place for students, faculty, and visitors. The students were introduced to design process and developed ideas to create a common space that was useful, interactive, and inspiring. After a semester of weekly after-school classes, these ideas and concepts are gaining traction and should be appearing on the McCallum campus before long.
What is most rewarding is progress the students made in their critical thinking and ability to solve real world design problems. The students have shared their enjoyment not only of the learning process, but the ability to express all of their ideas in an open forum. The TeachDesign team of frog designers and SHW Group architects
collaborated
with the students, helping them to refine their ideas and develop a point of view to present to their audience in a powerful and persuasive way.
This year will bring design refinement, a site plan, and the start of construction. The students will have the opportunity to more fully understand the challenges of materials, cost, and real world requirements involved in fulfilling their designs. Most importantly, it will bring more learning and collaboration. The senior students won't be around at McCallum after the summer of 2010, but their designs-their impact and evidence of their time and creativity-will remain.
Rob Stokes is a Senior Interaction Designer in frog design's Austin studio.
A note of thanks to everyone who helped write this post: Meriah Garrett, Christopher Robbins, Ashton Peters, and Patrick Marsh (all part of frog Austin's TeachDesign team).