Articles
Young Americans are, on the whole, disengaged from negotiations over critical climate policy questions.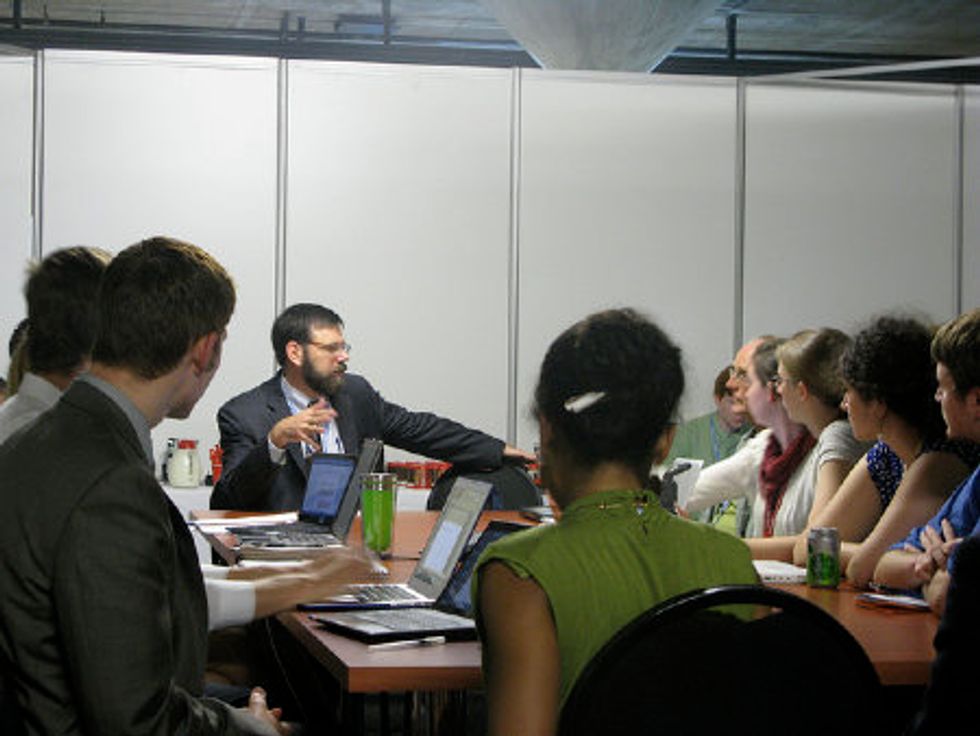 Jonathan Pershing, the United States' deputy special envoy on climate change, meets with youth advocates at the 17th Conference of the Parties.
---
Climate change will be the defining issue of my generation: International climate policy has wide-ranging implications for global justice, equity and development issues. Yet young Americans are, on the whole, disengaged from negotiations over these critical policy questions.
That's why I traveled from my home in Washington, D.C. to Durban, South Africa for the 17th Conference of the Parties, a discussion of the United Nations Framework Convention on Climate Change that continues through this weekend. As part of the Adopt a Negotiator Project, I am one of a group of young people from around the world tasked with acting as a liaison between these high-level talks and our peers back home. We are responsible both for explaining the proceedings to other young people, and for taking our generation's concerns to our leaders to urge them to take action.
The Adopt a Negotiator Project was founded in 2009, in advance of the Copenhagen climate negotiations. The nonprofit project stemmed from the recognition that young people have the most at stake in efforts to confront climate change, and that we needed more ways to hold countries' representatives accountable while communicating clearly to young people what the talks mean for our shared future.
U.N. climate negotiations can be frustrating for youth observers: The process can be opaque and difficult to follow, and the international negotiators casually sling around complex jargon to discuss the many vast and complex issues. Most of the high-level negotiations take place behind closed doors, so I often find myself camped out in the corridors, locked out of the discussions, with the many other participants from NGOs.
The UNFCCC has existed in some form for about as long as I've been alive, and many of the negotiators and NGO observers have been involved in the process for many years, which means that the youth perspective is sorely lacking at these gatherings. Negotiators are often receptive to youth input, and many of us have had the opportunity to meet with negotiators one-on-one. But too often, negotiators—as well as other NGO observers and the media covering the talks—are dismissive of youth voices. Many media outlets, for example, highlight youth protesters outside the conference center (whose antics often involve elaborate costumes, placards, and chanting), but rarely give voice to the more serious and thoughtful perspectives of the observers inside.
But through Adopt a Negotiator, youth advocates have a formal way of making sure their voices are heard. A youth presence in global efforts to address climate change is essential, not only to remind delegates of the consequences if the negotiations fail, but also to be a source of energy pushing the negotiations forward. At the 2010 intersessional meeting on climate change in Tianjin, China, I had the chance to offer a short "intervention" (in UN parlance, a speech on the plenary floor) on behalf of all youth NGOs. "We must achieve our goals for an international agreement in line with what science and justice demand; but with a growing global movement we can do this," I said. "The youth are leading through our actions, and these talks must catch up."
Maintaining a youth presence is especially important considering the attacks on climate science in the American political arena and President Obama's failure to achieve meaningful progress on the issue. In his 2009 inaugural address, Obama promised that his administration would "restore science to its rightful place." "We will harness the sun and the winds and the soil to fuel our cars and run our factories," he said. "With old friends and former foes, we will work tirelessly to lessen the nuclear threat, and roll back the specter of a warming planet."
But since that high point, the administration's vision for a new climate future has foundered, with Congress failing to pass emissions reduction legislation and no measurable outcome from the Copenhagen talks. A recent report found that the Obama administration has been a poor environmental steward at home, overruling scientific advisors and blocking some environmental standards proposed by the EPA. The administration has fallen far short of the hopes many young people had for a fresh start for U.S. engagement in global climate policy discussions.
On the second morning of the conference here, I was given face time with Jonathan Pershing, the United States' deputy special envoy on climate change. Pershing, the lead U.S. negotiator in Durban, is a scientist who previously worked for an environmental resources think tank and the International Energy Agency, and was the lead U.S. negotiator for the U.N. Framework Convention on Climate Change and the Kyoto Protocol. One of the most pressing issues in the Durban talks is whether negotiators will agree on a plan for a new legally binding emissions reduction regime, in tandem with a new period of commitment to the Kyoto Protocol. Pershing told me that U.S. leaders don't a new legal regime can be agreed upon before 2020. But that will be too late to avoid catastrophic and irreversible effects of climate change. The ad hoc, voluntary emissions pledges that Pershing touts aren't enough to ensure that we avoid the disastrous and unpredictable effects of climate change, and I told him so when we met.
I'm participating in the U.N. climate talks with Adopt a Negotiator not only because I am worried about the fate of our planet, but also because I care about America's global leadership, which will be essential to reaching any ambitious and fair deal for a new international climate protocol. More than any country in the world, the United States has the financial, diplomatic, and technological resources to take the lead on the global fight against climate change and its impacts. Fortunately, our nation also has an engaged group of youth activists willing to push its leaders to accept that responsibility.
Photo via (cc) Flickr user adopt a negotiator