Articles
Zimbabwe Opposition Government to Keep Enemies Closer, Work Alongside Mugabe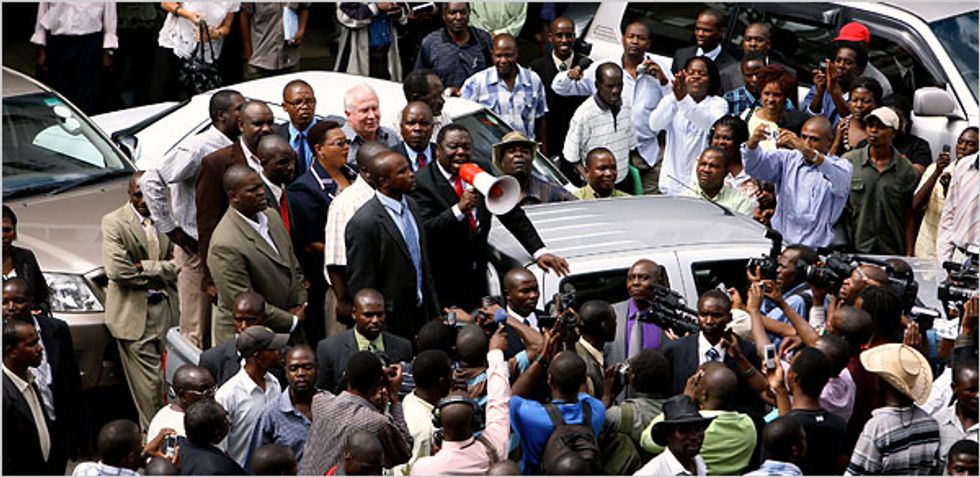 ---
The leader of Zimbabwe's opposition party, Morgan Tsvangirai, will finally enter into a position as the nation's prime minister, thereby sharing power with his "longtime nemesis" President Robert Mugabe. From the
Times
:
The opposition party's decision to join the government was made unanimously at a meeting of its leadership in Harare, Zimbabwe's capital. It will usher in a new phase in the opposition's decade-long struggle against Mr. Mugabe, 84, and his almost 30-year grip on power - a grip he tightened after claiming victory in a bloody, discredited presidential runoff election against Mr. Tsvangirai in June.Mr. Tsvangirai now faces the daunting job of reviving Zimbabwe's moribund economy and rescuing an increasingly famished, sick and impoverished population with a partner, Mr. Mugabe, whose security forces have viciously beaten Mr. Tsvangirai and thousands of his supporters over the past two years and abducted and allegedly tortured dozens more in just the last few months.
The combination of violence, incomprehensible inflation, and a massive cholera epidemic makes for
a figurative and literal shitshow in Zimbabwe
. So, I'm just wondering if there's any way that these parties can possibly work together. Our well-liked leader was recently unable to
garner a single vote of support from his opposition party
-and he hasn't beaten and tortured any of their friends and families (that we know of).