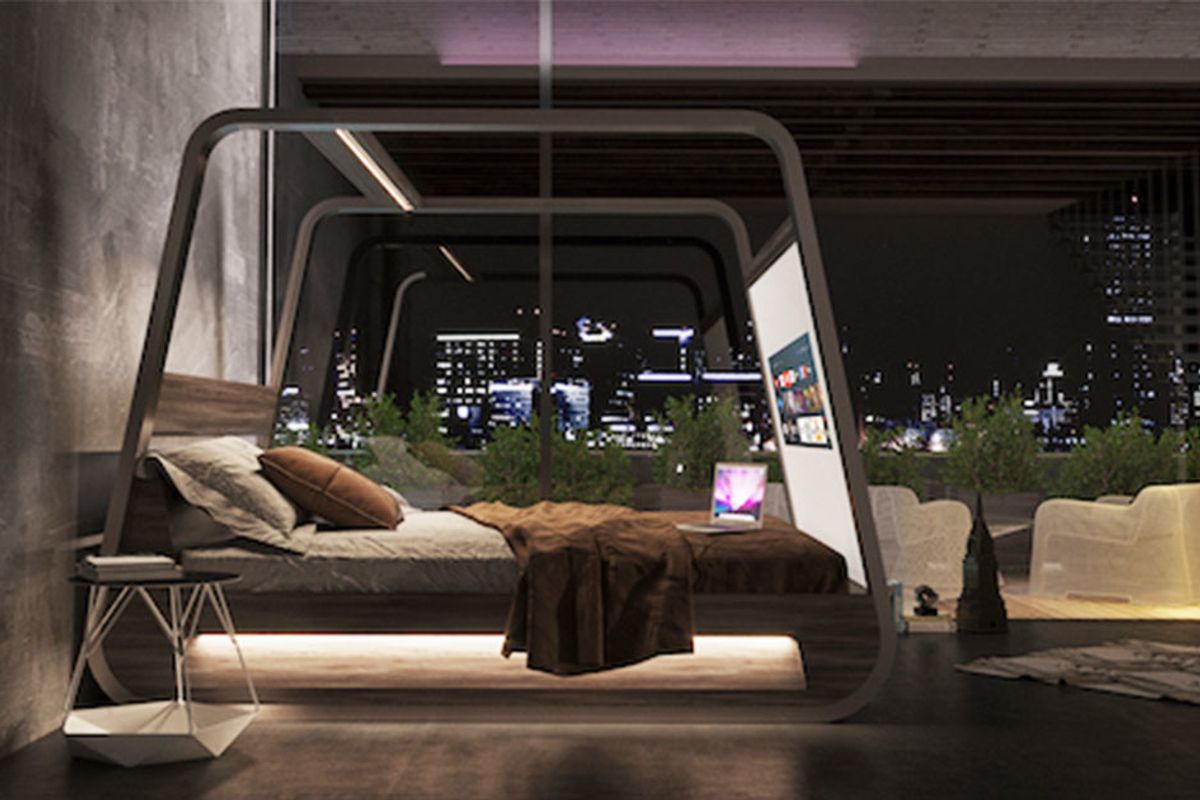 Hi-Interiors
If you've ever wanted to turn your bedroom into a movie theater, you're in luck. Italian architect Fabio Vinella collaborated with furniture brand Hi-Interiors to create a "second generation smart-bed." The bed has a place for you to sleep, yes, but it also has a 70-inch theater screen, a built-in sound system, and invisible speakers. It's perfect for anyone who's really into the whole "Netflix and chill" thing.
---
The bed itself looks like something out of a Stanley Kubrick movie. It resembles a sleek, modern four-poster bed, but it has a giant screen at the foot. "The design of the HiCan and the new HiBed is a contemporary cocoon equipped with state-of-the-art technology for wellness, entertainment, and health monitoring that syncs seamlessly with your smart device," design firm Hi-Interiors said in a press release.
The Hi-Bed goes above and beyond your everyday tempur pedic. The fact that your bed is also your TV is the least of this bed's high-tech features. The voice-controlled bed also comes with dimmable lighting and motorized blackout curtains, allowing you to control the amount of light that enters into your sleep and/or TV watching experience.
There's also an adjustable base, but you don't have to adjust your bed to your preferences. The bed will use monitors to adjust itself to you, including your temperature preferences. If it's too hot, your bed will cool you down. When you wake up, you'll be greeted by the bed's "personalized concierge service" that provides weather updates and traffic information. Yes, it has Wi-Fi, too. Imagine hearing company ask, "What's the Wi-Fi password for your bed?"
If you're worried your bed will encourage you to live a sedentary lifestyle where you slowly become one with the bed, don't lose any sleep over it. The bed has got you covered; it has biometric monitors that can keep track of your weight.
"We dream of a world in which our living space will listen to us more and more and will be the key to our well-being, becoming our next and ultimate walk-in smart device," Hi-Interiors founders Ivan and Gianni Tallarico said in a press release.
The bed of the future is not yet available today. It's on preorder right now and will be available next year. The bed is going for $13,800, because this ain't Ikea. If you've always wanted to sleep in a bed that you never have to leave, it might be worth the splurge.