Politics
Even Fox News isn't buying Kayleigh McEnany's attempts to claim voter fraud in Pennsylvania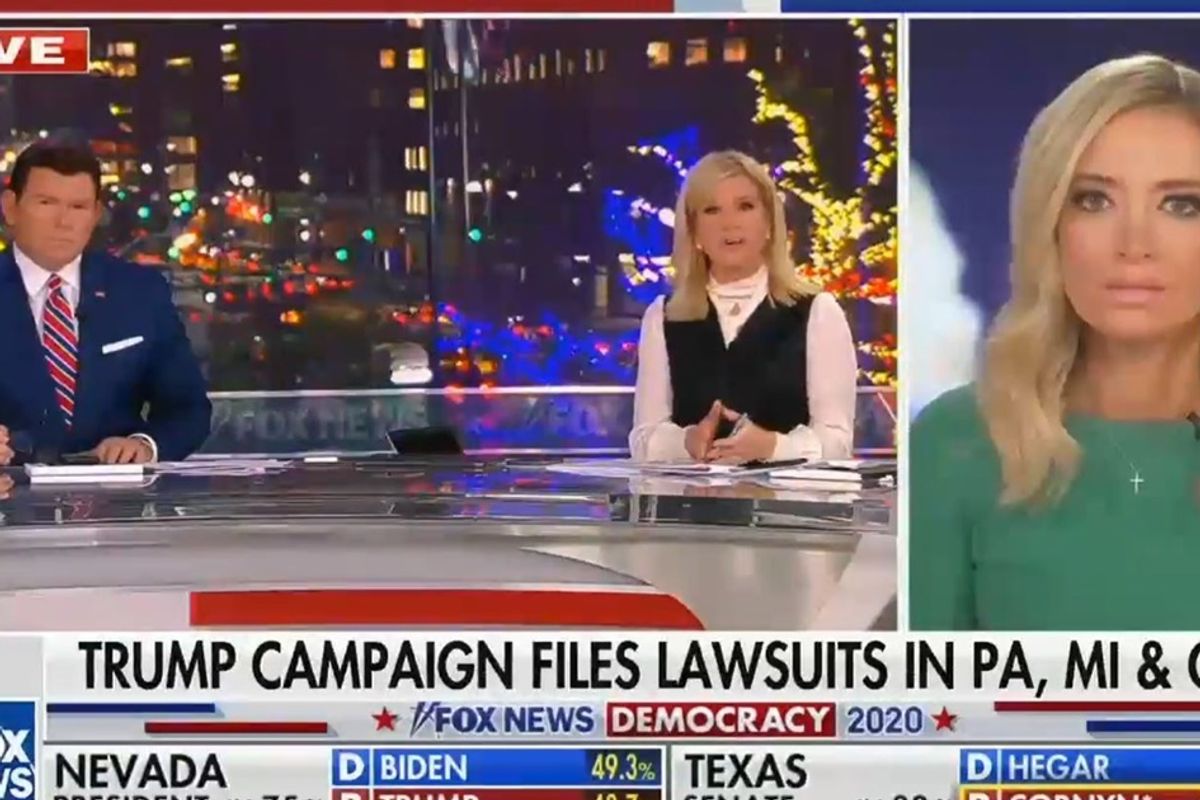 via Fox News
Months before the election, President Trump began laying the groundwork for claims that the results would be fraudulent. So, there's no surprise that he's playing the fraud card as his hopes of winning slowly slip away.

The Trump campaign trotted out Press Secretary Kayleigh McEnany on Fox News on Wednesday, to push the narrative that there is rampant voter fraud in Pennsylvania. But the usually Trump-friendly hosts Bret Baier and Martha MacCallum refused to take the bait.
The hosts were right to push back because there is zero evidence of voter fraud in Pennsylvania.
---
Kayleigh McEnany is on Fox "in her personal capacity as a Senior Advisor to the Trump 2020 campaign" https://t.co/9o3WPPTvYe

— nikki mccann ramírez (@nikki mccann ramírez) 1604535806.0
McEnany started by saying that Philadelphia has a history of "peculiar" results and falsely claimed that there were "59 different precincts where Mitt Romney got precisely zero votes, which is very unlikely and curious indeed."

Although she was correct in citing two subsequent instances of voter fraud that happened over the past few years in Pennsylvania.
Then McEnany began weaving a confusing narrative, suggesting that people are casting ballots days after the election. Which isn't true.
Fox News are grilling Kayleigh McEnany???!!! https://t.co/41s6eMTuJY

— wa Mucunu (@wa Mucunu) 1604537342.0
"We believe the American people deserve answers, which is why we are in court currently fighting in Pennsylvania," McEnany said. "They want to count ballots that come in three days after. We have election days in this country for a reason because votes are counted on Election Day."

The Pennsylvania Supreme Court previously decided that votes postmarked on Election Day would be counted as long as they are received by Friday, November 6.
"Kayleigh, we always have had provisional ballots and military ballots — things that get counted later," MacCallum said. "The votes have to be in by Nov. 3 . . . The voting is happening on Election Day. It's just how long it takes to get them counted: three days."
But that didn't phase McEnany. She doubled down saying the state "wants" to "extend arrival for three days after." But the decision was already made before the election.
Poll watchers from both parties monitor the counting of ballots at the #Allegheny County elections warehouse on Nov… https://t.co/y1UndU1FSt

— Getty Images News (@Getty Images News) 1604680779.0
She then said the campaign hopes to challenge the three-day ruling, even though Trump is going to win "outright" anyway. So, if you're going to win why are you trying to change the laws after the fact and disenfranchise thousands of voters?

"Even if they voted on November three in Pennsylvania because they were told that that was OK to do, you're going to throw their — toss their ballot out if it doesn't come in until the day after or two days after?" MacCallum asked.
"No, we believe every vote on election day should be counted," McEnany said. "But it's those that arrive after election day that we are fighting in court."
So McEnany believes that every vote should be counted that was made in-person or mailed on on Election Day. Except for those that arrived after Election Day that were postmarked on November 3.
Is she suggesting that ballots dropped in a mailbox will arrive at an election center the same day?
She's either very bad at her job or intentionally trying to be misleading.
McEnany then claimed Trump will "prevail" by 40,000 votes in the state. Doesn't look like that's happening.