Politics
Fox hosts asked a Trump advisor for proof of 'fake' ballots and she folded under pressure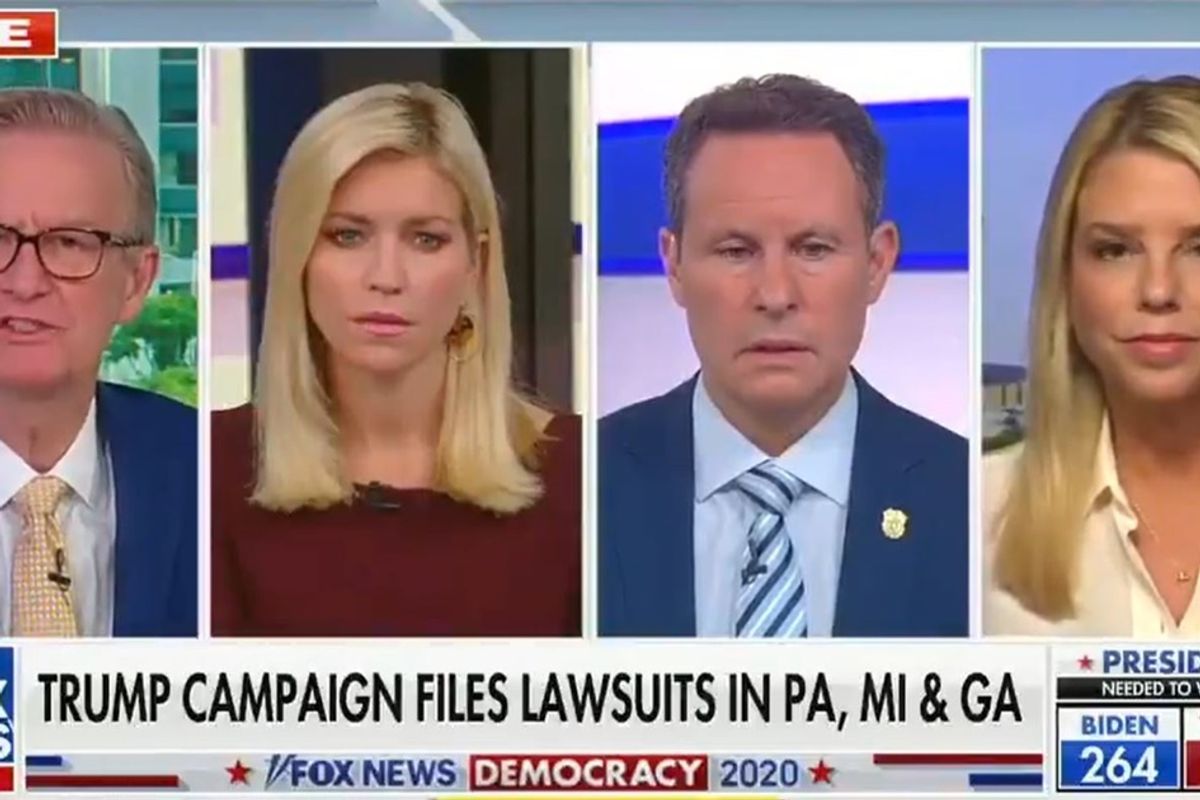 via Fox News
For months we've known that if Donald Trump falls behind in the election his campaign will say that it's due to fraud. Well, he currently appears to be losing, so the "cry fraud" playbook is in full effect.

The only problem is, they have nothing to back up their claims.
Former Florida attorney general and current Trump advisor Pam Bondi appeared on Fox News on Thursday to spread the fraud narrative. But surprisingly, the normally Trump-friendly hosts pushed back on her claims, asking for proof.
Bondi didn't stand a chance.
---
On Fox & Friends, Pam Bondi warns about "fake ballots" in Pennsylvania. When pressed on it, Bondi just says "there… https://t.co/ghXfg3mDgr

— Bobby Lewis (@Bobby Lewis) 1604583069.0
"For every vote that came in late, that was postmarked late, yes, after November four, on November fourth, that discounts every legal vote that came in," Bondi said.

"That means all the good residents who are all supporting us in Pennsylvania, their votes don't count by these fake ballots that are coming in late, and back to the observation, they are not letting us watch the process," she added.
Co-host Steve Doocy wouldn't let the fake ballot claim go unchallenged.
"Pam, did you just say fake ballots?" Doocy asked.
"There could be, that's the problem," Bondi replied.
To be fair, "there could be" is the most nebulous answer one could ever give. So Doocy asked for proof.
"Have you heard stories of, you know, ballots that are fake and, if so, just tell us what you know," Doocy asked.
Bondi had zero evidence of any fake ballots so she changed the subject by mentioning the debunked story about dumped military ballots.
"Well, we know that ballots have been dumped. There were ballots that were found early on," Bondi said. "We have heard people were receiving ballots that were dead, you know, the thing that's happening."
Co-host Ainsley Earhardt chimed in asking if there were any ballots found with postmarks after November third and Bondi admitted that there weren't any.
"You know, we talked about that last night," Bondi said, "and there are good people working in that room. We don't want them to lose their jobs for coming forward and talking to us so that we don't know but, Ainsley, why won't they let us watch? It's our legal right to watch."
Bondi's final claim that Republicans haven't been able to watch the counting process is shaky at best. Republicans have been able to watch ballot counting from a distance of 20 feet. This morning, a lower court in Philadelphia lessened the distance to six feet.