Politics
'Let me finish my question, sir': Professor faces Trump on healthcare at election town hall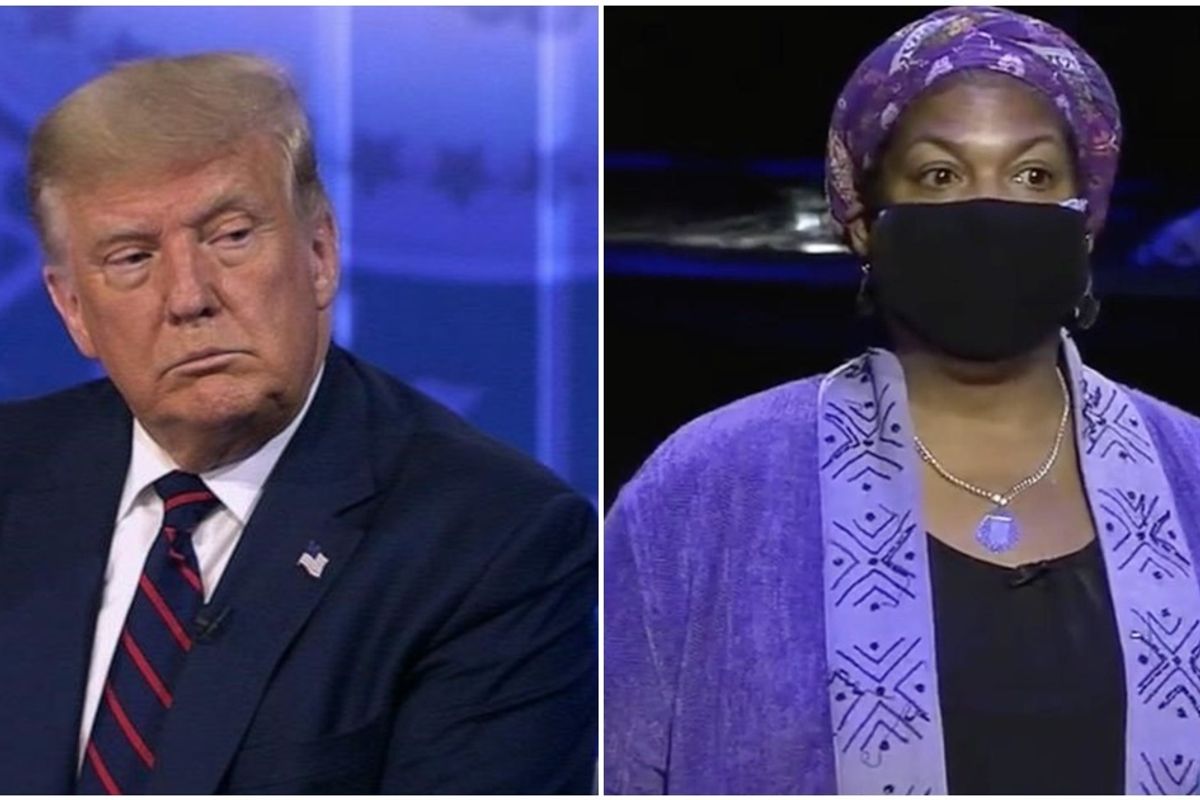 via ABC News
ABC News hosted a town hall for undecided voters in Philadelphia Tuesday night.

Voters, President Trump, and moderator George Stephanopoulos discussed a variety of topics including the event, including the COVID-19 pandemic, police reform, and the economy. Fact-checkers noted that Trump made a lot of misleading statements during the town hall, and some the most egregious were on the life-or-death issue of healthcare.
One of the most poignant moments during the town hall was a question from Ellesia Blaque, an assistant professor with sarcoidosis.
---
"Mr. President, I was born with a disease called sarcoidosis, and from the day I was born, I was considered uninsurable," Blaque said. "That disease started in my skin, moved to my eyes, into my optic nerves, and when I went to graduate school, into my brain. … With copays, I'm still paying almost $7,000 a year in addition to the copay."
"Should preexisting conditions ― which Obamacare brought into ― brought to fruition ― be removed…"
"No," Trump brazenly interrupted the woman, mid-sentence.
"Please stop and let me finish my question, sir," Blaque said confidently. "Should that be removed, within a 36- to 72-hour period, without my medication, I will be dead."
"You've been trying to strike down pre-existing conditions." In a @ABC2020 town hall, @GStephanopoulos presses Pre… https://t.co/D7VpAkWZYi

— ABC News (@ABC News) 1600221579.0
Blaque's calm and confident push back against the president was powerful because she didn't back down from challenging the most powerful man in the world. It also highlighted Trump's continued efforts to mislead the public about his attempts to strike down preexisting condition protections provided by Obamacare.

Trump answered her question by claiming that he would be "doing a health care plan" that would "protect people with pre-existing conditions." He then said the Democrats, "will not do that."
This response was completely false.
In reality, Joe Biden has pledged to not only protect preexisting condition protections in Obamacare but to strengthen the law. Biden has pledged to create a public health insurance option like Medicare that people can purchase, increase the value of tax credits to lower premiums, and expand Medicaid.
Biden: We Have to Protect & Build on Obamacare | Joe Biden For Presidentwww.youtube.com
In 2017, Trump and Congressional Republicans attempted to repeal and replace Obamacare with a bill that did not protect preexisting conditions. Their attempts failed.

In June, during the middle of a pandemic, the Trump administration filed a brief with the Supreme Court asking it to wipe out Obamacare, arguing that the individual mandate is unconstitutional, so the rest of the law must be struck down as well.
If the Supreme Court decides to strike down Obamacare, 23 million Americans will lose their health insurance and preexisting condition protections will be nullified.
The Supreme Court said it will hold hearings over the constitutionality of the Affordable Care Act on Nov. 10.
During the town hall, Trump also discussed his healthcare plan that he claims will protect preexisting conditions, but he has never unveiled one during his three years and eight months in office.
In June 2019, President Trump promised that he was going to unveil a "phenomenal" health care bill.
"Yeah, well, we'll be announcing that in about two months. Maybe less," Trump said. "You're going have the greatest health care that anybody's ever had."
"... I have it all ready, and it's a much better plan for you, and it's a much better plan," he said at the town hall on Tuesday night.
This ad is currently on TV in Pennsylvania. Please share it far and wide. https://t.co/jQjfHFchU6

— MeidasTouch.com (@MeidasTouch.com) 1599958393.0