Articles
A Dispatch from Postopolis!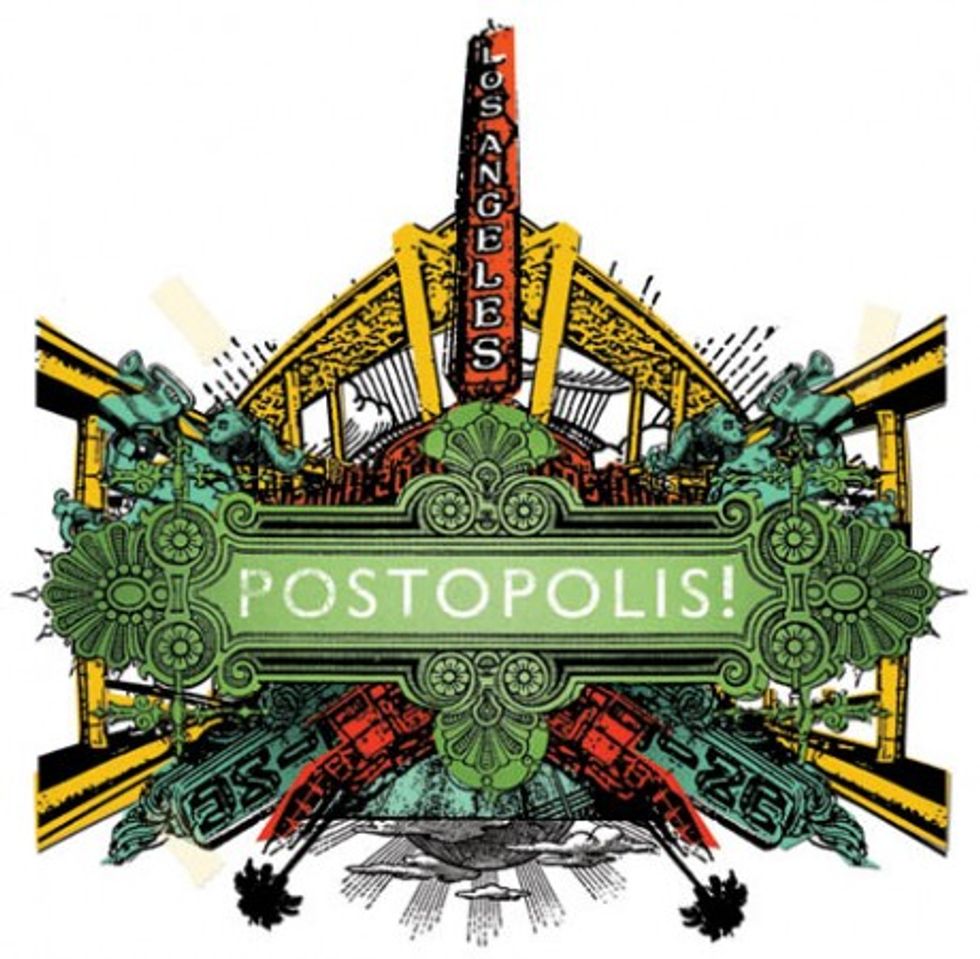 ---
Joseph Grima is running a Ponzi scheme. Kind of. After the success of his inaugural
Postopolis!
in New York City in 2007, he's been amassing recruits for a similar program on a downtown Los Angeles rooftop. But unlike more nefarious schemers of recent financial headlines, Grima trades on a currency of ideas. His world is not Wall Street, but architecture. Postopolis!, a week-long event open free to the public, is a series of discussions, interviews, slide-shows, and parties themed around landscape and the built environment. The director of Storefront for Art and Architecture in New York as well as a contributor to numerous international publications, we talked to Grima on the eve of his big event.
GOOD:
How did Postopolis! come about?
JG:
It was held in 2007 at Storefront in New York. It really started for a very simple reason. I read a lot of architecture blogs and wondered about the people behind them. I wanted to have the opportunity to meet them and create the transmission of knowledge and reaction of ideas into a live event. It vaguely resembles a conference, but I think in a way, it has redefined the model in which people come together. I asked Geoff [Manaugh] from
BLDGBLOG
and Bryan Finoki from
Subtopia
to be involved and we chose some other bloggers to round out areas of interest. It really generated so much incredible content and connections between people that we immediately discussed doing it again.
G:
Why choose Los Angeles as the destination for this year's event?
JG:
L.A. is the perfect counterpoint to New York: dispersal versus density, loose network versus hyper concentration. The multi-ethnic social fabric with incredible proximity to the border manifests itself in the people that are speaking. Incredible polyhedric, it has the greatest concentration in [California] of interesting people that we were interested in meeting. Also, we were lucky enough to find the perfect partners in Bettina Korek and the wonderful people at ForYourArt-what they are doing for L.A.'s art scene is amazing, and they really understood the importance and potential of new formats like Postopolis!
NB:
How did you become interested in architecture?
JG:
I don't know. It's difficult to say. My dad was an architect. Some of my first words were "Le Corbusier" and "Mies Vand der Rohe." Later on, when I was already an architect, I was profoundly influenced by the experience of working with Stefano Boeri at Domus. It's partly what shaped the way I think about architecture. Architecture can be the key entry point and metaphor for society in general … not only about the environment and art, but also about people: how people define the landscape, understand architecture, relate to cities and surroundings.Postopolis! is incredibly inclusive of other disciplines. One of my strongest self-critiques as an architect is that we tend to become very centered on our own disciplines. Concrete results can come out of [Postopolis!]; We can also be exposed to thinking in related fields. For example, Michael Downing from the LAPD will be speaking on terrorism this Friday. One may wonder what this has to do with architecture. His may be the most compelling talk of the entire week.
NB:
What has come out of Postopolis! that you have been especially pleased with?
JG:
It is more than an exchange of ideas, it's also an opportunity for discussion. There's a cross-contamination that happens both intentionally and unintentionally. It condenses the idea of how many different disciplines can come together where ideas have meeting points and points of overlap but invert into a point of convergence … like an upside down pyramid. I like to think that Postopolis! is kind of the idea-based equivalent of a Ponzi plan: the bloggers invite speakers they admire, and they invite friends, and in turn, they have an incredible set of acquaintances. This propagates across the network like a pyramid scheme diagram. It's hard to measure what comes out of these events, though I've personally come across a huge amount of ideas and get face-to-face contact. It's this incredible Ponzi scheme in a way, but at least, in this case, there's no risk of bankruptcy.--Postopolis logo by
Joe Alterio
Check
here
for the complete Postopolis! schedule.Should you not be in L.A., you can
stream the entire series of panels, conversations, and lectures.