Articles
Bend It Like R2D2: Welcome to the RoboCup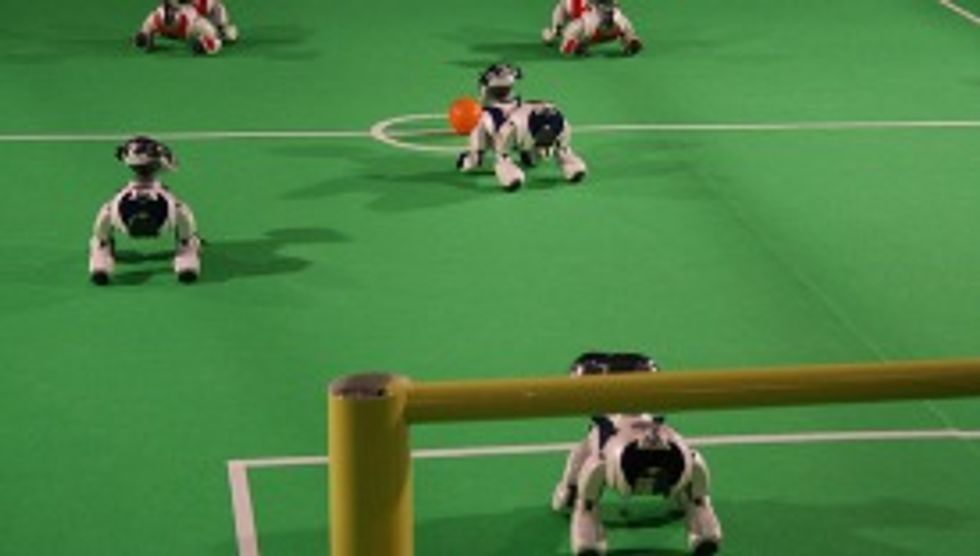 ---
Soccer fans nationwide might lament the U.S. men's performance at the FIFA World Cup, but patriotic football lovers can still root for an American champion. This month's
RoboCup 2010
(the world championship of robot soccer) takes place in Singapore and,
according to the Pittsburgh Post-Gazette
, Carnegie Mellon University is heavily favored to win. The event features over 400 teams from around the world, so such a claim is not taken lightly.
The CMDragons are five-wheeled, cylindrical robots and they head to Singapore with something to prove. The team has won three of the past five championships and expects to finish first. The Post-Gazette quotes computer science professor Manuela Veloso saying, "I don't see any reason why we won't win." Fighting words indeed.
The Post-Gazette reports that CMU's robots will not rely on learning set plays like in former years. Instead, the 'bots use an "algorithm based on the principles of physics that allows the robots to analyze situations, evaluate the different options available to them, and pick the best one." In other words, these machines can make split-second decisions and think on the fly.
The CMDragons have had snafus—the Post-Gazette reports that last year, the 'bots became temporarily blind during a match—but they are running unique technology that gives them an edge. Even though robot soccer fields are small (about 15 feet by 20 feet) and the "athletes" use a golf ball, the true wonder of their achievements lies not in their athleticism, but in their advancements toward artificial intelligence.
Outside of RoboCup competition, the CMU teams are also developing humanoid robots that can walk and speak while they are playing. This advancement plucks away at the RoboCup eventual goal. According to the
Post-Gazette
, the robots aim to beat the human World Cup champions by 2050. While that sounds like a lofty ambition,
ThePhiladelphia Inquirer cites
University of
Pennsylvania
roboticist Aylin Caliskan saying, "That should be one hundred percent possible."
After each year's competition, teams publish papers about their findings to benefit the entire field of robotics. Such benefits lead to real-world applications for humanoid robots, and not just as potential household cleaners. Veloso told the Post-Gazette robots with dynamic thought processes could extinguish fires, regulate traffic, or work crowd control at concerts.
According to the Inquirer, the robotic athletes are still prone to broken gears, computer glitches, and move slower than a pack of kindergartners. Nevertheless, the annual robotic soccer tournaments showcase huge strides in the field and chip steadily away at that goal of defeating their human counterparts.
Katy Rank Lev writes about earth matters, health, and athletics for the Mother Nature Network.\n
Related Articles on Mother Nature Network:\n
\n