Articles
Can Urban Farms Feed the Future?
In his new book, Manny Howard unearths our cultural obsession for a gentler, less self-conscious involvement with the natural world. But it...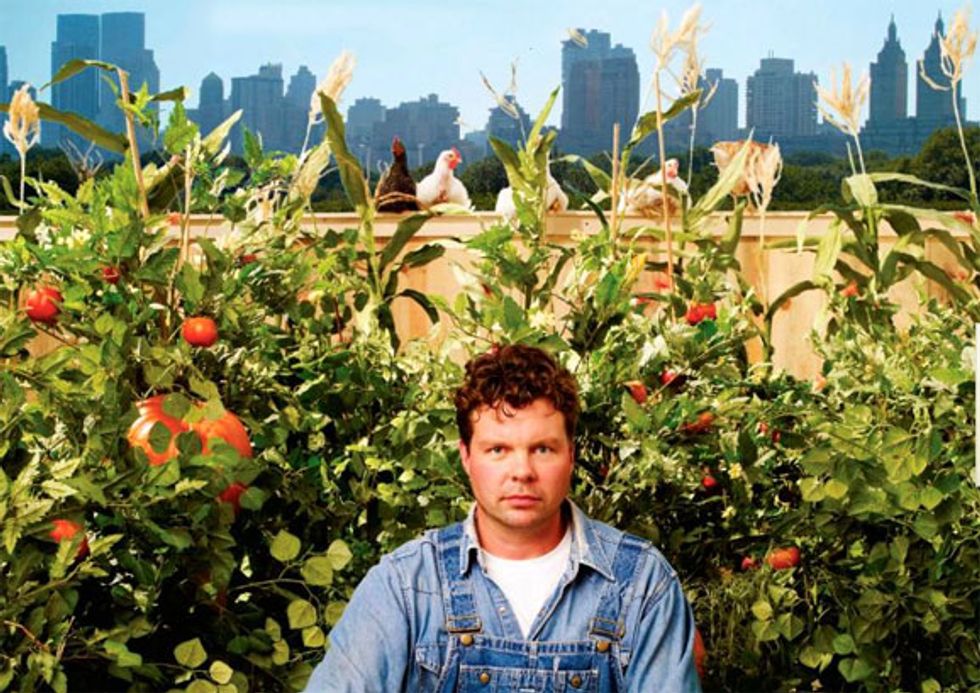 \n
In his new book, Manny Howard unearths our cultural obsession for a gentler, less self-conscious involvement with the natural world. But it turned out his backyard farm wasn't quite so idyllic.
In 1921, Benton MacKaye, the man behind the Appalachian Trail, imagined dozens of interconnected cooperative farms on the fringes of the great, ever-expanding eastern megalopolis, where visitors would come to work and then settle down in the country. When homesteading guru Scott Nearing broke with the Communist Party, he headed first to rural Vermont and then to coastal Maine. Ray Mungo and Marty Jezer, student activists, dropped out of the rapidly splintering movement in the late 1960s and also moved to idyllic New England farms. What did these back-to-the-landers have in common? Urban roots.

Today, the latest and greatest concept is not going back to anything at all, but rather staying in the city, digging up your backyard, raising rabbits and chickens, and planting vegetables. One of the magpies of the current craze is the Brooklyn writer Manny Howard (now a self-proclaimed "simple farmer living in Flatbush"), who follows the agrarian impulse to its logical, all-American conclusion: relentless, enthusiastic, unyielding pursuit of a fruitful yard.

Howard began gardening in 2007, when an editor at New York magazine suggested he turn his fallow 20 foot by 40 foot backyard into a productive lot that would grow enough food to sustain him for a month—a gimmick that doubled as a test of the locavore logic. The resulting article, the basis for his new book My Empire of Dirt, questions the prospects for the future of urban agrarianism.

First, Howard digs a big drain and imports tons of soil from Long Island to cover up his barren yard. He can't seem to track down tilapia so he doesn't end up stocking an aquaponics tank with fish. His rabbits refuse to mate. He nearly loses his pinkie finger making a chicken coop, Howard's marriage is showing signs of strain, and finally a freak storm—the first tornado in Brooklyn in 118 years—destroys much of his vegetable harvest. His farm's most fruitful yields are comic disasters. Howard's agrarian misadventures demonstrate the personal risks and rewards of work, and fortunately, when he makes mistakes, he writes about them with insight and levity.

In the end, Howard's mistakes outnumber the successes: The short-lived experiment grows no cooking oil, few carbohydrates, and hardly enough protein for a month—let alone a year. Should this be taken as an indication of urban farming's current ability to feed cities? Perhaps. After all, people do not live on mesclun mix and inspiration alone. And the areas of the world where people who do grow a higher percentage of food—Havana or Hanoi, Dakar or Dar es Salaam—are places where food generally gets treated as a high priority out of necessity, not as a fun project.

For now, complete urban self-reliance appears neither sensible nor feasible. But that does not mean it is not worth pursuing. City farming has the potential to create stories worth retelling (like Manny Howard's) and create cultural awareness about food—grown on places as diverse as Growing Power, Rooftop Farms, and Alemany Farm. These places, hopefully, can reacquaint city dwellers with rabbit sex, death, and other oft-forgotten uncomfortable things that come when things grow and die in close proximity to humans. Even if they don't spawn a new generation of farmers, or feed the city by themselves, they may make for wiser eaters.














---